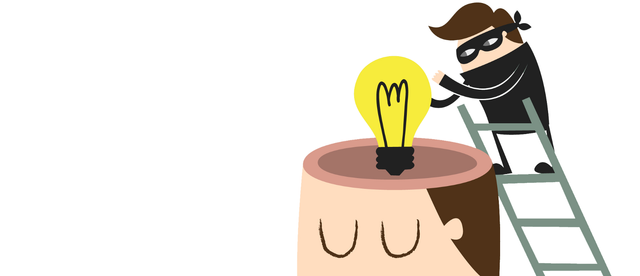 The interesting thing I see about Steemit when first using Steemit is that there is a robot that detects plagiarism content.
Anti plagiarism in Steemit, I think along with this platform tagline is Your Voice Is Worth Something.
As a writer, I certainly hate the act of plagiarism because the idea is so expensive, so people who steal ideas without giving a source can not respect humans.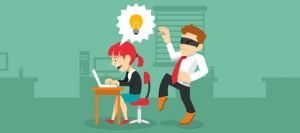 Do not steal someone else's idea
Many people even intentionally take the content of others because they have no idea of ​​their own to produce the work. They want to post, but have no idea so their ego takes the easiest path by plagiarism.
In the world of authorship a lot of who do plagiarism just for the sake of popularity. But do not forget, the universe never stops working, and God is Seer. Eventually the people who do plagiarism will someday be caught, and their names are destroyed instantly.
When you build your career with someone else's idea, it means you've let yourself die to be a copy, and you do not respect yourself that has been born different.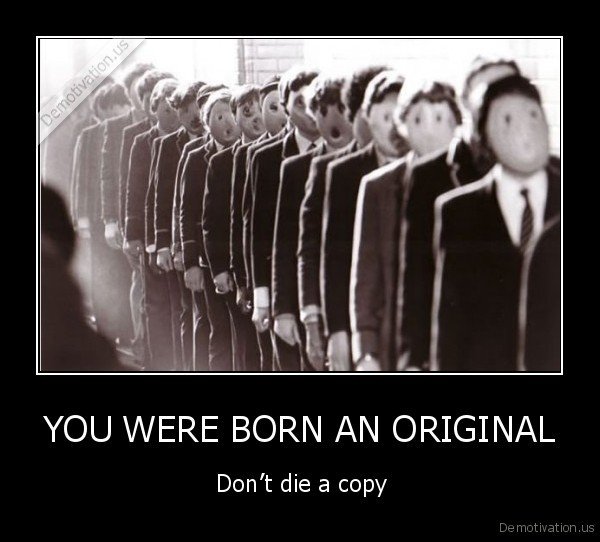 Don't die a copy
That is why we must fight the action of plagiarism, one of which is to cooperate with Steemit.
Although plagiarism detection robots do not work 100 percent at all, at least there are police in Steemit who make plagiarism act deterrent. Steemit account's reputation could drop dramatically if caught performing the action.
Plagiarism content not only makes posts not get upvote, but plagiarist account names can also be blacklisted important trail in various communities. It's really scary, right?

What should we do with Steemit to fight the plagiarism?
- Stop having the thought that you are smart enough to hide the lies
Most cases of plagiarism occur because plagiarists assume that the act of theft of ideas will not be discovered. Someone feels smart enough to deceive plagiarism-detecting machines. So, immediately stop this way of thinking, because it will be time you caught a thief though not today.


Be Origanal
- The Important Is Being Original
In order to be productive by making a post every day, many Steemians who justify any means to make the post though by stealing the ideas of others. So stop thinking about always being able to post. Start thinking that it's important to post with original content.
Here are tips for those of you who often look for post ideas from the work of people who have been there in order to avoid plagiarism action:
- Confident that your thinking is the best
Confidence is the basis against plagiarism. You just need to believe that you also have cool ideas, which are well-known to others.
- Close any media that displays your source of inspiration, while you're writing.
After you have read all the references for the source of the article, then close all the sources so that you are not tempted to write sentences with the same pattern.
The thing to remember is do not forget to include the reference.

- Read More and Pay Attention Around You
Reading and paying attention around is the beginning of the creative process to create a good work. So the less you take the time to read, it means you've wasted time not to capture as many ideas as much.
So, here's my discussion this time and hopefully my writing is useful for you. If you feel my writing needs to be read by others, then do not forget the resteem.

Let's do it with Steemit to get rid of plagiarism in society.
BAHASA INDONESIA: Steemit: Tempat yang Tepat untuk Melawan Plagiat
Hal menarik yang saya lihat sewaktu pertama kali menggunakan Steemit yaiitu ada robot yang mendeteksi konten plagiat.
Anti plagiat di Steemit saya pikir beriringan dengan tagline platform ini yaitu Your Voice Is Worth Something.
Saya sebagai penulis sangat membenci tindakan plagiat karena ide sangat mahal harganya, sehingga orang-orang yang mencuri ide seenaknya tanpa mencantumkan sumber tidaklah bisa menghargai manusia.
Banyak orang yang bahkan dengan sengaja mengambil konten orang lain karena mereka tidak punya ide sendiri untuk menghasilkan karya. Mereka ingin berkarya, ingin memposting, tapi tidak punya ide sehingga ego mereka mengambil jalan termudah yaitu melakukan tindakan plagiat.
Di dunia kepenulisan banyak sekali yang melakukan plagiat hanya demi popularitas. Tetapi jangan lupa, semesta tidak pernah berhenti bekerja, dan Tuhan Maha Melihat. Akhirnya orang-orang yang melakukan plagiat suatu saat akan ketahuan, dan nama mereka hancur seketika.
Bila Anda membangun karier Anda dengan ide milik orang lain, itu artinya Anda sudah membiarkan diri Anda sendiri mati menjadi sebuah salinan, dan Anda tidak menghargai diri sendiri yang sudah terlahir berbeda.
Itulah sebabnya kita harus melawan tindakan plagiat, salah satunya yaitu bekerja sama dengan Steemit.
Walaupun robot-robot pendeteksi plagiat tidak seratus persen bekerja maksimal, setidaknya ada polisi di Steemit yang membuat pelaku plagiat bisa jera. Reputasi akun Steemit bisa menurun drastis jika ketahuan melakukan tindakan.
Konten plagiat bukan hanya membuat postingan tidak mendapatkan upvote, tetapi nama akun pelaku plagiat pun bisa masuk daftar hitam para trail penting di berbagai komunitas. Sungguh sangat menyeramkan, kan?
Apa yang harus kita lakukan bersama Steemit untuk melawan plagiat?
Hentikan memiliki pikiran bahwa Anda cukup pintar untuk menyembunyikan kebohongan
Kebanyakan kasus plagiat terjadi karena pelaku plagiat beranggapan bahwa tindakan pencurian ide tersebut tidak akan ketahuan. Seseorang tersebut merasa cukup pintar untuk mengecoh mesin-mesin pendeteksi plagiat. Maka, segera hentikan cara berpikir seperti ini, karena akan tiba saatnya Anda ketahuan menjadi pencuri meski bukan hari ini.
Yang Penting Asli, Bukan yang Penting Posting
Demi bisa menjadi produktif dengan membuat posting setiap hari, banyak Steemian yang menghalalkan segala cara agar "yang penting posting". Buat apa "yang penting posting" tapi konten tidak asli?
Jadi, berhentilah memikirkan "yang penting posting". Mulailah berpikir yang penting posting dengan konten asli.

Berikut ini ada tips bagi Anda yang sering mencari ide postingan dari karya milik orang yang telah ada agar tidak terjadi tindakan plagiat:
Percaya diri bahwa pemikiran Anda adalah yang terbaik
Percaya diri adalah dasar melawan tindakan plagiat. Anda hanya perlu percaya bahwa diri Anda juga punya ide-ide pemikiran yang keren, yang pantas diketahui oleh orang lain.
Tutup semua media yang menampilkan sumber inspirasi Anda, ketika Anda sedang menulis.
Setelah Anda membaca semua referensi-referensi untuk sumber tulisan, selanjutnya tutup semua sumber itu sehingga Anda tidak tergoda untuk menuliskan kalimat dengan pola yang sama.
Hal yang perlu diingat adalah jangan lupa untuk mencantumkan referensi tersebut.
Rajin membaca dan memperhatikan sekitar Anda
Membaca dan memperhatikan sekitar adalah awal dari proses kreatif untuk menciptakan karya yang baik. Jadi, semakin sedikit Anda meluangkan waktu untuk membaca, itu berarti Anda sudah menyia-nyiakan waktu untuk tidak menangkap ide sebanyak-sebanyak.
Sekian pembahasan saya kali ini dan semoga tulisan saya bermanfaat untuk Anda. Bila Anda merasa tulisan saya perlu dibaca untuk dibaca orang lain, maka jangan lupa resteem agar informasi ini bisa tersebar luas.
Semoga kita bersama Steemit bisa menghilangkan kebiasaan plagiat di masyarakat masa kini.
Salam Bahagia dan Lestari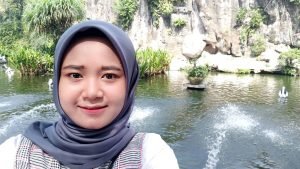 ---
Posted from my blog with SteemPress : http://narasilestari.com/bilingual-steemit-the-right-place-to-fight-plagiarism-steemit-tempat-yang-tepat-untuk-melawan-plagiat-melejit-bersama-steemit-5/
---