Banyuwangi : "Daerah Yang Meningkatkan Ekonomi Pariwisata"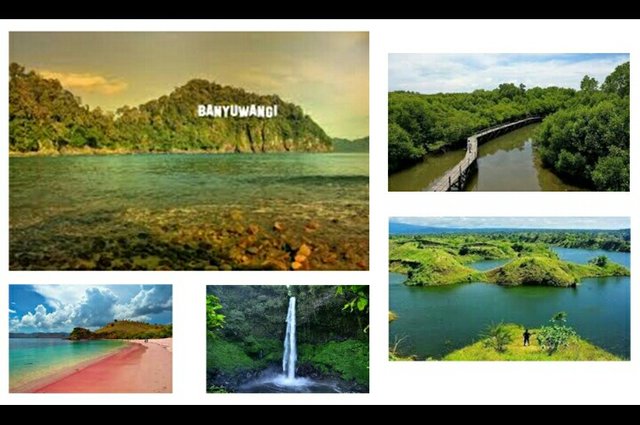 ---
---
by: @adilvakhri
---
---
Seperti yang kita ketahui, pariwisata merupakan salah satu pendapatan suatu daerah. Pendapatan yang diterima dari pariwisata sangatlah menjajikan, tapi kembali lagi kepada pemerintahan daerah tersebut bagaimana mengemas pariwisata mereka. Jika pemerintah suatu daerah mengembangkan pariwisata mereka dengan baik, maka akan berdampak positif terhadap ekonomi masyarakat setempat.
Potensi pariwisata yang dimiliki oleh berbagai daerah di Indonesia sangatlah tinggi, terutama dari segi wisata alam. Seperti yang kita ketahui, Indonesia memiliki alam yang sangat indah. Mulai dari pantai, gunung, air terjun, dan lain sebagainya.
Berbicara daerah yang mengembangkan pariwisata dengan bagus, menurut saya (penulis) Banyuangi telah mengembangkan potensi-potensi pariwisata mereka dengan bagus. Hal tersebut tidak luput peran dari Bupati Banyuwangi, yaitu Abdullah Azwar Anas, S.Pd., S.S., M.Si. yang telah membangun ekonomi pariwisata daerah tersebut.
Daerah yang memiliki julukan The Sun Rise of Java beberapa tahun terakhir pertumbuhan ekonomi pariwisata tampak dengan jelas. Seperti data yang penulis dapatkan dari website genpi.co tentang pertumbuhan ekonomi Banyuwangi pada tahun 2017 berada di level 5.6%. Prosentasi ini unggul 0.15% dari Provinsi Jawa Timur dan leading 0,53% dari nasional.
Sebuah prestasi yang dapat dibanggakan oleh daerah Banyuwangi dan dapat di contohkan oleh daerah lainnya. Keberhasilan ini tidak luput dari berbagai elemen pemerintahan yang ada di Banyuwangi. Bagaimana dengan daerah anda? Mari kita tingkatkan potensi pariwisata yang dimiliki oleh daerah kita masing-masing.
---
---
As we know, tourism is one of the income of an area. Revenue received from tourism is very promising, but returns to the regional government how to package their tourism. If the government of an area develops their tourism well, it will have a positive impact on the economy of the local community.
Tourism potential owned by various regions in Indonesia is very high, especially in terms of natural tourism. As we know, Indonesia has a very beautiful nature. Starting from the beach, mountains, waterfalls, and so on.
Speaking of regions that develop tourism well, in my opinion (the author) Banyuangi has developed their tourism potential well. This did not escape the role of the Banyuwangi Regent, namely Abdullah Azwar Anas, S.Pd., S.S., M.Sc. who have built the region's tourism economy.
The region that has the nickname The Sun Rise of Java in recent years has seen economic growth in tourism clearly. As the data that I get from the genpi.co website about Banyuwangi's economic growth in 2017 is at the level of 5.6%. This percentage is 0.15% superior from East Java Province and leading 0.53% from national.
An achievement that the Banyuwangi area can be proud of and can be exemplified by other regions. This success is not spared from various elements of government in Banyuwangi. What about your area? Let us increase the tourism potential of our respective regions.
---
Posted from my blog with SteemPress : http://adilvakhri.com/2018/10/23/banyuwangi-daerah-yang-meningkatkan-ekonomi-pariwisata/
---