Hari Senin (19/3/2018) ini boleh dibilang sebagai hari tersial dalam hidup saya. Akun steemit saya @acehpungo didatangi oleh @cheetah. Bagi para steemian, ketika postingan mereka didatangi akun robot itu, berarti kiamat kecil sedang menghampiri. Reputasi sebuah akun langsung jatuh begitu binatang cantik itu menyambangi postingan kita. Soalnya, postingan yang didatangi @cheetah mengindikasikan bahwa penulisnya melakukan plagiasi, sesuatu yang sangat pantang dilakukan di steemit. Lalu, apakah saya sudah melakukan sebuah praktik plagiasi? Bagaimana @cheetah mendeteksi postingan saya sebagai hasil dari plagiasi, yang membuatnya mendatangi akun steemit saya? Inilah yang akan saya jelaskan di bawah ini.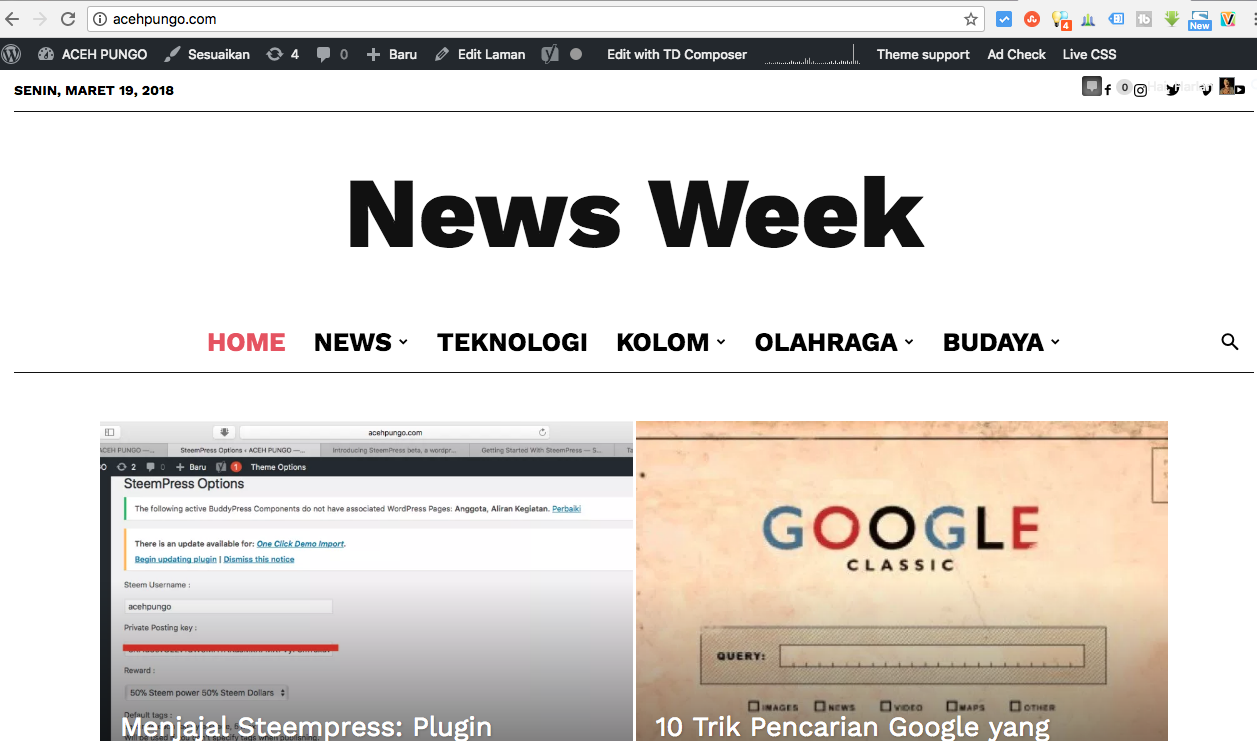 website acehpungo.com, tapi logonya masih News Week
Pertama, soal plagiasi sikap saya sudah jelas. Dalam berbagai kesempatan, termasuk saat memberi pelatihan menulis kepada mahasiswa, masyarakat dan para penulis (pemula) yang meminta pendapat saya, sering saya sampaikan untuk menghindari plagiasi. "Plagiat adalah musuh bagi seorang penulis!" Siapa pun yang melakukan plagiasi sama saja dengan menggadaikan kehormatannya sebagai penulis. Lebih baik tulisan kita jelek ketimbang menulis sesuatu yang sebenarnya hasil 'merampok' dan 'mencuri' dari penulis lain.
Lalu, bagaimana @cheetah bisa mendatangi postingan saya dan mengabarkan bahwa konten yang saya posting itu memiliki persamaan dengan tulisan orang lain? Hal itu terjadi secara tidak sengaja dan murni karena keteledoran saya sendiri. Seperti sudah pernah saya singgung dalam postingan saya sebelumnya yang berjudul "Menjajal Steempress: Plugin Steemit untuk Wordpress", saya mulai menggunakan plugin tersebut untuk website saya ACEHPUNGO.COM. Ada satu kelebihan menggunakan Plugin Steempress, di mana tulisan yang kita posting melalui website kita (situs yang sudah kita pasang plugin Steempress) tidak akan didatangi oleh @cheetah. Syaratnya postingan tersebut murni tulisan kita sendiri dan bukan saduran dari website lain.
Saya sendiri sudah membuktikan bahwa tulisan "Menjajal Steempress: Plugin Steemit untuk Wordpress" yang saya posting melalui situs ACEHPUNGO.COM dan secara otomatis muncul dalam postingan akun steemit saya, tidak didatangi oleh @cheetah. Kok bisa? Itulah hebatnya plugin Steempres. Lalu, kenapa tiba-tiba @cheetah mendatangi akun steemit saya dan menandai postingan saya terindikasi plagiasi? Seperti saya singgung di atas, itu murni keteledoran dan kesalahan saya sendiri. Apa kesalahannya? Ketika saya melakukan proses pergantian theme (template) situs acehpungo.com, saya lupa menon-aktifkan plugin steempress. Dan, itu kesalahan yang sangat fatal sekali.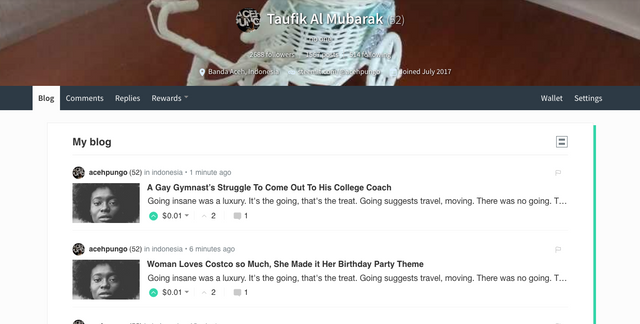 @cheetah terus datang
Sebab, ketika melakukan proses pergantian theme (template) acehpungo.com, saya juga menginstall theme demo agar tampilan website saya sama persis dengan template bawaan. Dengan cara begini, seluruh postingan yang ada pada demo template itu secara otomatis akan muncul di website saya. Tulisan itulah yang ditandai oleh @cheetah memiliki kesamaan dengan tulisan pada situs lain. Saya sendiri tidak tahu dari mana saja si pembuat template itu mengambil tulisan untuk mengisi theme yang dibuatnya itu. Alhasil, tulisan itu otomatis muncul di situs saya, dan tampil juga di akun steemit saya @acehpungo karena plugin Steempress.
Nah, kepada siapa pun yang menggunakan Steempress, agar berhati-hati dengan plugin yang diluncurkan pada 21 Januari 2018 lalu itu. Lebih-lebih jika Anda melakukan pergantian template dan mengintall versi demo agar tampilan situs kalian sama persis dengan template bawaan. Sebelum melakukan pergantian template, terlebih dahulu kalian non-aktifkan plugin Steempress, tidak mengisi akun username dan posting key pada menu pengaturan plugin, atau hapus dulu plugin tersebut. Dengan demikian, postingan dummy pada template yang kalian install tidak akan muncul otomatis di halaman steemit kalian, dan akun steemit kalian tetap aman dari @cheetah.
Saya berharap, keteledoran saya ini tidak mendatangkan teguran dan hukuman dari @steemcleaners. Kepada follower saya minta maaf atas ketidaknyamanan ini. Saya sendiri tidak nyaman melihat beranda/timeline steemit saya, dengan munculnya postingan dari template yang saya install. Sebagian besar sudah saya hapus, karena memang itu bukan postingan saya.
Saya trauma!

Cheetah Coming, Trance Day in My Life
Monday (19/3/2018) is arguably the most unlucky day of my life. My steemit account @acehpungo was visited by @cheetah. For the steemians, when their posts are visited by the robot account, it means that the little apocalypse is approaching. The reputation of an account fell instantly when the beautiful animal visited our post. You see, the post attended @cheetah indicates that the author is doing plagiarism, something that is very unyielding in steemit. Then, have I done a plagiarism practice? How did @cheetah detect my post as a result of plagiarism, which led to my steemit account? Here's what I'll explain below.
First, the question of plagiarism is clear. On various occasions, including when giving writing training to students, communities and writers (beginners) who ask for my opinion, I often submit to avoid plagiarism. "Plagiarism is the enemy of a writer!" Whoever does plagiarism is tantamount to mortgaging his honor as a writer. It's better that our writing is ugly than writing something that actually results in 'robbing' and 'stealing' the writings of other writers.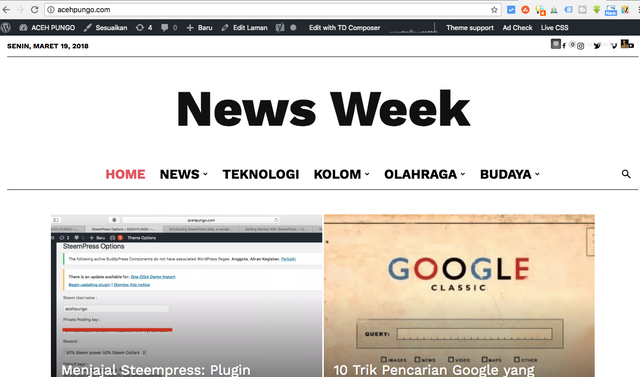 Then, how @cheetah can come to my post and report that the content I post has similarities with other people's writing? It happened by accident and purely because of my own negligence. As I've mentioned in my previous post titled "Menjajal Steempress: Plugin Steemit untuk Wordpress", I started using the plugin to my website ACEHPUNGO.COM. There is one advantage of using the Steempress Plugin, where the posts that we post through our website (sites we have installed Steempress plugins) will not be visited by @cheetah. Condition of the post is purely our own writing and not the adaptation of other websites.
I myself have proved that the writing "Menjajal Steempress: Plugin Steemit untuk Wordpress" which I post via ACEHPUNGO.COM site and automatically appears in my steemit account post, not visited by @cheetah. How come? That's great Steempres plugin. Then, why suddenly @cheetah came to my steemit account and marked my posting indicated plagiarism? As I alluded to above, it was purely my own carelessness and mistake. What's the mistake? When I change the theme of the acehpungo.com site template, I forget to disable the steempress plugin. And that was a very fatal mistake.
Because, when doing the process of changing the theme (template) acehpungo.com, I also install the demo theme to display my website exactly with the default template. In this way, all posts in the demo template will automatically appear on my website. The article marked by @cheetah has similarities with writing on other sites. I myself do not know from anywhere the template maker that took the writing to fill the theme he made it. As a result, it automatically appears on my site, and also appears in my stealth account @acehpungo because of the Steempress plugin.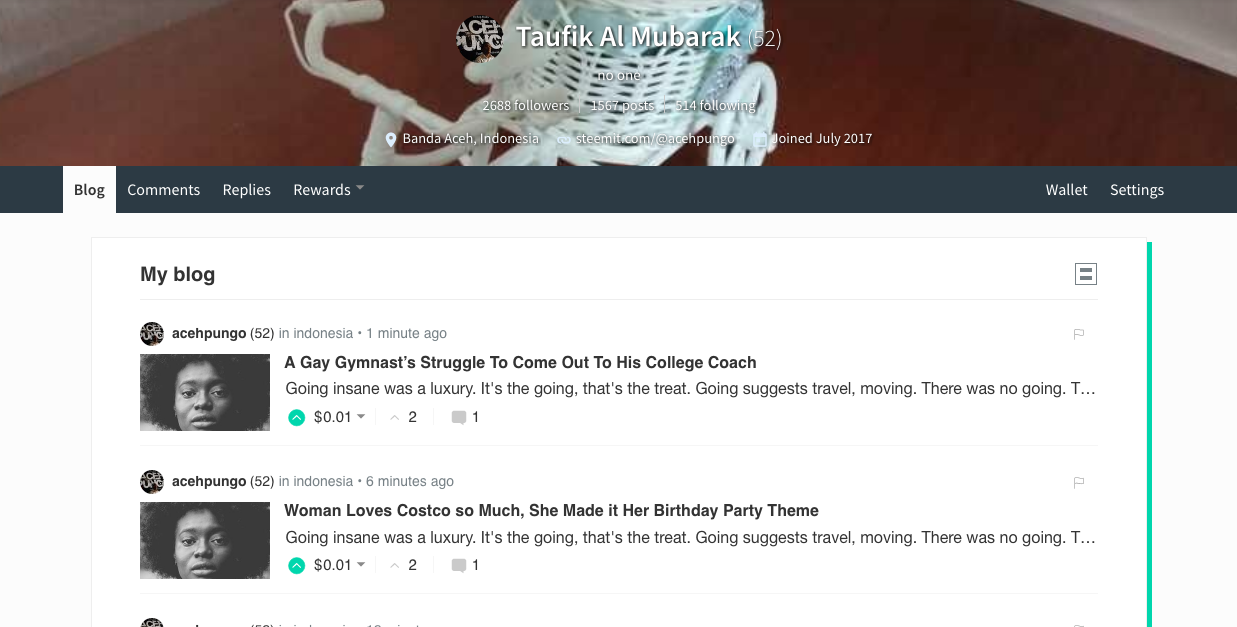 Well, to anyone who uses Steempress, to be careful with the plugin that was launched on January 21, 2018 ago. Especially if you make a change of template and mengintall demo version to view your site exactly the same as the default template. Before changing the template, first you disable the Steempress plugin, do not fill in account and post key on the plugin settings menu, or remove the plugin first. Thus, dummy posts on your installed templates will not appear automatically on your steemit page, and your steemit account is safe from @cheetah.
I hope, my neglect is not to bring reproof and punishment from @ steemcleaners. To my follower I apologize for this inconvenience. I myself am uncomfortable looking at my steemit home / timeline, with the posting of templates I installed. Mostly I've deleted, because it's not my post.
I am traumatized!