On my 15th week, I didn't forced myself to reach my goal and I failed, hehe.
I was thinking about different approach. As we know there different steem-based programs that offers some token in exchange to Steem Power Delegation.
I don't have much on my account, but I was planning to delegate some of them.
For the coming weeks I will still monitor the growth on my SP. But I was planning to lease more SP Delegation to cover up those SP that I will Delegate.
Now let's go to my 7-day monitoring.
14th Week
I got 336.216 SP's + 770.876 SP Delegation(leased) on my acount on the previous week.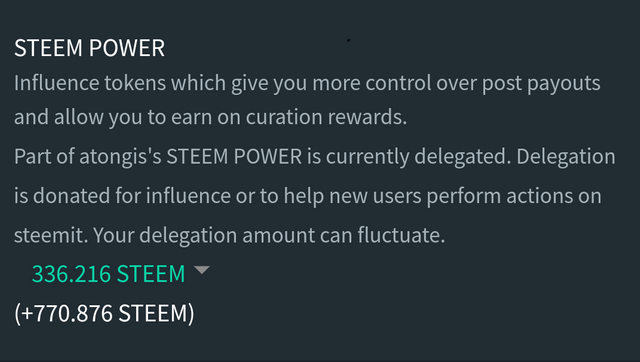 15th Week
After 7 days, I only got 7.185 increase which gives me a total of 343.401 SP's + 803.702 SP Delegation(leased).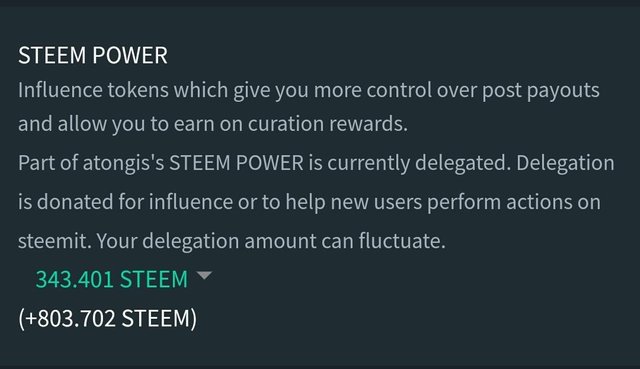 I leased some SP's and extended some of those that are about to expire.

That's all for now, Keep on Steeming guys:-)
@atongis ASAR

A big thanks to @surpassingoogle, @good-karma, @hr1 & @bobbylee for all the support

Subscribe to Sir Terry's Youtube Channel here: https://www.youtube.com/channel/UCAcaiNmH-izfjbcaC6br53w
eSteem's Youtube Channel:
https://www.youtube.com/channel/UCxlehlC3IUMHCm9Jr8oLKyA
Steem Gigs Discord Server: https://discord.gg/fVzDXM
eSteem Discord Server: https://discord.gg/BQmnFx
Steemhunt Discord Server: https://discord.gg/nCdHaq
---
Connected with these wonderful steemians

created by @dunkman
---

created by @saskia
---
created by @phantum04