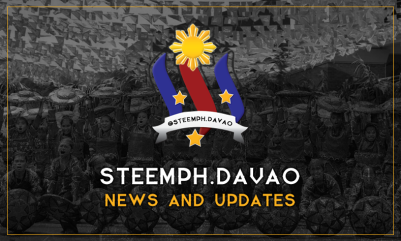 Steemit has been awfully quiet these past few weeks. I, myself have been away from Steemit due to an infection. I also spent some time with my sister and her family, who are now in the Philippines for a short vacation. Nonetheless, I still made it a point to be online to check on posts from Davao region to curate and feature. It may be the prices of Steem and SBD, or maybe people aren't in the best shape because of the rainy season. For whatever reason it may be, your SteemPH family would like to help in creating a reason for you to steem on.
In the last month, we have come up with themes for each day of the week, in the hopes that it will give you an idea on what to write about. We have Poetic Mondays and Mondays are now dedicated to curate original poetry written in either English or Filipino. There's Photography Wednesdays and on Wednesdays, we feature awesome photos that were personally captured by the author. On Fridays, we have Foodie Fridays. Recipes, restaurant reviews, dining experiences are featured.
Today, we announce that we are adding Art Thursdays and starting this week, Thursday will be dedicated to curate and feature posts about Art. It could be an experience in an Art Gallery or about one's artwork. We will include reviews and tutorials about art materials and mediums.
SteemPh believes in creating quality content for the platform. It has set some criteria for posts to garner a feature.
Criteria
Poetic Mondays

Original, 4 stanzas, at least one picture related to the theme of the poem.
Photography Wednesday

Original, at least 2 sentences about the photo; its significance to the author, why he is posting about it, where it was taken, etc...
Art Thursdays

At least 3 photos. If featuring an original artwork, provide step-by-step photos or proof of work. At least 150 words.
Foodie Fridays

At least 3 photos. At least 150 words.
We have yet to come up with a theme for Tuesday, and for the meantime, it will be a day for free writing. Any topic could be discussed as along as the post meets the following criteria: Over 300 words, at least 3 pictures.
Important:
This project is intended for Steemians from or currently residing in Davao Region, and are not part of any other SteemPH hub. The #steemph tag should be used. As a bayanihan curator, I took up Steemph Davao's curation efforts as my project, and featured posts that will pass the criteria set by @bayanihan curators, will also get a 10% upvote from them. For more information on the bayanihan curation project, you can read this post.
For original photos, provide camera or gadget used to capture the shot. Should there be a need to use a photo that was not originally taken by the author, proper credits should be made in the post. It is also important that any source be cited.
photo sources: Monday, Wednesday, Thursday, Friday