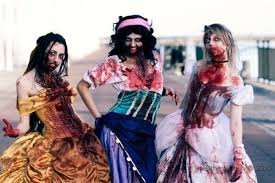 https://encrypted-tbn0.gstatic.com/images?q=tbn:ANd9GcRFKWCfwZ4BjXrzPUNcUz8U_xjGSwsQ2T6-7YjuhgZrgEkxfNm7
"All the zombies are already here". Miya shouted
"Are the bombs ready?."Cara asked.
everyone was panicking except cleo, She was busy retouching her make up.
"The bombs are ready!.", jhon said while getting all the stuffs they need before leaving the room.
Everyone left the room full of zombies and bombs, jhon looked back and saw cleo still so busy retouching her make up.
" Cleo! What are you doing!." Jhon shouted angrily. They run as fast as they could, away from the place where they gathered all the zombies together. Booogsh! A deafening sound of an explosion made them stopped. They were all so happy looking at the conflagration caused by the extreme explosion they made.
"We're finally free!." Jhon cried out.
Everyone was delighted by the fact that they've killed all the zombies and survived. only the 4 of them survived by the help of one another. They continued walking thinking about what to do with their lives, everyone was happily chitchatting with each other while cleo is also busy retouching her make up again. Miya noticed what cleo was doing and got pissed by it.
"what's wrong with you, is make up more important than ourlives? You almost killed yourself a while ago!." Miya shouted angrily.
Cleo doesn't seem to know what to react. Miya got more angry and grab cleo's make up kit and throw it.
"Miya stop it!." Cleo shouted while crying. But Miya got more pissed by it and slapped cleo.
"You almost killed jhon and yourself a while ago because of that trash!."
Cleos right cheeck began to bleed and everyone got confused.Miya erased cleos make up and saw a small bite in her cheecks.
"What's this?." Miya asked and tears began to fall from her cheecks, miya's hands were trembling while she caressed cleo's cheecks
"why didn't you tell us?."
"I'm sorry" cleo burst out crying.
"How come we didn't noticed it?." Cara murmured and started to cry.
"this can't be." Jhon said full of dissapointment and loss the strenght of his knees.
"It's okay i understand you" Miya said and put a smile on her cheecks, trying to let everyone calm down.
"If we can't be together as humans, then let's be zombies." Miya cheerfully said.
"well, im cool with that." Jhon said.
"Okaaay let's eat brains together then!." Cara added and the three of them laughed.
Cleo cut the laugh off and became serious.
"Please kill me , i'll turn into a zombie any minute from now." cleo said while crying. And everyone was in silence.
"I love you guys,i just want to be with you forever that's why i did that. I was so afraid. I'm sorry." She burst out crying
"If you love me, please kill me." Cleo added.
Everyone was still on silence coudn't utter even just a word. Then finally Cara broke the silence.
Cleo remember what we promised to each other?
We'll live together and we'll die together. Cara said.