@SteemPh, I'm going on long service leave.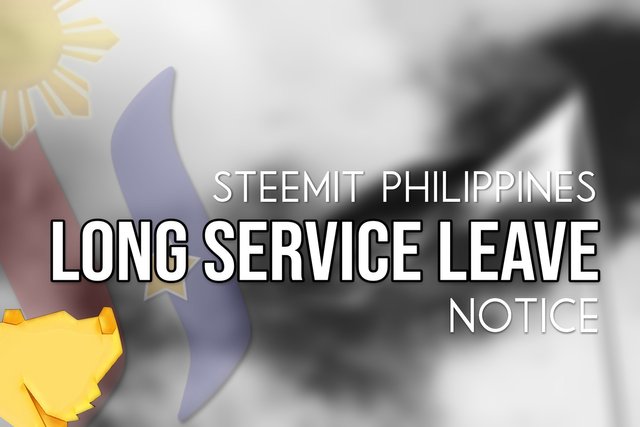 Hey SteemPh!
You gorgeous, beautiful community you!
Well it's finally time. With our @SteemPh Staff working like a well oiled machine, stepping up and taking care of business I am off to take much needed time off from my @SteemPh duties.
Whaaaaa!?
What this is, is me stepping back and handing over basic day to day operations in @SteemPh.
Right now I'm still in charge of accounts preventing me from completely leaving but I'm hoping to be on reduced duties for at least a month.
Official leave start: Sept 1
Official leave end: Oct 11
If any of the SteemPh founders or core can take over accounts for a month, that would be brilliant!
I'll still be on Steemit, I might even post more than usual as I try to rewind time and use the platform as I originally intended; a place for me to share myself and my art, minus the politics and everything else I fell into when I got here.
This leave is about letting Discord, general Steemit politics and responsibilities go for at least a month so I can sort my life out. Sort out my health, finances, home, family ~ all the things I've neglected over the last year.
At present, all posting and upvoting for @SteemPh and @SteemPh.Trail has been my responsibility, along with dealing with any admin issues in @SteemPh and our discord server.
I will be passing my posting, upvoting and some admin duties over to @twotripleow, @romeskie and @iyanpol12. They will have the posting keys for both @SteemPh and @SteemPh.Trail enabling them to continue daily posting and curation, as well as the opportunity to engage, encourage and shape the future of the community.
All major changes will still need to go through myself and possibly SteemPh Core, depending on what it is.
Trial run before retirement
I am hoping in time to retire into Founder (support role) position and watch on while new blood take control and continue the work we started and see our vision through.
Until then I'm considering this as a trial run before I retire.
Remember this is YOUR community. What do you want from it? Where do you see it a year from now? What services do you think the community should provide on Steemit and off Steemit.
Now is the time to get involved, work together and build a foundation for future SteemPh members.
If you have thoughts, ideas, initiatives, please don't hesitate to contact your @SteemPh admins @romeskie, @iyanpol12 and @twotripleow.
NOTES
Since we are approaching the fun end of the year there's a few things that may need considering and/or organising.
End of year community charity event
@SteemPh Christmas Party
Yes it's early but you'll be surprised at how much needs to be done to organise these things.
Also server admin voting is finished and @cloh76 has the results. We should see a change of guard on the server in the next week or so.
Before I go
Please be kind and support @twotripleow, @romeskie and @iyanpol12. Managing a community is not an easy job. People from the outside may think it's easy but it seriously isnt. So please make sure you guys support each other.