SteemPeak Release - Update v1.14 - New User Tools: Discover, Organize and Lists
A new version of SteemPeak is now available with lots of large and small improvements that hopefully will improve your experience. There are many things included in this release so I (@asgarth) am going to do a quick recap in this post and maybe we'll detail some of them in a full post in the next days ;)
---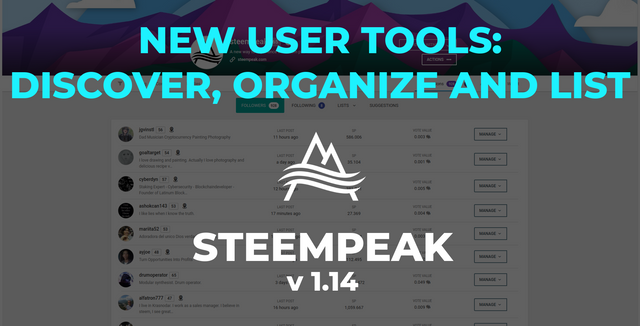 1. You can now organize users into LISTS
The biggest feature is the option to create LISTS with users you follow or want to track. This is not going to replace the standard feed and the usual follow/unfollow workflow, rather it will compliment those features and will allow you to create some customized feed grouping user into different categories.
You can add users to a list directly from a post, in the user profile page or in the new Followers/Following/Suggestions pages (more about these pages in the next point.
2. Brand new Followers/Following pages
This have been on our TO-DO list for a long time. Finally we redesigned these pages to give you more details on your follower or following users. And while we are at it we added a quick option to organize those users in LISTS.
To view the new page go to your profile or just check this link: https://steempeak.com/@steempeak/followers
3. Suggested users page
Earlier this month I started talking about this with @r00sj3 and quickly we created a prototype of a new page to suggest interesting users to follow. The suggestions are based on the list of users you already follow. I'm pretty sure we can still tune the algorithm and provide better results, so feedback are always welcome ;)
4. Option to Feature posts in the feed
We added an option to show 'Featured' posts at the top of your feed. This is similar to what's available on steemit.com and will be used to highlight some interesting posts (like this one :D). Of course you can always dismiss them.
Maybe it's not so impressive right now, but it will be the building block for other features in the future.
5. A new Services page
We created a new page to give our users more details on the projects/services that are integrated into SteemPeak. Some of those services require to be manually enabled. This is a preview of the new pages that is available here: https://steempeak.com/me/services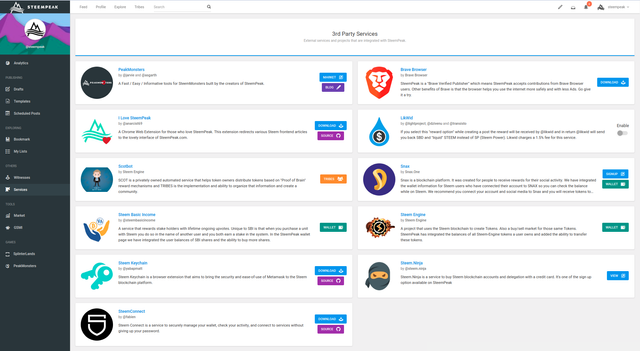 6. Integrated the @likwid reward option for posts
We integrated the @likwid service into the Publish page. When publishing a post you can select (if enabled in the Services page) a new Reward Option. With this optionthe post reward will be received by @likwid and in return @likwid will send you back SBD and "liquid" STEEM instead of SP (Steem Power). Likwid is an external projects that charges a 1.5% fee for this service.
Be sure to read and understand how this service works (more details here) before selecting this option.
7. Avoid re-ordering comments after upvote
This have been requested by some users. basically when you upvote a comment on a post it's not automatically re-ordered according to the new estimated payout. This is useful on posts with lots of comments when also a small vote can make a comment jump high on the list and it's not easy to find it again to write a reply.
Also if this seems a small change in my opinion is quite handy and a big help when going on a large comment list.
8. Wallet improvements
We have done lots of changes to the Wallet page recently and also this release brings some improvements. These are the new features included in the current release:
The number of SteemBasicIncome 'Units' is now shown and there is an option to sponsor an account
The Estimated Account Value now includes the value of your Steem Engine tokens. It's still possible to view the split between the Steem/Steem Engine account balances
9. Allow embedded music in posts
Content creators can now embed songs/music on their post. This is done using the <audio> HTML tag. Of course you'll have to provide a valid file as it's not possible to upload them to SteemPeak.
The syntax to embed the player is the following:
<audio src="https://.../my_music.mp3" loop="true"></audio>

If you are interested in technical details you can read more in this post I published yesterday.
10. The Neoxian tribe is now available
The Neoxian tribe is now whitelisted on SteemPeak. Check it out here: https://steempeak.com/tribes/NEOXAG/trending/neoxian
---
Full Release Note:
Other than the major changes described above there are other small fixes and improvements. This is the full list:
- You can now organize users into LISTS
- Brand new Followers/Following pages
- Suggested users page
- Option to Feature posts in the feed
- A new Services page
- Integrated the @likwid reward option for posts
- Avoid re-ordering comments after upvote
- Some Wallet improvements
- Allow embedded music in posts
- The Neoxian tribe is now available
- Chinese users should now be able to use SteemPeak. The default API endpoint for them will be set to `anyx.io`.
- On mobile it's now possible to filter Activities and Transactions
- A new Privacy Policy page is included
- A fix in the Portfolio page that was not working for some users
- As always some minor bugfixes and improvements

WITNESS
Now's probably a nice time to remind you that we run a witness server to help process the blocks for the Steem Blockchain. You can vote for our witness so we are in a position to process more of them.
Vote on out profile page: @steempeak
Vote on the witness page: https://steempeak.com/witnesses


This works for all witnesses BTW
Using Keychain: You just have to click and approve the transaction
Using SteemConnect: You'll need access to copy paste the Active Key at least
---
The SteemPeak Team
About us: https://steempeak.com/about
Join us on Discord: https://discord.gg/6hCAcVp