We are happy to announce a new release of SteemPeak. With this release we started the roll-out of some new features that are now possible thanks to Hivemind. It's important to notice that we are not using the standard features provided by Hivemind, but instead we are building our own integrations on top of it to provide some custom and personalized views.
In this release the new API power the new Steem News page and a custom filter available in the Feed to view only posts from your favorites accounts. Of course we plan to expand on these features in the future and it will be now much easier to do so now that we have the basic building blocks in place ;)
Also with this release we started to integrate Steem Engine better and support to other features will be available in the upcoming releases.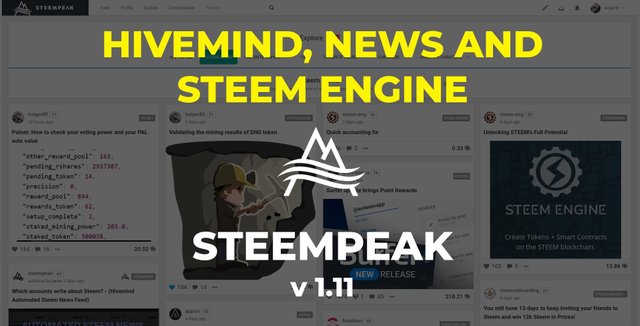 New Features:
A quick recap of the new features included in this release:
- An option to show only posts from your favorite accounts in your feed
- A new Steem News page where we try to bring you contents from accounts that post news relative to Steem
- 3speak video are now embedded by default both in the feed and in the post page
- Allow transfer of Steem-Engine tokens directly from the Wallet page
- Details on the staked Steem Engine tokens are included in the Wallet
- Considering that lot of users registered a SNAX account we integrated the SNAX balance directly in the Wallet
- Allow youtube embed video to start at a specified time
- The option to filter resteem from your feed is now available also on mobile
- As always some bugfixes and improvements here and there :)

Input to make the News page even better will be much appreciated. Please read this post for further details and let us know if you have suggestions on the accounts that should be included in the daily news feed.
WITNESS
Now's probably a nice time to remind you that we run a witness server to help process the blocks for the Steem Blockchain. You can vote for our witness so we are in a position to process more of them.
Vote on out profile page: @steempeak
Vote on the witness page: https://steempeak.com/witnesses


This works for all witnesses BTW
Using Keychain: You just have to click and approve the transaction
Using SteemConnect: You'll need access to copy paste the Active Key at least
---
The SteemPeak Team
About us: https://steempeak.com/about
Join us on Discord: https://discord.gg/6hCAcVp