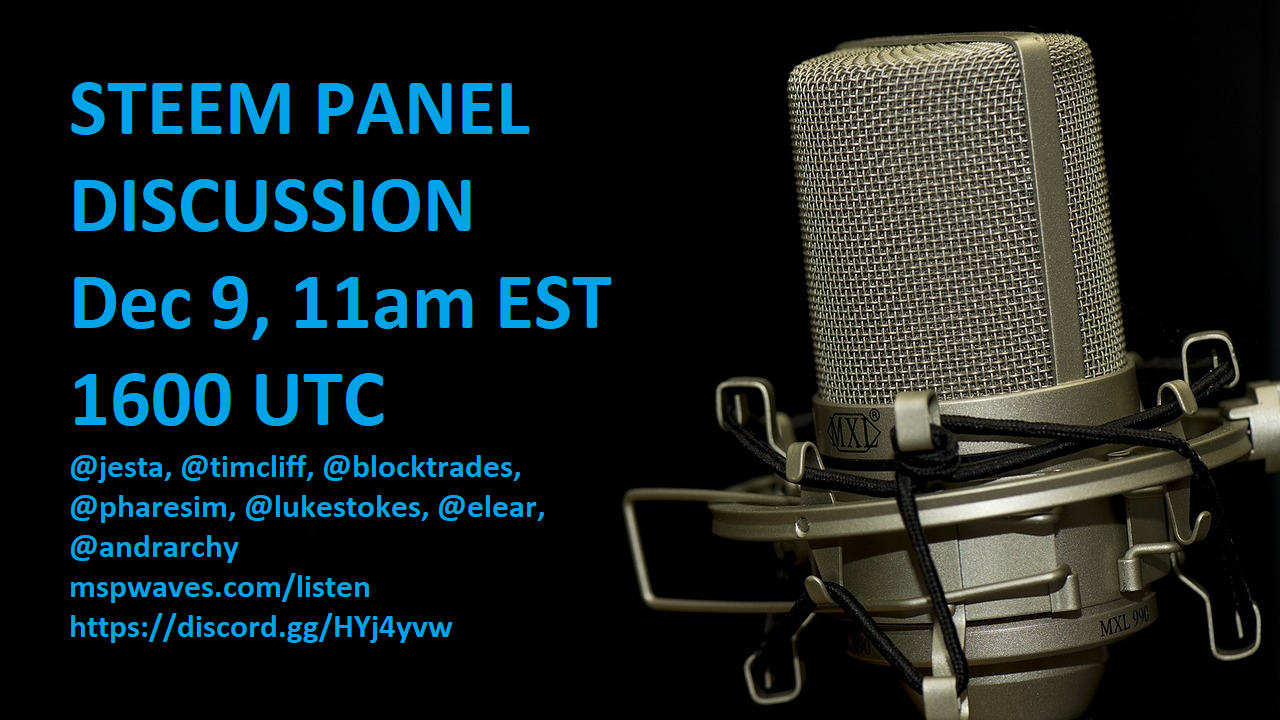 Thanks so much to @jesta, @timcliff, @blocktrades, @pharesim, @lukestokes. @elear, @andrarchy for coming on the mspwaves broadcast of the Steem Panel Discussion. We had roughly 75 people at our peak point live in the audience with us, and we estimate about 150 or so visited the show over the course of the event.
These Steem Panel Discussions represent an opportunity for the witnesses, investors, community, and project leaders to discuss challenges and opportunities facing the blockchain.
Saturday Dec 13th at 11am we'll host the next Steem Panel Discussion
This panel hasn't been formed yet, but you can be sure that movers and shakers on the platform will be present to talk about their vision for the Steem platform, and what we as a community need to do to rise up to the challenges we're facing.
Saturday Dec 27 at 11am we'll host a Crypto Growth Forum
Steem is just one part of a larger crypto ecosystem. I'm going to use the mspwaves broadcast station to reach out to other crypto communities to see if we can't unite the clans a little more than we have to date.
Part 1 of the Steem Panel Discussion
Part 2 of the Steem Panel Discussion
Bot Use
I'm a big fan of bot use to promote posts. Often I try to vote at the end of a post cycle to help curate, but as I want more folks to see this I'll be using bots quickly in the cycle.