Ninja Widget & NINJA Airdrop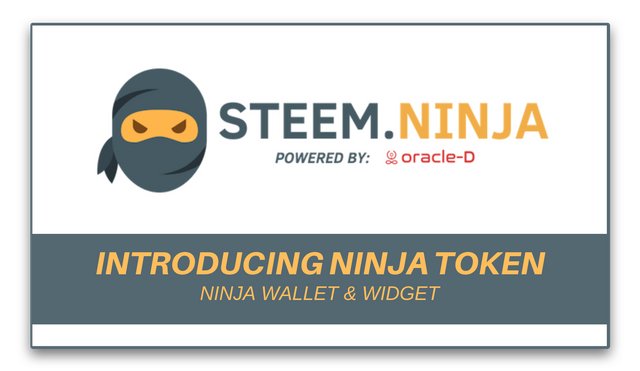 In order to take @steem.ninja to the next level we are back again with an exciting set of updates. Today, we are proud to announce the NINJA Widget & the NINJA TOKEN.

Introducing NINJA Token
We created the NINJA token which you will soon be able to use to purchase Steem Ninja services! With NINJA you can buy:
Steem accounts
Steem Power Delegations
STEEM (Coming very soon)
How to get NINJA Token?
There are several ways to obtain NINJA Token:
You earn 0.5 NINJA for each referral made with the new and amazing signup widget.

You can earn NINJA by taking part in @Steem.Ninja contests starting from next week.
We almost reached 300 signups through https://steem.ninja/. Sell the 300th account and get a 10 NINJA reward bonus on top of your usual referral reward.

We also started a NINJA airdrop on our Discord: https://discord.me/steemninja Just go to #ninja-airdrop channel and follow the commands. Every Discord/Steem account can only receive one airdrop. The airdrop is limited to 100 participants, so join up quickly to take advantage!

Coming soon, you will be able to buy NINJA tokens and use them to purchase products on our website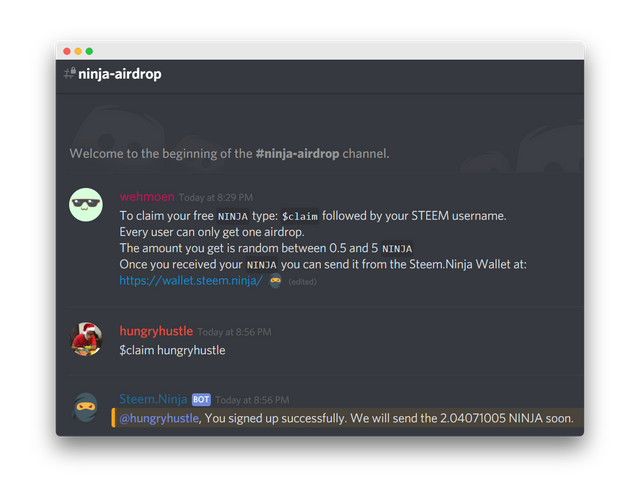 Where can I see my NINJA Token balance?
We created a wallet for you: https://wallet.steem.ninja For now, you can access it by installing Steem Keychain created by the very talented @yabapmatt.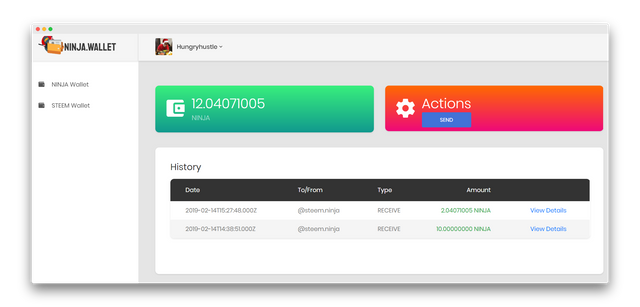 If you click on "View Details" button against any transaction, you can get the following info: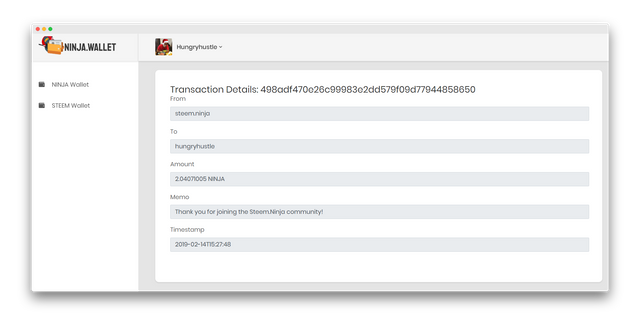 Introducing Steem.Ninja Widget
Welcome to the new Signup Widget for @Steem.Ninja. It was never easier to onboard people to Steem directly from your website! This can be easily integrated into any website by using our "Ninja Widget Generator". You can set a custom logo, brand name and a referrer account which will receive $0.50 USD worth of Steem and 0.5 NINJA for each sold account.
With the new Ninja Widget users will never leave your site during the signup process. Everything happens direct on your website! This guarantees a great user experience.
This is what the account creation process looks like for your users:
1st: Welcome Screen!
This is the welcome screen. Users are informed about the fact that if they lose their password they can not simply request a new password. By clicking the button at the bottom of the widget the next step will show up.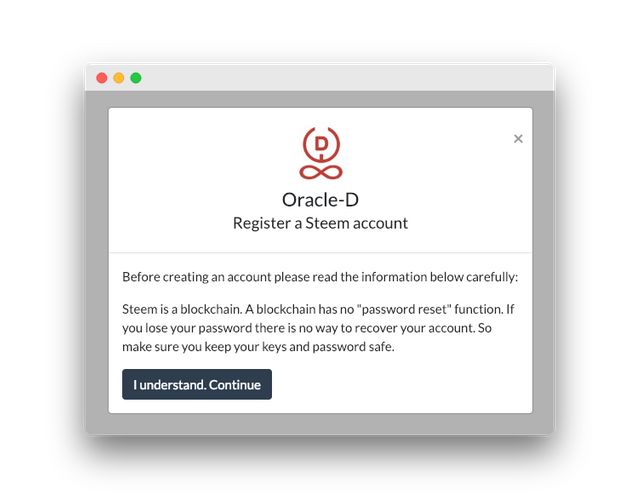 2nd: Enter the username you want
Here the new user can type in the desired username. The widget automatically checks whether the username is valid and available.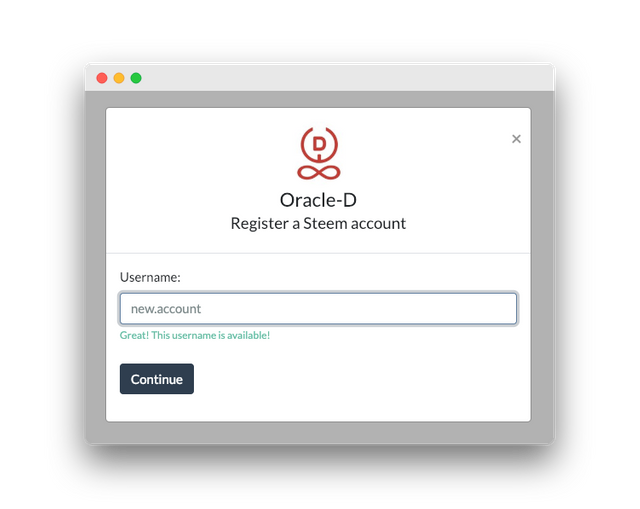 3rd: Download the password backup file
Now the user needs to download their password backup file. This file includes:
the username
the password
and all private keys (owner, active, posting, memo)
To continue to the checkout the user has to download the backup file by clicking the orange button and by clicking the checkbox.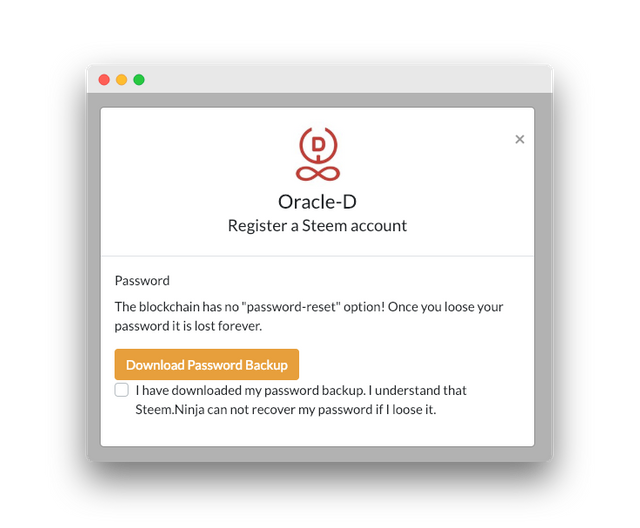 4th: Complete the purchase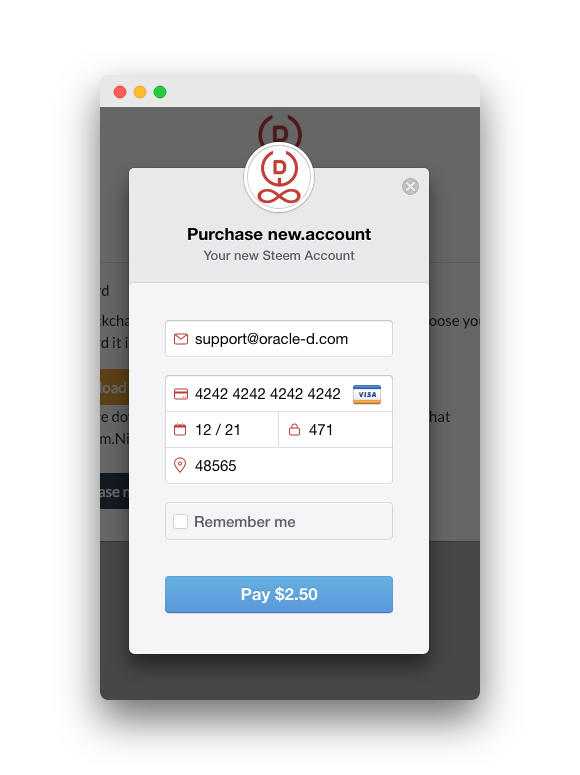 5th: Welcome to STEEM
If the payment was successfull the account will be created immediately. The user can then start using Steem as their account will be given a 90 day delegation of 15 Steem Power, enough to get them started. By clicking the "Thanks Bye" button the popup will close and the user will see your website again.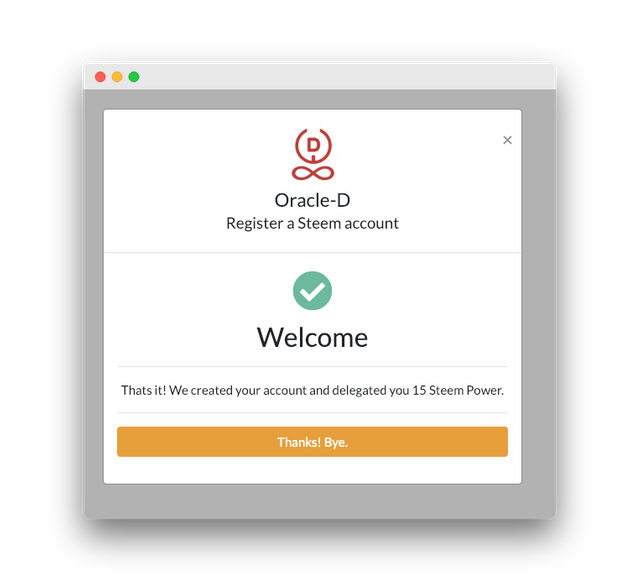 Integrate Steem.Ninja today: https://steem.ninja/widget

Steem.Ninja in a Nutshell
Steem.Ninja provides the following services as a complete turnkey package:
Easily purchase instant Steem accounts for $2.50 (minimum) with card payment.
Each account automatically gets a 15 Steem Power delegation for 90 days.
Easy purchase of 90 day Steem Power delegations in varying amounts with card payment.
Instant purchase of Steem using USD credit card payments (coming soon!)
Referral program (anyone can earn money for selling Steem accounts)
Account recovery in case your accounts get hacked.
Website Widget for easy implementation into any dapp / website front end
Easily sell Steem Power Delegations and earn percentage.
---
If you are interested in integrating Steem.Ninja into your website/app/dapp or project please go to the Ninja Widget Generator and feel free to join our Discord: https://discord.me/steemninja if you have any questions.
---
Please check out the
Introductory Steem.Ninja post for more information!
---
You can also implement the Steem.Ninja widget into your blogs, by simply posting your widget link into the body text of a blog
---
If you like what we do please vote for us as a witness: https://steemconnect.com/sign/account-witness-vote?witness=oracle-d&approve=1
---
For any issues or queries please contact us on: [email protected]
---
>>>>> Buy a Steem Account <<<<<
STEEM NINJA is powered by @Oracle-D.