Good times are here for the steem blockchain enthusiasts as Steem.Ninja introduces a rapid, easy and referral rewarding style of onboarding new users with very little effort and for a chicken change of $2.5. I really do not know of any other tool or service on the blockchain that makes setting up of accounts as easy as eating pizza with a whole bunch of benefits that not only represent a great value for the involved fee but also an added-value.
The earlier problems
Gone are those days when new free steem accounts come with 15 steem power by default which enables the new accounts to perform several activities on the blockchain. This is usually after users must have waited for days, weeks or even months before getting their accounts approved. The default 15 steem power to new accounts simply ended with the hardfork 20.0 and the introduction of resource credit system which limits the activities a user can perform on the blockchain to the amount of steem power vested. Since then, on-boarding new users that would be genuinely active on the blockchain has been a major challenge unless some amount of steem power is delegated to the new accounts.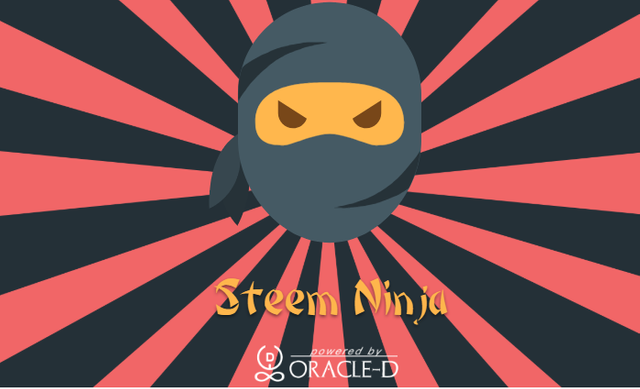 The Ninja solution
With the @oracle-d developed Steem.Ninja, creation of accounts does not only take as low as few seconds but the problem of resource credit also becomes ameliorated as the account creation $2.5 fee automatically comes with 15 steem power delegated to the account for a period of 90 days during which a new genuine user must have found his/her feet on the blockchain.
Creating a steem account using the Steem.Ninja service requires a credit or debit card, internet and a few clicks. First, a user would need to visit https://account.steem.ninja/ with an internet-enabled personal computer or smartphone where he/she would validate the desired username. Thereafter, the user would be directed to download the password backup text file which should be kept safe as much as possible. Next is to check out, fill-in card details and then proceed with paying the required fee. Easy does it! You can read more about account creation through Steem.Ninja here
Apart from the quick and easy account creation, users can also earn cool money just by referring people to use the Steem.Ninja account creation service. Through their special referral reward, each user can set the price for his/her unique referral link and get paid when other users purchase accounts through their links. More information on the referral reward program can be sought here
Extra benefits of using Steem.Ninja tool
Those that are familiar with the steem blockchain know that it is virtually impossible to recover a steem account once the password is lost or once an account gets hacked. However, with the Steem.Ninja tool, account recovery is quite easy. All a user needs to do is to fill out [this form] and the team behind the tool would validate the claim as soon as possible and swing into action to recover the accounts for the user.
Aside from the above, the Steem.Ninja offers so much more for users on the steem blockchain. These services include sales and purchase of steem power delegation, SBD/steem purchase, API for easy integration of the tool into discord servers and decentralized applications on the steem blockchain and so much more.
Quick Links