On an extremely hot day in August of 2014, I sat in a chair as two maniacal faces approached. Somewhere, miles away, a sadistic judge chuckled at the idea of his sentence being carried out. As the two figures chortled and became giddy at the thought of my impending suffering, I uttered my final words. The two monsters raised the heavy weapon in the air and... dumped four gallons of ice water onto my head.
16,999,999 others did the same thing in 2014.
TThe judge was my friend Bob. The "executioners" were my children. The final words were, "My name is Han and I'm doing my part to raise awareness and funds to fight ALS by taking the Ice Bucket Challenge. I am going to donate $73 to fight ALS in honor of Lou Gehrig who passed away 73 years ago this summer. I challenge Robby, Bobby, Ricky and Mike to do the same."
Mine was only one of over seventeen million Ice Bucket Challenge videos recorded during the summer and fall of 2014. The most important of which was created on June 14th by professional golfer Chris Kennedy. Although the campaign started as a joke, it became something powerful... and Good.
Inspired by Anthony Senerchia's brave battle with ALS, Chris Kennedy (the cousin of Anthony's wife Jeanette's) decided to spice it up a bit and add the requirement to donate $100 to the ALS foundation if the challenged party refused to accept his fate.
Many decided to both complete the task and give to the ALS foundation. By the end of the campaign, the organization had raised over $200 million for ALS research.
Anthony Senerchia was much more than the cofounder of a viral video campaign.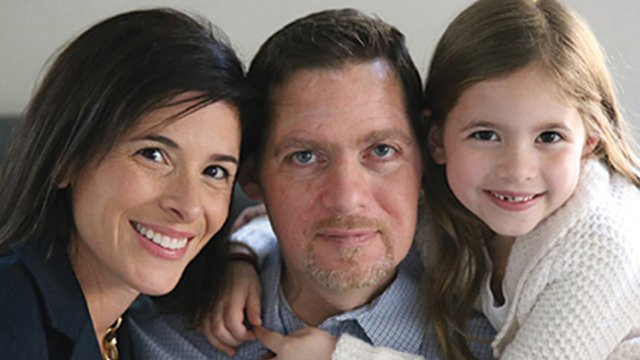 "I never thought my illness was bigger than anyone because I knew 11 years ago when I was diagnosed that everyone will endure obstacles in life and ALS was mine. It's how we handle them and move forward in a positive way that will define us….its not what we take from life but what we give back to others is what ultimately defines us." Anthony Senerchia Jr. July 22, 2014 (http://asjfoundation.com)
Anthony grew up in Pelham, NY where he was the captain of his high school football team. While there, he met his future wife Jeannette Hane. After high school, he earned a degree from Manhattan College and became a civil engineer.
In 2003, shortly after marrying his wife, Anthony was diagnosed with ALS. Doctors predicted he would live for approximately four years. He fought and lived for fourteen. During those fourteen years, not only did he become a father of his daughter Taya, he also worked to help others with ALS. He created the Anthony Senerchia Jr. ALS Charitable Foundation which raises money to fight the disease. He also worked to raise awareness. This culminated in the wildly successful Ice Bucket Challenge of 2014.
By far ,the most quoted portion of Anthony Senerchia's obituary is the following:
"Anthony will be remembered as a fireball who tried everything in life. He was family oriented, generous and always ready to lend a helping hand. He was a great husband, a proud father, a loving son and a great brother. He will be missed by everyone who knew him."
Some have written that Anthony "lost" his battle with or "succumbed" to ALS on November 25th, 2017. I'd prefer to write that Anthony Senerchia beat ALS for at least 5110 days.
"….its not what we take from life but what we give back to others is what ultimately defines us."
Anthony Senerchia Jr. and his family gave back bucket loads.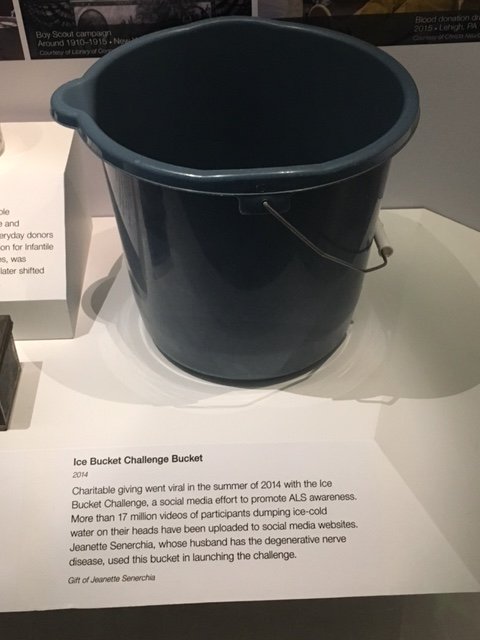 In 2016, the bucket that Jeanette used to launch the challenge was put on display in The Smithsonian's National Museum of American History.
Sources
http://www.kansascity.com/news/nation-world/article187067048.html
https://www.usatoday.com/story/news/nation-now/2017/11/30/man-who-helped-inspire-als-ice-bucket-challenge-dies/911895001/
http://www.legacy.com/obituaries/lohud/obituary.aspx?n=anthony-senerchia&pid=187350770&fhid=21972