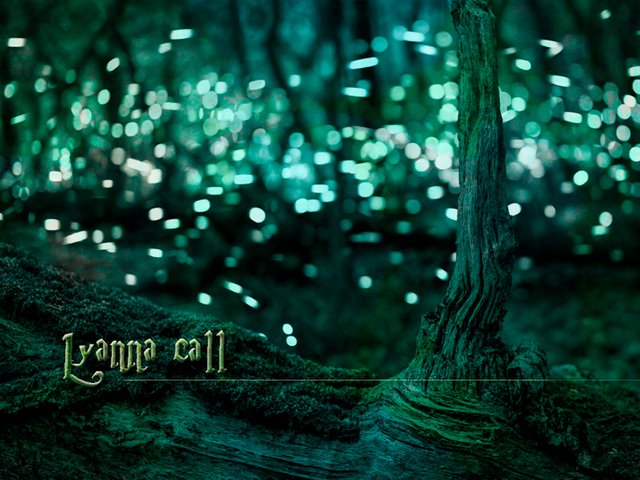 Reborn
Lyanna Call...
---
"My destiny was written from my birth, or at least, that's what the earth says..."
That afternoon was full of memories, memories from another time, another space. The call of that great tree echoed in my thoughts and submerged me in a glimpse of emotions marked with fire, pain and suffering in a strange forest somewhere in the world.
When I woke up I was already there, completely naked, at the entrance of a small village where I was welcomed by city dwellers. A young woman with no past who arrived at a new place and a new beginning.
— Lyanna!
— Yes... Yes!
It had happened to me again, I had immersed myself in the past but why? It had been five years since that event that completely changed my life, I didn't know anything about myself until then, I just remembered my name, Lyanna.
— I need you to take some things to the stable. —say the manager.— Old Edward will be waiting.
— Right away!
For the last five years I had been learning all the customs of the small village of Odell, its inhabitants were completely friendly people and had welcomed me without thinking about it. Latreille was a 56 year old man who had decided to educate me and give me work in that place, thanks to him I learned the language, the customs and everything I needed to know about the world. In just five years I had learned as much as I could to help me survive.
— Mr. Aramus! —I shouted as I entered the small stable.— I have an assignment from my bo...!
Just before I finished the sentence I stumbled on a small step and closed my eyes thinking that I would be lying in the mud, something that would have happened had it not been for that man.
— Falling again?
The thick voice and the strong arms caught me in the act, I had managed to catch me just before falling to the ground.
— I'm sorry to be so clumsy...
— Well you should be more careful Lyanna.
My face blushed and I couldn't help but look away.
— What's going on? —he asked.
— It's nothing Duno...
It had been several months since I met Duno, he was a man in every expression of the word and a gentleman par excellence. For the last year I had been watching him perform work as a miner in the village, a person completely ready to collaborate but with a somewhat explosive character. The fact of being a dwarf, a race almost extinct in the continent according to the old settlers brought to him a certain rejection on the part of the others. To me he was interesting.
— Will you come home later?
— I will think about it...
— Lyanna... —Duno's expression changed a little, he hated it when I answered him in that way, for me it was charming.
— See you later!
After that meeting I quickly went back to the warehouse, my heart was beating a thousand times and I was trying to calm down after seeing Duno once more. However, the restlessness this time was different, no matter how much I breathed I could not stop feeling that pressure in my chest, once again I felt that everything was clouded.
The grey moon has completely changed the course of this earth, only a chosen soul will be able to save us...

...hear the call...

...conquer the shadows...

...wake up!
— Wake up!
The old man's voice woke me up in the act.
— What's going on?
— Lyanna... You've fallen asleep, is everything all right?
— Yes... I've only been a little tired.
— Lyanna goes home. Duno must be worried.
— Yes...
The stars began to furrow the skies as the sunset turned into night, the wind turned the leaves on the ground of those valleys and a strange sensation was present in my mouth, a metallic taste sensation that could not disappear, however it had to arrive, Duno was waiting for me.
Lyanna...
A shiver ran down my back and a voice rumbled in the distance echoing in the wind.
...everything is in you Lyanna...
— Who's there?! What do you mean?!
Without explanation a thick mist appeared around me and with it I disappeared into memories once again.
The lands of Urt had always been a land gratified by the blessing of the gods. All of our ancestors served the great guardian tree, being in charge of protecting part of this continent. My story ends where your Lyanna begins.

Zintar is here, fulfill your destiny...
The images followed one after the other: blood, pain, suffering, the fall of a great tree, the death of civilians, everything was there, everything had happened and Allhm could do nothing, just disappear. Or at least not completely.
Your destiny is written Lyanna... save us.
—
Take a deep breath before you can continue your journey into the forest. He had observed the strength of that demon and the things he was capable of doing to kill his enemies. Allhm had perished to protect us and had left part of his essence in this world in the hope of ridding us of an endless war. I was part of that destiny and now I had to fulfill his longing, being the reincarnation of his ashes.
— Who am I? —I said after embracing and covering Duno's eyes.
— Lyanna? —he asked.
— Bingo!
He smiled as I watched him and presipitated me into his arms, I knew that everything would change as of tonight, Duno would suffer an unparalleled loss but my destiny was written. Everything had to change, for the good of the continent.
— What did you do today?
— The same as always, to extract gold. —He replied.
— There are more important things in the world, Duno. We can always go somewhere else and start over, without the worries of the city's inhabitants.
— I don't want to go anywhere, I just want to be here with you.
The cold nights warmed with his presence. I tried to stay calm, I felt the need to shed my tears but I knew I shouldn't, if it happened, Duno would doubt and with him, destiny would be at stake.
During the night, I watched as shadows surrounded the forest, skeletal bodies and ethereal creatures appeared around, the voices of my ancestors whispered words to my ear, asking me to invoke power to drive them away but it was impossible, my awakening was not complete, not yet.
— Wake up Duno!
— Lyanna! —he shouted after seeing me on the threshold.
— Duno!
The warriors of the shadows caught me without me resisting. I didn't want them to hurt Duno, I was the one they were looking for.
— Get out of this city! -Shouted a man armed with a dagger.
— Let her go! -Duno shouted in despair.
— Kill Daco! -One of the murderers said.
I felt the cold of gloomy steel piercing my body and fell to the ground only a few seconds later. It was painful, I couldn't breathe and the cold began to be present in me.
It's moment Lyanna...

...wake up!
— Lyanna...
— Duno...
Duno approached me, he saw his face between shadows of the past and an uncertain future. His lips collided with mine in a passionate kiss while I could only watch as my body began to materialize in a form beyond human understanding, a figure omnipresent in time and space that I was unable to remember.
Will you protect this world?
— I promise...
Wake up now Lyanna, listen to the call, today a new guardian is born...
---
The story is completely of my authorship for participate in the Steem Monsters Rare Card Fantasy Story Contest! // Week 3 // 10 Booster Pack Prize!
The images used were extracted from the following sources and edited by myself for this story: link.