Why?
Because I became a fan and I want everyone to get in on all the fun regarding Steem Monster.
What is the prize?
You will get a GOLD SKELETON ASSASSIN (4th level). Pretty coool looking card, don't you think?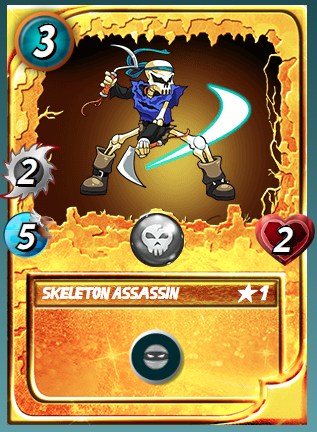 How to join? Just complete the phrase in the comments
I play @steemmonsters like ....
What are the rules?
Make one fun comment by completing the phrase above with anything you would like. Creative comments will receive upvotes. Only one entry for one account, so more comments don't give you a bigger chance to win.
For example: I play @steemmonsters like a pro, ask my mom :)

Will choose a lucky winner randomly using https://pick.esteem.ws/ or any other random generator in 48 hours after posting

Doing the following will not be obligatory, but if you do, I really appreciate it!
Where will we see the results?
I will edit this post, announcing the winner (will mention his username) and will transfer the card to him or her right away.
OUR WINNER IS......

@shoemanchu is very luck guy and this Assasin will be 76th in his collection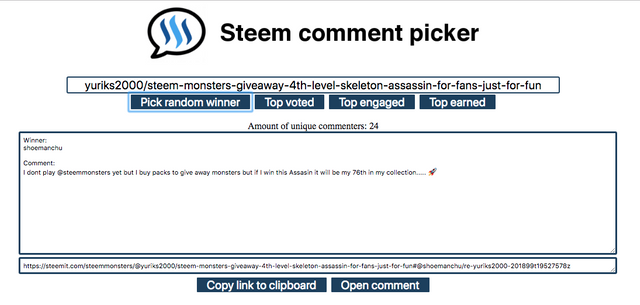 Source of inspiration
Have seen so many posts by @o07, joined all of them I could and decided to make a giveaway as well!
I mean even collecting cards if fun, imagine how cool it will be to play!
---
Brought to you by @yuriks2000, your loyal Steemit Witness and a CEO of BoomApps developing SteemApp, a completely free app for Steemians
Please support us by voting for us as Witness

Or vote for us through steemconnect

Have a lovely day!
If you would like to download our SteemApp free Steemit mobile application, click on the iOS or Android images below