Steem Monster: 3 Booster Pack Give Away #200(NO UP-VOTE RE-STEEM FOLLOW REQUIRED)
Give away 200 is here and to say thank you I will be giving away 3 untamed booster packs to three lucky people. Winners will be randomly picked and sent their booster packs tomorrow.
I have a tournament starting at 12:00 tomorrow so please join link belowe
https://steemmonsters.com/?p=tournament&id=b648e9ebbfccd96c14423480244d1ec56a05ae75
Today's Give away.
*Comment something everyone should own. (a pizza cutter or their own decisions lol)
Todays Tips. No Ability's
This is a rule set that comes up a lot and I have a high win ratio with . The concept is easy, magic can attack from all positions so a magic heavy or exclusive build is the only way.
Part one for lower mana-Pick water of dragon summoner that gives a plus 1 to magic. try to get the highest damage and health ratio. but the higher damage towards the back of your DEC and add a couple buffer cards to the front like the chicken and ozze. This will allow the first couple off attacks to be negated.
Part Two for high mana use the same strategy but you can use a mele damage tank with the highest possible health, in #2 spot but genital giant or gelatinous cube and after that follow step ones strategy of highest magic damage and health cards in the back spots.
Bonus tip- avoid using shields because they are useless against magic.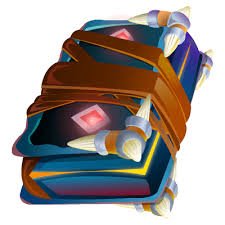 Yesterdays winner was @darthgexe, congrats buddy. 500 DEC already sent, go give him a follow and some love.
See you tomorrow and good luck.