Splinterlands: Monster 3000 DEC, 1 booster pack, and 1 orb give away plus tips and bonus prizes!
welcome to the end of the month Monster give away. I will be giving a way 3000 DEC, one booster pack, and 1 orb, and a lot of smaller bonus Dec prizes. I decided to have three winners instead of 1 so I will randomly pick 3 winners, one for each prize and if you are really lucky you might win multiple prizes. Before we jump right into it lets announce yesterdays winner. Congrats to @armymalaya, 234 DEC already send buddy. Please read below for entry into each of the three prizes.
To win the 3000 DEC- comment the card with your favorite artwork.
To win the booster pack- Re-steem the post and mention it in the comments
To win the orb simpley give this post a upvote and mention it in the comments
A comment with all three entries should look something like this
(SHADOWY PRESENCE is dope upvoted and resteemed)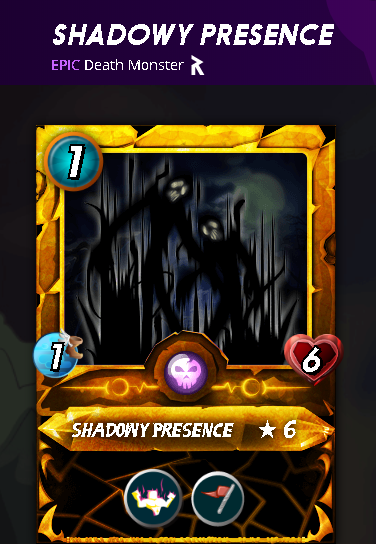 Todays Tip-1 or 2 mana cards
Today's tip have to do with maximizing your low mana cards. These cards when used to their full potential make all the difference in your DEC. there are about 20 cards with a Mana under three . Some of these have some of the best damage to mana ratio and others have ability that belong on 4 mana cards. Lets look a couple of these cards any you can apply the basic principles with all the low mana cards.
Card -1 BROWNIE
This is a life card with 1 mana and at level four it give all your cards plus one speed and all mele cards plus one damage. If you get mele can attack from all positions or mele sneak rule set you have just gained up to 6 mele damage points per round with i mana and increased speed which not only might let you go first delivering a fatal blow before you enemy but also increase the chance of a miss my melee attacker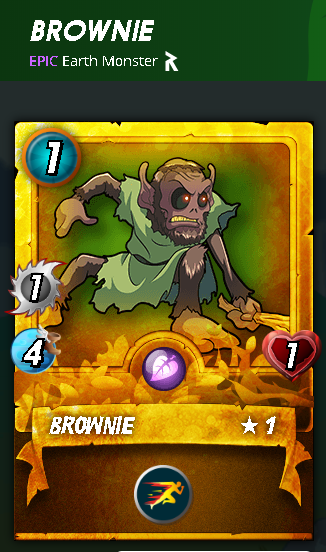 Card 2-Swamp Thing
I chose this card because it is also in the earth splinter and can be paired with the above card in certain situations. Swamp thing reduces the enemy's health by one and has a large amount of health considering its 2 mana cost. This card is key in the rule set that reduces health after each round by two for no flying monsters. At level three it has 5 health and the ability mentioned above their for it can last 3 rounds and the reduction in enemys health combined with two health tax after each round this can win you the game. At level 4 it also lowers enemys speed by one which is just a cherry on top.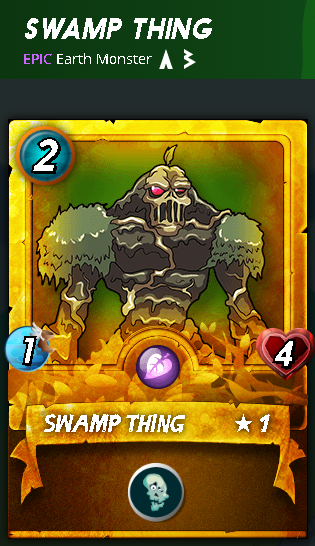 3rd and final card- PIRATE ARCHER
This is a 2 mana ranged card with blast and at level 5 it has a total of 3 damage including its blast. This card is not amazing but with the 2 mana 3 damage it is a solid card how ever this card goes into beast mode in conjunction with a couple other cards. pair this card with a ELECTRIC EELS which has reach and blast along with the king himself, RULER OF THE SEAS(also a high damage blast card ) and boom you are melting away the first half of the enemy's deck in just one or two rounds. This set up works even better on the rule set of all ranged cards have snipe because the blast will hit the card to the left and right doing double blast damage and almost for sure earning you a W.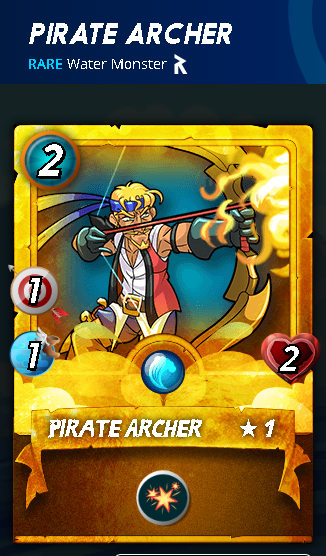 That is all folks all winners will be picked on the 4th or March os see you then.