Best Steemmonsters Season Ever
We are nearing the end of the best Steemmonsters season to date. The Steemmonsters team has been constantly making the game better ever since I joined the Splinterlands 9 months ago. The creation of DEC and guilds was great, but the reason this is the best season to date is because of the addition of double rule sets. This has provided players with the opportunity to use critical thinking and create new line ups. I know I personally have set many new line ups that I have never played before, or even thought of before.
For all of the double rule combinations, there are many great ones, some I don't care for, and a few that are downright silly.
Here is a replay of a double rule combo of Back to the Basics with Reverse Speed. I would have used the earth splinter for this combo, however it was not available this time.
https://steemmonsters.com?p=battle&id=5bb04b215bd9a5b15baf96fa4c20d6f6a7db5830&ref=themightyvolcano
Here is an cool battle I had against @Raynie with the double rule combo of Earthquake with Reverse Speed. Generally I play a fast deck for earthquake rules, so it was fun to mix it up with reverse speed. I would have used Selena if the dragon splinter were available.
https://steemmonsters.com?p=battle&id=02da495d2efd426cc38f4857b626d80006a359c6&ref=themightyvolcano
Here is a replay of a double rule combo of back to the basics with up close and personal. This may be my least favorite rule combo, but perhaps that's due to my poor results.
https://steemmonsters.com?p=battle&id=ebca71a67768fcb62b368bbf9bec0df66a80fcb9&ref=themightyvolcano
Here is an example of a silly rule combination. The combination is Super Sneak with Keep Your Distance. I say this is a silly combination, since Keep Your Distance negates Super Sneak, so essentially you are just playing one rule.
https://steemmonsters.com?p=battle&id=d85f0ef4c1eb91b309ec92240897cc02c9d426f6&ref=themightyvolcano
Congratulations to @vcdragon as you defeated me in two of these replays I shared.
Steemmonsters has given me countless hours of entertainment, but this season has been by far the most entertaining. There is only 1 day left in this season, and anyone who competes on the leader board knows the last day is the most exciting day of the season. Here is a screenshot of the current leaderboard. I'm going to attempt to climb my way to the top, which I know will be a difficult task.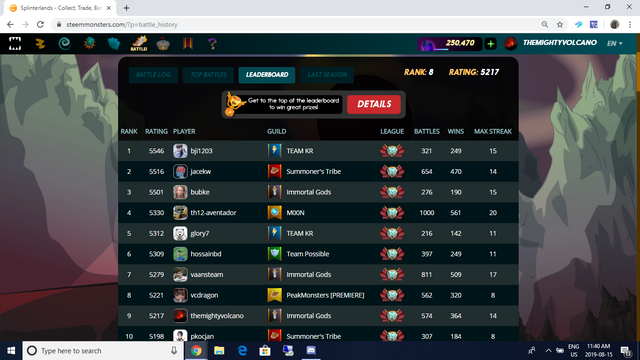 I look forward to continuing my journey through the Splinterlands as I expect many more great things from this great team. I would like to send a special thank you to the entire Steemmonsters team for all of their efforts making this game the greatest game I've ever played.
Thanks for reading. See you on the battlefield.