SVIRUS market statistic - From block 34638559 to block 36330160 - 8k+ USD has been transacted to svirus !!!!
Hey steemmonsters lover,
We would love to let you know the full statistic of svirus market. You will know how many steem and sbd has been spent through svirus to buy cards. And this post will also include the total cashback amount sent to the buyers.
It's a pleasure to announce that till now buyers has spent approximately 33409.6 steem and 3522.772 sbd which is worth of 8144.114 USD through svirus market in 5262 transactions
The calculation was done on basis of what amount market sent as payment since sometime people send more than the required amount. Then i calculated the required amount buy doing the simple calculation: required amount = sent_amount * 100 / 95. The cashback was calculated in similar way. Block which was included in the calculation : From 34638559 to 36330160
Recently card purchasing cards through dec was added in the service and beta pack can be purchased on 10% discount(not the official way) but these were not counted in the calculation.
Below is the statistic of cashback-
If you don't know about this market, here is a brief description-
svirus is a steemmonsters card buying market which is similar to steemmonster, peakmonsters. The difference is, these sites have web interface where as this service has discord interface to buy card like the below snapshot-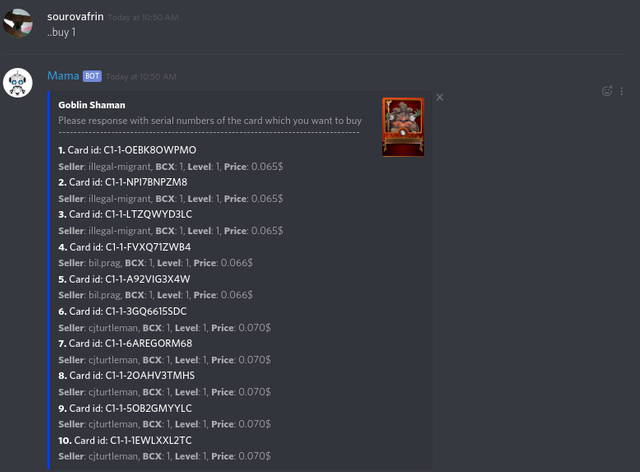 What is attractive in this market is, you get 3% cashback on your purchase. We have updated everything and things are quite stable now. You will definitely love the service.
---
Moreover when you join the server, you get another service called- Cheap Card Notifier where you will be notified for newly placed cheap cards which is quite popular among server members now and it will open a chance to make profit through trading cards. Below is a screenshot of that service-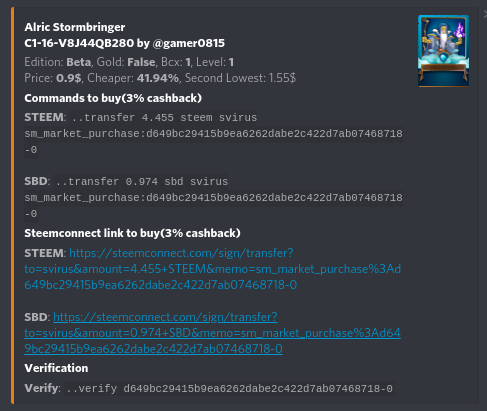 ---
If you are interested in this market or service or if you have any query related to the service you can