Now you can buy beta packs through SVIRUS market - And Save 10% 😉
Hey steemmonsters lovers,
From now you can buy beta packs through this market. Before you could only buy cards and get 3% discount. But from now you can buy beta packs and cool thing is you save 10% on each beta pack. You can use our discord interface to buy packs.

What you have to do is just command like this: ..buypack pack_amount and bot will reply you with payment link. After paying it will will send you 0.001 steem/sbd with a confirmation or a refund in case there is something wrong. If you send over payment like 100 steem for 2 packs, you don't need to worry at all. Bot will always refund the extra.
In case you are not in discord and still want to use the service, just send the appropriate amount of steem/sbd with appropriate memo. The memo should be in this format: purchase_pack: pack_amount and the price will be determined from steemmonsters api. Example of an memo: purchase_pack: 40
Note: This is not the official way of buying packs which gives you 10 packs/75 packs bonus on 100 packs/500 packs purchase. So, if you are thinking of buying in bulk, this offer is not for you.
But, you might love other services of our discord. So why not join and check it out(we rarely bother people by mention 😂)
---
Our main service was sending Cheap Cards Notification where you will be notified for newly placed cheap cards like below screenshot-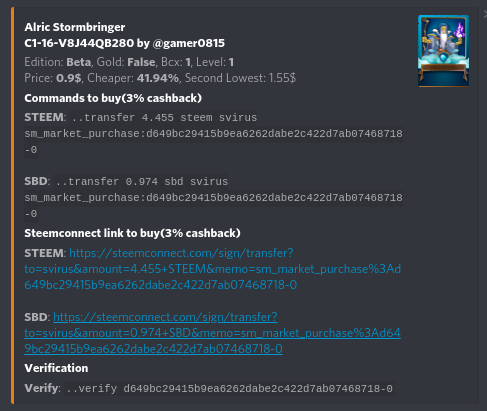 ---
If you are interested in this market or service or if you have any query related to the service you can