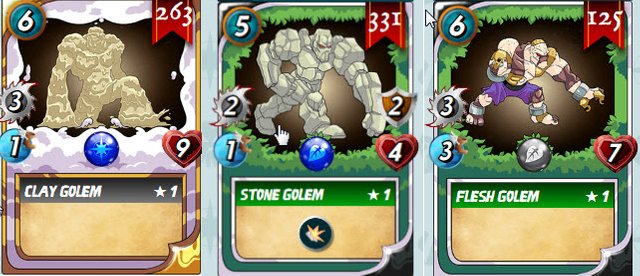 I hope you are all doing well today. I have been lucky enough to win some cards in the Steem Monsters giveaways so today I am going to do a give away of my own. I am going to give one lucky person all 3 of the Golems. That is right you get a Flesh Golem, a Stone Golem and then that Golem that joined a different team aka the Clay Golem.
To Enter
Upvote the post.

Optional Resteem the post.

Write a comment with your Steem Monsters user name and a random number 1 to 1000.

Can't use a number someone else has picked so check the comments.

After voting locks I will pick a winner with a random number generator. Winner is the closest without going over.

Bonus possible of 1 SBI Share if you guess the exact number.
Those are the rules.
Please check out the kickstarter for Steem Monsters and support if you can KickStarter
Also if you don't know what and SBI share is please check it out here