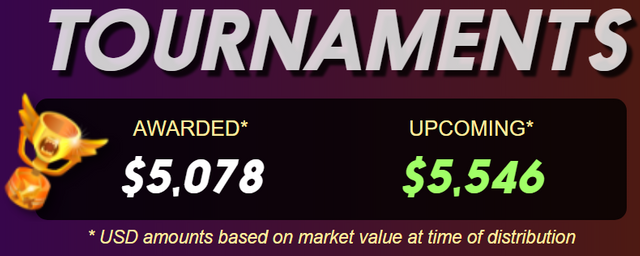 15 days ago in this post we announced to the world that Steem Monsters Automated Tournaments were open to the world. Today I'm happy to announce that we've paid out 5000 USD worth of crypto, monsters, booster packs, and custom tokens to users across the userbase. This doesn't include the quest rewards, season rewards, or contests we run all the time either. This is just through the tournaments.
$5000 THAT'S HUGE!!! If we stay at this pace we'll distribute out $130,000 to players in the first year tournaments operate!!!
Pays to play!
Sometimes our game is called pay to win because those who have staked more cards have access to more tournaments and the higher level tournaments have larger pools. I think that's wrong. First off you're not paying to play at all. I paid to play hearthstone. I quit hearthstone and have nothing to show for it. The cards I have are gone. I paid money, I got cards on a centralized server, and when I stopped playing I had nothing. Here you purchase cards, own cards, play cards, and can sell them back to the market when you're done. You're not paying anything. You're staking.
More importantly though, through decentralized tournaments everyone has a chance to earn through skillful play. Earn a rank through season play and now tournaments are free to enter (they'll cost you DEC when that rolls out, but we'll give you the DEC through play so tournaments are still effectively free to active players). Now you're able to enter free roll tournaments and earn through skillful play. It's a fun game! It's nice to earn while playing a game! You get both here!!!
We're a combination of pays to play and stake to play.
Many Opportunities
This chart is subject to change, but as of right now this is how tournaments are getting scheduled.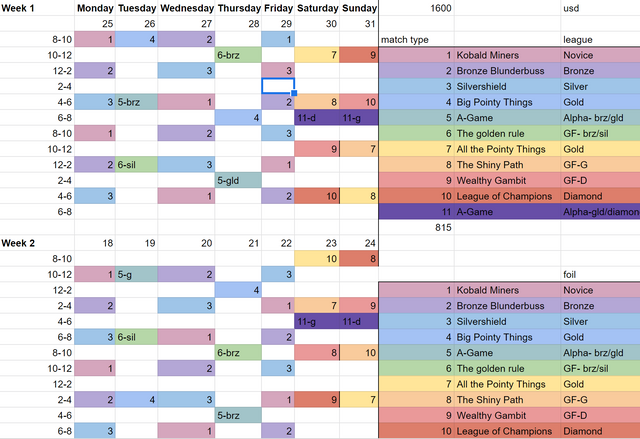 You can see there are 11 different tournament types and there's 34 tournaments we offer every week. They range from novice games to diamond level play with gold foil cards only. There's multiple games for everyone here. If you own novice level cards you can really only play at novice. If you own gold foil diamond cards your cards will scale to the appropriate level of the different tournaments and you can play and have a chance to win in all of them!
There are no advantages to own diamond level cards in a novice level match! Cards get nerfed in lower level tournaments. So, even if I have a complete set of all cards it doesn't matter because when I enter a novice level tournaments all my cards get reduced to level 1. This game doesn't guarantee equal outcomes, but can guarantee equal opportunity depending on which level cards you're currently staking and what level tournament you're currently playing in.
It's not just us!
Check out this tournament by Mene! These rockstars wanted the attention of our audience to get people to sign up for their gold trading services! They got 220 people in the game with a relatively small investment (from a business standpoint) and were able to get sign ups and new people to experience their product!

Steem Monsters doesn't have to do all the work by ourselves. The more we grow this ecosystem the more tournament sponsors we'll attract. The more sponsors the more money up for grabs. The more money up for grabs the more the cards will be worth! The secret is to get in here, get playing, bring your friends, and start asking the businesses that you know to put some money or product in the pot to get player attention! The best news is that it's already happening!
Monsters to the Moon
It's not always the right place to start, but I do often look at the overall marketcap of the cards to see how w're doing. Tournaments launched on the test net very near the bottom of this graph. Since then we're up $116,000 in marketcap! It's arguable that this may or not be the perfect way to calculate it, but either way it's a steady number that we can track for the past 90 days.
The speed of this rise looks meteoric! We're doing this in the longest bear market in the history of bitcoin. We're doing this as the first income earning app on Steem. We're doing this in some of the hardest market conditions imaginable. What do you think is going to happen here when the bull market comes back? When people are rushing to enter crypto again? When people are looking for things to do in the cryptospace that can earn them crypto? When many new businesses form here and attract their user base to this space. Tell me! What do you think is going to happen to this chart?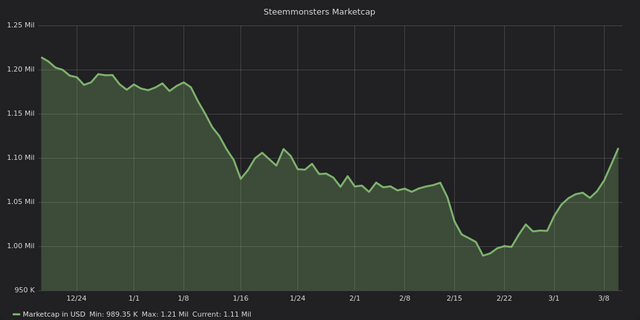 Coming Soon
We're working on partnerships with other blockchains to bring more players to the game.
We're working on delegation to separate being both a card holder and a card player. We'll soon have card hodlers who work with teams of players.
We're working on making alpha and beta packs tokens that can be traded on the Steem Engine dex. Purchase boosters with your Credit Card and then if you decide you have extra simply trade them on the Dex.
We're working on an in game currency and a whole new bevy of products you can use with it. Enter tournaments, get votes, get skins, badges, trade for cards, and in game boosts to customize your play. We think it's gonna be huge!
Coming Later
We'll have team PVE and team PVP.
We'll have a full campaign.
We'll have an empire building expansion.
We'll have sister games.
We'll have a mobile app.
We'll have translations of the game.
Don't miss this!
Steem Monsters is going to be the first streaming blockchain esport. We have the pieces we need in place, getting built, or we're laying the groundwork. We can't tell you what is best for you and your family as we don't know your circumstances, but we're stoked and so excited for what's coming. We hope you're there with us rather than sitting on the sidelines.