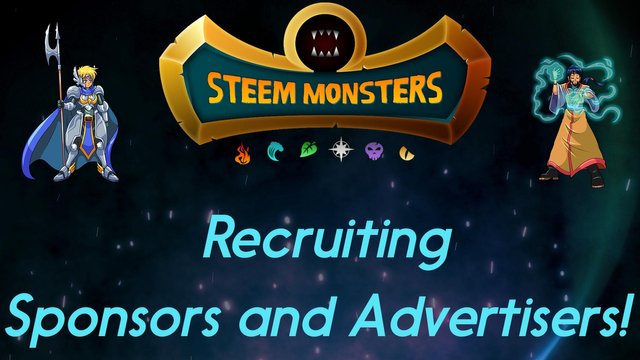 Just like boxing and a variety of traditional and e-sports games have done we're now investigating having sponsors. Sponsors will be able to host tournaments and/or provide a variety of rewards for players. A sponsor essentially puts up a tournament purse, with whatever types of prizes they want, and the Steem Monsters community battles it out to win it. The sponsor gets attention and the players get money!
Similarly we're looking for advertisers as well. We'll put ads on our site and get your message out to our highly targeted, crypto-savvy audience.

Why this is a great opportunity for players
We're currently delivering over 100,000 page views per day on the steemmonsters.com website to around 2,000 daily unique players. That's a significant asset that we don't think should go to waste. Any revenue brought in from sponsorships and advertising can go to further development, increase marketing, and larger tournament prizes - all of which benefit the overall community by ultimately increasing the value of the cards.

Why this is a great opportunity for advertisers
Steem Monsters has a highly targeted audience of people who own and understand cryptocurrency, and since they are stakeholders in the platform by owning cards they have every reason to be excited and supportive of brands who choose to advertise and sponsor prizes in the game.
Compare this to traditional advertising channels where you have to fight against everyone doing whatever they can to block or ignore your messages.

What are players looking at?
The most popular views in the game are based around fighting or your collection.
The most popular is battle history followed by create team, battle, the collection tab, and the market.

What will it look like?
We're doing our best to make sure any adverisements on the site are non-intrusive and fit in with the overall look and feel of the site. The goal is really just to let players know where the prizes they are winning are coming from, and encourage you to support those brands who are supporting us.
Some mockups of potential ad placements are shown below, though please note that these are not final and are subject to change.

The Battlefield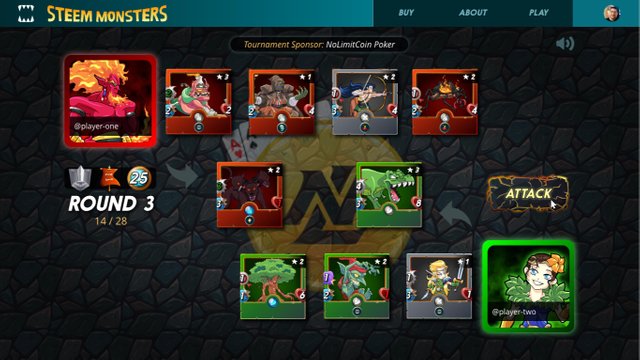 On the Battle Page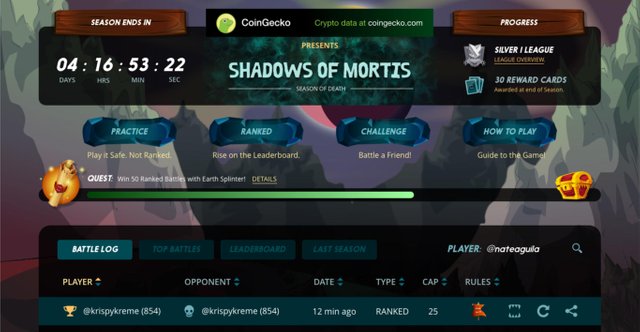 Market / Collection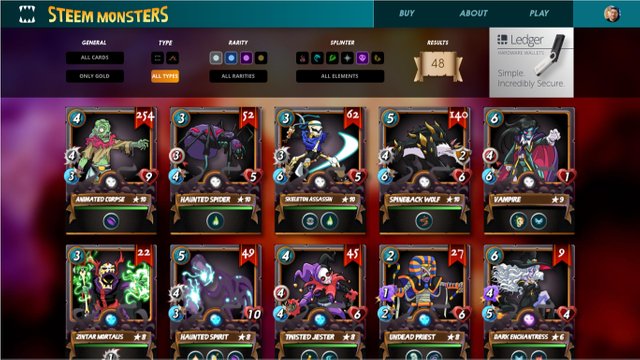 Preliminary Pricing
To get the ball rolling we are offering 50% off our base pricing to our initial advertisers. We expect this will be an amazing opportunity for brands to reach this audience.
We are going off of a typical CPM model (cost per 1,000 impressions) however we are open to discussing other pricing models if preferred.
Battlefield Sponsorship: $25 CPM $12.50 CPM w/ 50% discount
Battle Page / Leaderboard Sponsorship: $25 CPM $12.50 CPM w/ 50% discount
Market / Collection Page Sponsorship: $15 CPM $7.50 CPM with 50% discount
We accept most forms of crypto or USD for payment.

Customization
If you're looking for something more specific and tailored to you let us know and we would be happy to work with you to design something unique that best represents your brand and your message! The best place to reach us is aggroed at Steemmonsters dot com or in Discord at https://discord.gg/CAFJRjY
How do I order?
Please start by filling out this form and we'll go from there!
Have a network of people looking to advertise?
Some of you might be in the advertising business, you might have a job marketing a company, or have connections to people that do a lot of advertising for their business. If you think you have a way to bring in a large advertiser please talk to @aggroed in Discord and let's work out a plan that incentivizes all of us!

Thank You for your continued support!
Steem Monsters Contact Info: