Steem Monsters 1 Year Anniversary Post + Promotion!

It is amazing and humbling that Steem Monsters (a.k.a Splinterlands) is celebrating its one year anniversary! In that time the project has gone from a small side project by @aggroed and @yabapmatt into a business with four full-time employees and about 15 part time team members!
One of the coolest, and most important things that this game has enabled over the past year (in our opinion) is the card marketplace. Since the market was launched in July of 2018, over $802,000 USD worth of crypto has been spent purchasing cards from other players. To make sure that's clear, all of that money didn't go to the company but instead went directly to all of you - the players. That's something that's nearly unheard of in traditional games.
In fact, the amount of money currently being spent on the card market every day (and now also on the DEC markets) significantly exceeds the amount that the company itself makes from pack sales. But we are not only ok with that, we're excited about it, because ultimately we feel that the more value our players get out of the game, the more we, the creators, will get as well when it's all said and done.
The point is that, unlike traditional games where all of the value flows from the players to the company, with the decentralized model everyone can share in the value creation together. We are incredibly excited to continue to share in the success of the game with all of you for many more years to come!
We're having a blast. We hope you are too!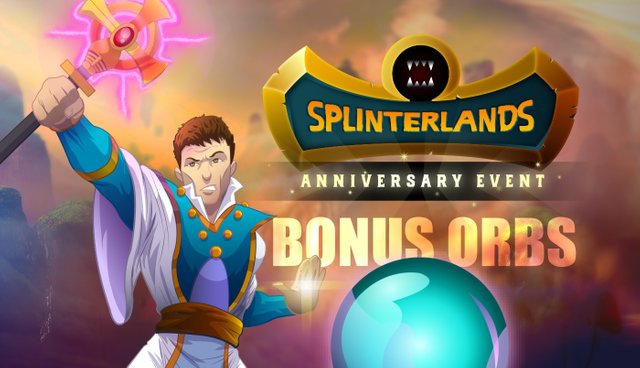 Get FREE Essence Orbs with Booster Pack Purchases!
To celebrate our anniversary, and the recent launch of the Dark Energy Crystals in-game currency token, we are giving out FREE Essence Orbs with every purchase of 10 or more Beta edition booster packs!
For purchases of 10 or more Beta edition booster packs you will receive free Essence Orbs equal to 10% of the purchased quantity of booster packs!

For purchases of 100 or more booster packs you will receive free Essence Orbs equal to 15% of the purchased quantity of booster packs, plus the standard 10% extra booster pack bonus!

For purchases of 500 booster packs you will receive free Essence Orbs equal to 20% of the purchased quantity of booster packs, plus the standard 15% extra booster pack bonus!
Please note that this is a limited time offer. The offer is only good until this announcement post pays out, so make sure to get your packs and free Essence Orbs before it's too late!
Gear Up for Another Great Year
The past year was awesome, but the next year is looking like it could be many times better. We have more resources available to us, more people actively working on the product, and we might even be heading into another bull market for cryptocurrencies. We have a fantastic roadmap of new features, improvements, and marketing to help grow this project by 10X or more, including:
Localized versions of the website (Korean and Chinese versions should be ready very soon with many more to follow)
A Guild System including asynchronous combat
Integrations with various other blockchain platforms and communities
iOS and Android Mobile Apps
Items and Spells Expansion
Please keep in mind that while we try to stick to our published roadmaps as much as possible, they are never set in stone and may change.
For those of you who rush to sell your cards or your DEC as soon as you get them, we fully support your decision to do that, but keep in mind that our team will be working hard day in and day out to make you regret it!
Thank You to our Players and our Team!
Of course, none of this would be possible without our amazing community of players, and our fantastic team. We want to specifically thank our team members who have all played a crucial role in getting the game to this stage, and who will be instrumental in taking us to the next level!
So, in alphabetical order, we want to give a big THANK YOU to:
@birdinc
@carrieallen
@chrisroberts
@clove71
@crystalhuman
@harrisonmir
@isaria
@jayplayco
@jftactual
@melonman0
@munkiioh
@nateaguila
@reseller
@stoodkev
@travelgirl
@wilhb81
@zipporah
Blast From the Past
We want to remind of our humble origins with some screenshots of how the game used to look so you can feel some nostalgia if you were around back then, or maybe you'll just laugh at @yabapmatt's programmer design skills.
None of this is possible without the Mavs!
You guys are insane, frustrating, dedicated, passionate, creative, inspiring, and awesome. We work every day to make sure you're having a blast and watching your stake increase in value over time! Thanks for sticking by us this first year, here's to many more, and may your Dark Energy Crystal wallet overflow with magic!