SOLD OUT!!!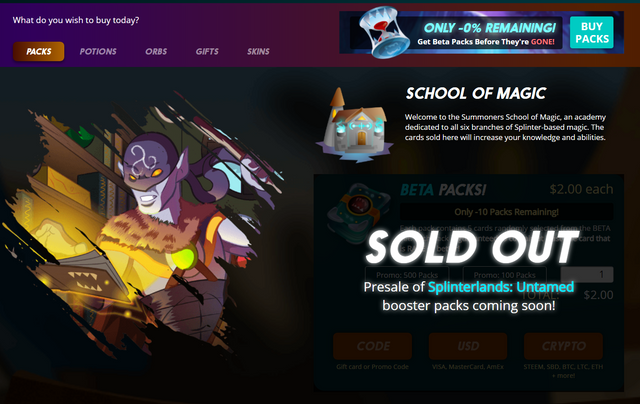 The team is extremely happy, proud, and humbled to announce that the Beta Booster Series has SOLD OUT!!! It took us just over a year during a very challenging bear market, but they're all gone. Now we all wait with baited breath to see what happens in the next evolution of the game.
We're blessed with a fantastic community of dedicated players. They track the market, the strategies, rentals, development, and every word that our team shares. They create contest, share stories, stream battles, stream tournaments, and go into remarkable detail on stats and strats. It's an obvious statement to say this wouldn't have been possible without them, but it's an understatement none the less.
In short, thanks guys! And congratulations to you too. We're doing everything we can to maximize the value of these cards and further we pay special attention to ensure that we drive value to the players. If you do well so will we.
What now?
New players can still purchase or receive starter packs. Just because we don't have any packs doesn't mean they aren't out there for a bit still. Players can purchase betas on steem-engine from players who voluntarily choose to exchange them there. You can also find some good deals in the Splinterlands discord and the cards are available for sale from the players 24/7 on the market.
Even new players will have a chance to get in the game with betas for a while. They'll buy cards, but just not from us. They'll get them from you! So, even without new packs going out right this second we hope and plan to continue growing.
What's next?
UNTAMED!!!
Yep, we've been working on another series. It'll have 1.5M packs in the series and we hope it to last about another year. We're going to release it to the public with a Kickstarter campaign. We're finishing up the details but it should be ready soon.
UNTAMED will have a whole new array of monsters and summoners that wide-eyed, brand new, players and savage veterans alike can use to buy, trade, combine, rent, and earn with.
This edition will have a great twist though. There will be 15 airdrops throughout the sale of the cards. So, every 100,000 packs there will be a new airdrop where you'll have a chance at receiving those cards based on the number of packs you've purchased directly from us or our partner vendors (like peakmonsters.com). So, you're going to want to get in early to make sure you get as many chances at cards as you can.
Should be fun! Please keep an eye out for the Kickstarter campaign. We're starting "soon." And we'll have some tournaments and announcements that go along with it.