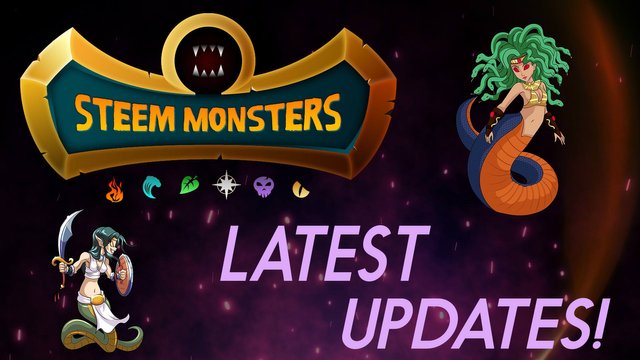 Most of you are probably aware of these recent updates, since you've already seen them in the game, but nevertheless we feel that it's important to let everyone know what we're up to in an official capacity. So here's what we've been up to in the past week since we released the new gameplay changes!

Updated Matchmaking Algorithm
Those of you who play regularly have hopefully noticed that you are getting matched with opponents closer to your own rating.
Initially when we released the game, the matchmaking algorithm was very simple and prioritized speed above all else. This means that it would match you up instantly with whoever was currently looking for a match in your same league. Since each league has a rating range of 900 points, this led to a lot of matches between players with vastly different ratings, which was a poor experience at both ends.
We have recently updated the matchmaking algorithm to be a little more patient, which may lead to slightly longer wait times, but with the benefit of more even matches. How it works is that if it can't find an opponent who is a close rating match right away, then it will wait and slowly expand the rating range it will match with as more time passes. After about 60 seconds the range will expand to include any available matches in the same league.
Ultimately, the quality of the matchmaking is determined by the number of active players, so keep referring your friends!

Cards to Next Level
It's good to know experience and how much experience cards have, but at the end of the day what's really important is "how many more cards do I need to level this one up?" Well, we're not getting rid of experience, the back end of the program is still measuring everything based on experience, but we've updated the user interface to show players the information that is most important to them.
We're now showing how many cards you need to reach the next level on both the collection and market sections of the site. To reiterate, this is just a UI change to make things easier for players when purchasing and combining cards. We're not changing any mechanic in the game because of it.

New Battlefield Design
The much anticipated tournament system is in the works and is expected to be released in January of 2019. One piece that we have implemented now is a new design for the battlefield which will allow us more space and options to add in new elements, such as tournament sponsor logos!
Many thanks to @nateaguila our lead designer for this and many other designs that you experience every day on the Steemmonsters.com website.

Alpha to Beta Conversion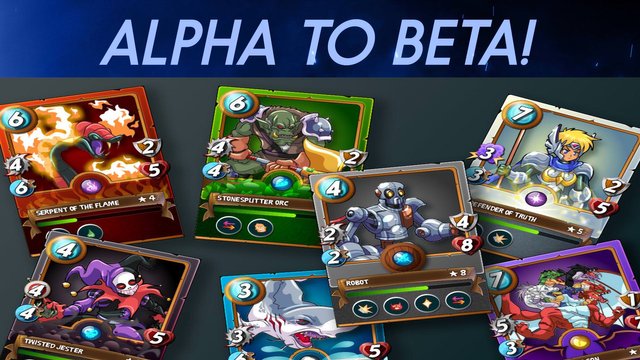 The oneway Alpha to Beta edition card conversion option is now live in the game. We originally announced this feature in this post including the reasoning and player feedback behind it.
If you would like to convert Alpha edition cards to Beta edition, you can go to your collection, click on the card, and make sure you have Alpha edition selected. Then you can check the box next to one or more cards and click the "Convert to Beta" button.
As a reminder, this is a one way transfer. You're converting your Alpha edition card to the equivalent Beta edition card. After the conversion the card will be a regular Beta edition card just like any other and can be combined with other Beta edition cards of the same type. It will still be worth the same amount of experience as the original Alpha edition card, though, so you don't lose any of that initial benefit to having Alpha cards with more experience than the Betas.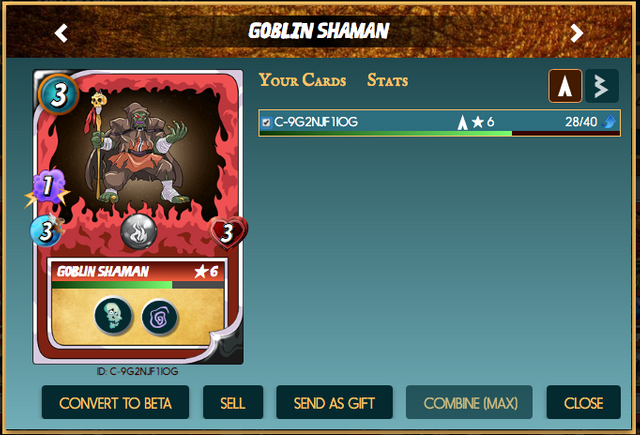 Removed Reliance on Steemit, Inc
After the recent announcements we felt it was no longer prudent to rely on any services provided by Steemit, Inc. We are very happy to report that Steem Monsters now has no reliance on Steemit, Inc in any way. If they were to shut down all of their services right now, Steem Monsters will continue to run unaffected.
We were able to move off of the Steemit, Inc API node very quickly thanks to @anyx, who has done some amazing work over a very short time period to optimize and run an RPC node which offers performance exceeding any we've seen to date.

Gift Cards

It's the end of the year and everyone needs to send gifts. You could send crypto which your normie friends don't know how to use. You could send them gifts of stuff they don't need like that gelatin octopus arm you're holding now. Or you could send them what they really want... MONSTERS!
Good times to be had by all. You can now send gift cards with promo codes to your friends, family, strangers, lovers, pets, roomates, Steem Family, or strangers in the street.
Click buy, and in the top left you'll see a new icon for "gift cards." Everything you own in the game becomes more valuable as more players play, so give yourself a gift this year by giving your friends the gift of Steem Monsters!

Dadgroed and Babygroed!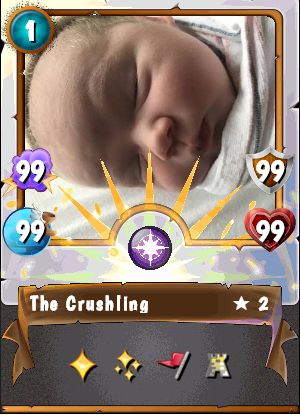 This handsome buddy weighed in at 10 lbs and 9 ounces. We think that's 4.7kg. He's a huge baby and 22 inches long. Mom is recovering well. He's the newest addition/edition of the Aggroed Family. Please welcome Julius to the world!
Anyone feeling super inspired should feel free to send a pack to @trollbaby (He brought us to the hospital 3 times before he was finally born on the 4th trip. He was trolling us.) to start his collection.

Thank you for your continued support!
Steem Monsters Contact Info: