First Splinterlands: UNTAMED Airdrop Announced - DIAMOND DRAGON!
Beta packs sold out. We have since started marketing the new edition UNTAMED. This edition features 14 airdrops! We've just sold out of the first one!
History of Airdrops: Alphas
This game didn't always have gold foil cards. It started with just the standard foil ones. We announced the addition of gold foil cards and then did an airdrop. Players who had previously purchased packs received a bonus slavo of cards in their account. Not every pack purchased got an extra card, but the more packs you had purchased the more aidropped cards were received.
Beta Airdrop
With the launch of the Beta edition, we ran a Kickstarter campaign. It featured designing your own Legendary Summoners for a high pledge amount. Those cards were designed and weren't ready until we were roughly halfway through the beta sales. We decided to airdrop them to players. Players received airdropped Legendary Summoners based on the number of packs purchased.
UNTAMED Airdrop
With UNTAMED we have pre-scheduled 14 different airdrops, which will include the 6 Legendary Summoner cards designed by backers in this current Kickstarter campaign and 8 other cards from the Untamed set. There are a total of 1.5M Untamed edition booster packs for sale and after every 100,000 packs are sold another card will be added to the set and airdropped to all players who purchased packs previously. Note that there will not be an airdrop after the last 100k packs are sold.
This means that if you purchase packs from the first set of 100k, you are eligible for ALL 14 future Untamed airdrops. If you purchase from the second set of 100k packs you're eligible for the next 13 airdrops, and so on. The sooner you purchase packs the more airdrops you are eligible for.
First 100k packs sold
Between the site, Kickstarter, and Fundition, the first set of 100k packs have been sold out. The actual airdrop is scheduled take place in November, shortly after the pre-sale and crowdfunding campaigns end and the Untamed cards are released. If the second 100k packs have sold by that point then both airdrops will take place simultaneously.
It's Not Too Late!
Even though the first 100k packs have been sold, all packs purchased through Fundition and Kickstarter will be eligible for ALL 14 Untamed airdrops, even if they are purchased after the initial airdrops are sold out. So, if you want to make sure you don't miss out on any of the cards, consider backing us through one of those platforms.
If you want the packs immediately so you can trade or barter with them immediately please continue using the site for purchases, but note they don't get the benefits of the Kickstarter/Fundition campaign.
Player Notice
Packs purchased through the Splinterlands website are NOT eligible for Kickstarter/Fundition Stretch Goals. Those are exclusively available through the Kickstarter and Fundition campaigns. Also note Fundition and Kickstarter packs aren't delivered until at least late November (site packs appear immediately, but can't be opened until the pre-sale is over, which slated for the end of November).
Now that the first 100k packs have been sold, packs purchased through the Splinterlands website from here on out will not be eligible for the first Untamed airdrop.
Additionally, packs purchased second-hand from other players are not eligible for any airdrops. The airdrops are based on packs purchased directly from Splinterlands or approved third-party merchants such as peakmonsters.com.
Diamond Dragon
So, what's actually getting airdropped you ask? This Legendary Dragon Splinter Diamond Dragon!!!
It's a total "drag" that you can't participate in this airdrop by purchasing packs on the site anymore, but all Kickstarter and Fundition packs will still be eligible for it! So, you're not completely out of luck. You just have to pledge in one of those two campaigns. As long as you bought one UNTAMED pack in a pledge you have a chance of getting all 14 airdrops!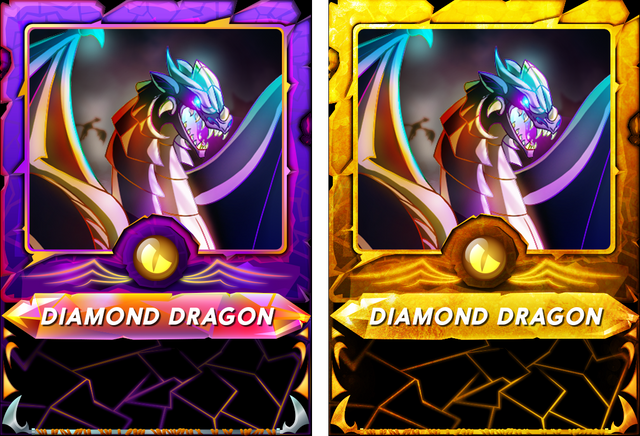 Relevant Links
https://www.kickstarter.com/projects/526764488/splinterlands-untamed-a-blockchain-trading-card-game
https://fundition.io/#!/@sm-fundition/yl3a19vec
Stay tuned for more updates from the Splinterlands!
Website | Blog | Discord | Telegram | Shop