Due to me working a 12 hour shift, I messed up and forgot to screenshot the winner of my last contest for this Gold Foil card and I apologize. So I will be celebrating the @steemmonsters market being launched....
So today's start of the 7 day contest, I will be giving away 1 Common Gold Foil Goblin Sorcerer @steemmonsters card.
Here are the rules of entry, you must upvote and resteem to enter and qualify, all you have to do both upvote and resteem and your entered because I am giving this card away at the end of this 7 day post. 1 Entry Only
I will be putting all the qualified names in a hat or bowl and picking the winner
Here is your chance to own or add to your collection of @steemmonsters but you must follow the entry rules to a T. If you don't do both your not entered in this giveaway....
Yea, I may be crazy but I think it is key to give back to the people of this platform because I am a true believer in Steemit and also this SteemMonsters game that we all will be playing. I'm here to spread positivity thru the community, I save the negativity for LameBook aka Facebook. Thank you to all my friends, let's continue to be GREAT.......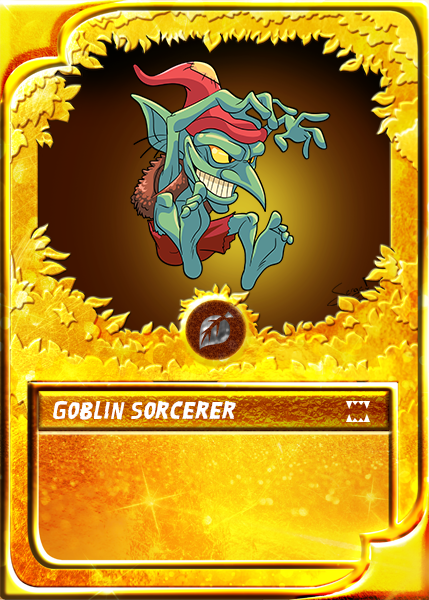 Also please go check out @steemmonsters for more details if you don't already know about it...
Also @aggroed @yabapmatt @isaria @steemmonsters, I think once the games begin, I think to add an old sports style game within the game would be awesome and another way we battle......
@steemmonsters FOR LIFE!!!!!!!!!!!!!!!!!
Also check out my great friends @dkid14 and @o07 they also have contests everyday... God Bless
Strive for Greatness....