A New Steem Monster's Card?
I thought it would be fun to play around with photoshop and see if I could make my own Steem Monsters gold card based on everyone's favourite Steemian: @rustle.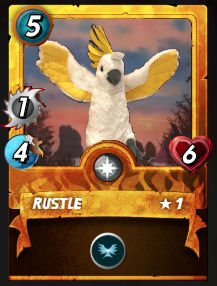 For the sake of avoiding plagiarism claims, etc. I'll admit to borrowing from various sources, including @holoz0r's card collection for the 'Giant Roc' card and for various letters, @steemsistershow's video for the background and heavily editing a photo of @coruscate with @rustle while at Steemfest in Krakow.
What do you think? Should @rustle get his own card in the next Steem Monsters series?
Let me know in the comments.