Splinterlands weekly battle - THEME: WATER
Create a post sharing a video of one of your battles using the WATER SPLINTER.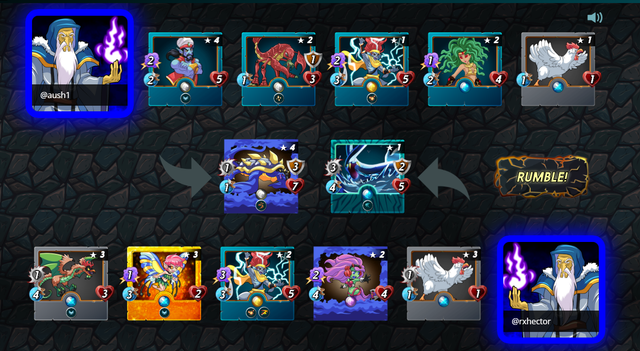 https://steemmonsters.com?p=battle&id=4f34b0436cbbcf22aad23d9bef3a05ecc25946d8&ref=rxhector
Tell us why you used the Water Splinter. Do you often? Or just for this challenge?
Water splinter is one of my better sets of cards.
I use it more often than earth or life splinter for sure.
Tell us about your line up. Why did you place things where you did?
serpent of elo - testing one of the new cards - makes a nice tank even at level 1
furious chicken - i like #2 spot for the chicken - soaks up a hit after tank is gone
michevious mermaid - she's fast and gets the extra magic damage
ruler of the seas - gets a speed boost and magic damage boost - pretty beasty if you can level him up
gold pixie - always nice to have a flyer to dodge attacks - and gets the magic boost
cockatrice - fast little flyer - soaks up any attacks at the rear - harder to hit a flyer
Did your strategy work? What will you try differently next time?
This strategy worked great for this match - the other player was a little out ranked in this one.
I'll probably lose the next 4 or 5 - but them's the breaks LOL.

The easiest way to help the broke carpenter is an upvote and maybe a resteem.
The next best way is to sign up for the fastest dex on the planet - bitshares - https://wallet.bitshares.org/?r=rxhector2k5
Projects you may end up funding
Better Server
Better network equipment (better switch/router)
Better drives (need storage space on servers - thinking about a boinc node)
Future servers / vms / dev machines
Need to run a bitshares node
Need to run a steemit node
colocation = $650/mo
server = ???? (cluster @$5k/ea)
bills = $2k/mo
unemployment ain't gonna fix that
i got a few website/gamification ideas - but need to get network and nodes running better before jumping back to development environment

]
[

]
(https://steemit.com/basicincome/@steembasicincome/steem-basic-income-a-complete-overview)
#life #of #a #broke #carpenter #posting #ulog #for #steemit #basicincome
© rxhector
peace ;)