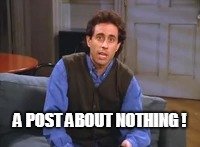 Much like the show Seinfeld, this topic is about nothing !
Yes, you read that right. This topic is about nothing at all. I have nothing of substance to say and in this topic neither do you.
Rules
Place a random comment in the comment section. It can be about anything, the more crazy and shocking the better. This contest is about having fun and reading the other entries so don't forget to upvote the entries that you thought were the craziest.
Prizes
Four Entrants Will Be Splitting the Steem-Bounty
Four Entrants Will Receive 1000 TROLL COINS Each
Two Random Entries will receive Splinterland Reward Cards
Winners will be announced on the 7th day of post creation in the comment section !
What is TROLL coin ?
The troll coin was founded by @tufkat and was created via steem-engine.com (A new addition to the blockchain that allows users to create their own token).
The purpose of the (TROLL) token is to throw it at the users who are the trolls here. The more #TROLL you hold, the more #TROLL you are.
@steem-bounty is a reward placed on a topic that is distributed to the participants in the topic. 95% of the bounty is distributed according to the votes from the bounty creator. 5% or the rest of the bounty is determined by votes of everyone else that voted on the comments. This initiative was started by @knircky
Steem-Monsters/Splinterlands is a digital card game created by @aggroed and @yabapmatt. Early game release has launched and prizes are already up for grabs. Some of the cards in this game have already sold for upwards of $3000. Manual Prize tournaments have started with thousands of dollars in Steem already given out as prizes. If you haven't yet checked out Steem-Monsters do so by clicking here. You can sign into the official site using your Steem details.