I was able to track different Splinterlands statistics for over the year. Some of the early data is not reachable because it was not originally put on Steem blockchain before around 12 October 2018. However this cumulated data is enough to estimate the health of the biggest Steem game.
Disclaimer: Some data may be off, because transactions can be faked (eg.duplicated due to error) and I do not run any verification when collecting data.
Matches
Almost 10 million ranked games played!
Ranked games: 9 295 473
Challenge games: 33 727
Practice games: 84 626
In-Tournament games: 380 519
Surrendered games: 321 840
Players
Players are more eager to play ranked games - about 30 x times more frequently than tournaments!
There is almost 11k accounts in the game. 8 564 starter packs were sold in 365 days. This number probably doesn't mention free starters.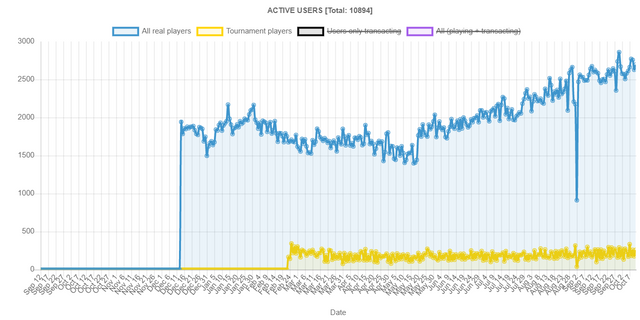 This is how the number of active players is constantly rising, even when Steem price is falling. Many players saved their Steem investment by simply buying cards a year ago.
14 9990 players registered to the tournaments, and 89 460 actually played them. It is about 59% efficiency.
About 60% players can be inactive for two weeks from time to time: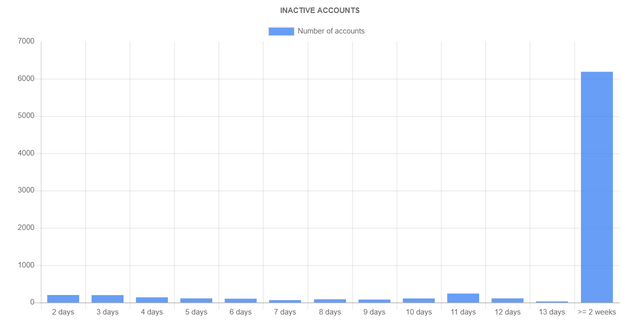 Sales
In the last year:
Starter Packs: 8 564
Booster Packs: 795 498
Orbs: 78 987
TRX promo packs (Dragon cards div by 5): 75 903
Players opened 419 282 of Beta and Orb boosters (counted together, number can be fake as before 05.08.2019 sm_open_all TXs don't include quantity) . Beta and Alpha Booster sales are also untrackable using only Steem tx's before October 12, 2018; but of course transactions indicating sales are there without direct data (so the game owners are the only able to decipher them from ID).
Burned cards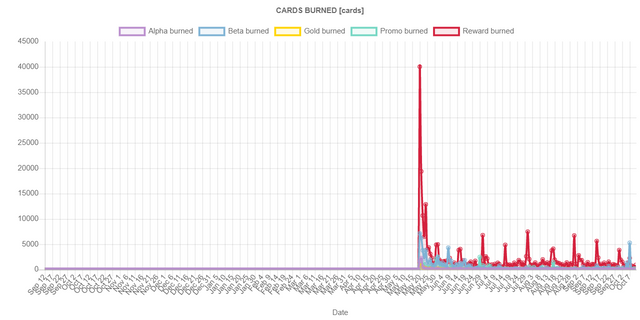 Alpha burned: 7 021
Beta burned: 84 652
Gold burned: 14 406
Promo burned: 35 951
Reward burned: 309 668
Market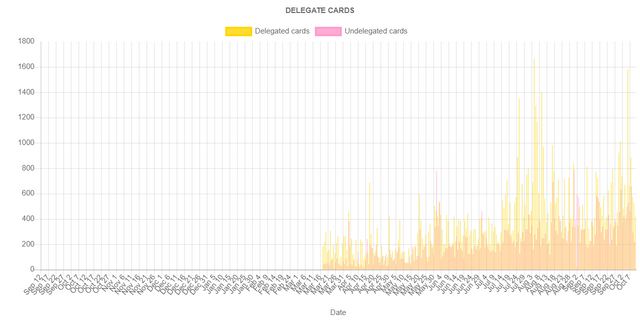 Delegated cards: 80 325
Undelegated cards: 45 103
More delegated cards than undelegated is always and good thing that drives economics.
It also seems that tradrs are very successful with this game:
New Sell orders: 980 351
Cancel orders: 267 673
It indicates about 70% happily sold cards.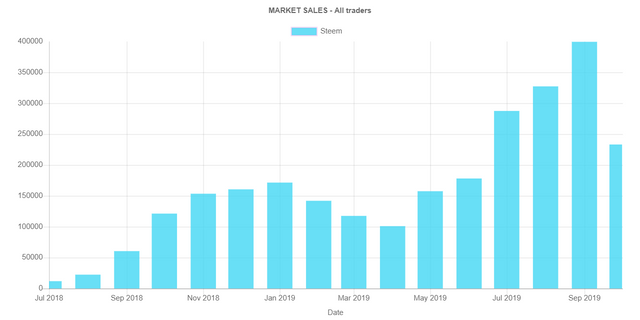 Steem volume is impressice too.
If some of the data is not really true, please correct me. My method for collecting data uses only custom jsons sent with Steem blockchain. I do not use game api. I believe that we should make anything we can so the data put on the blockchain could be trusted without second services.