We can make some conclusions concerning DEC already. I will present you some stats from my site link.
One of the biggest non-gambling games on Steem blockchain - "Splinterlands" has presented new in-game currency DEC. It can be traded on steem-engine.com and earned by playing ranked games or by burning cards. Although I do not see tokens issued on this platform as real tokens (centralized, not native), these are used by Steemians quite a lot (while waiting for native SMT), and DEC had a great start also.
In my opinion, presenting DEC to the ecosystem of the game is a great solution for fixing reward cards problem (lots, cheap) and a great opportunity for speculators. Because what is better to do? Burn cards and earn DEC to buy potions & orbs and get better cards, or wait for other people to do it and sell rewards for a higher price?
DATA
DEC is available only for 4 days now, but we can see a small rise in active players already.
Orbs are the special boosters with new, powerful cards. As you can see there is a rise in delegations too. People need stronger cards to go higher in the ranking to get more tokens (the higher rank the higher DEC prize for winning the battle).
FOMO on the first day was hard (fear of missing out). Now the number of orbs being bought and opened is stabilizing.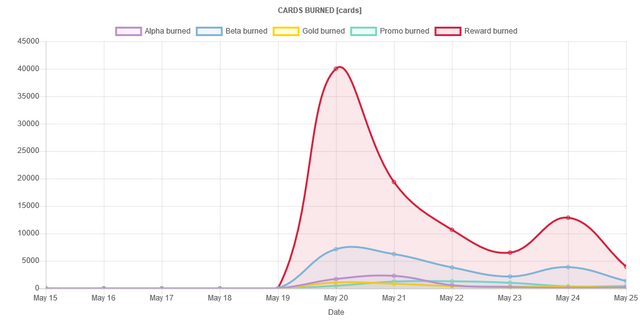 So many rewards edition cards turned to ashes!
And finally - potions. Do these work as expected? What do you think - reply in the comments section.
Feel free to check on these stats whenever you want on my site: https://steemweb.pl/statistics/steem-monsters