We're all about you splurging on the market and in pack sales.
However we know that some of you need to play economically... and perhaps just while you test out the game play and before you make that decision to splurge!
RESOURCES
How game play works with descriptions of abilities by @steemmonsters
Live discusion about the upcoming site and discussing abilities and strategy by @aggroed and @yabapmatt
First game match video review by @monsterworld and @jarvie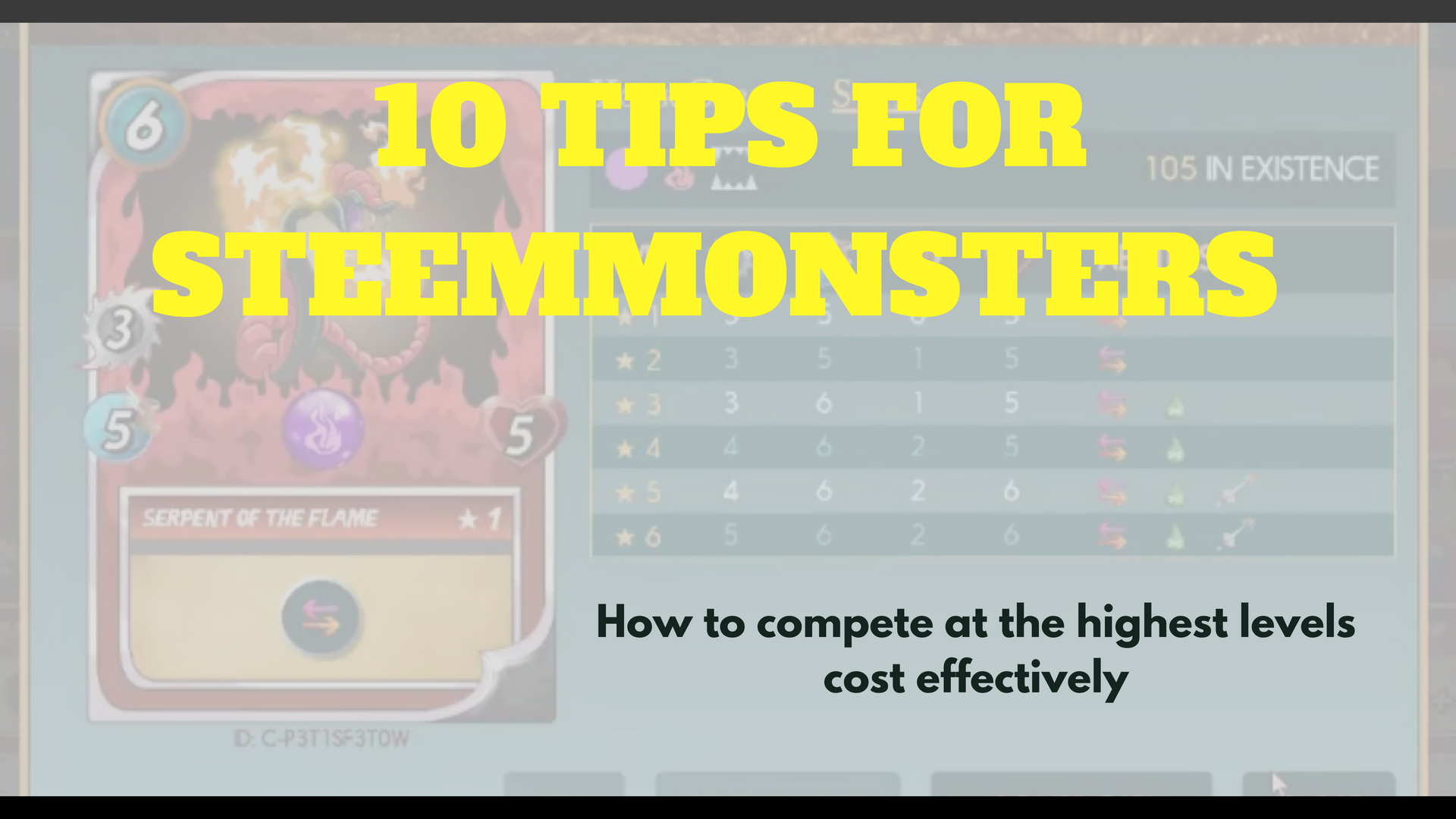 ---
OUR TIPS FOR ECONOMICALLY FIGHTING ... AT THE HIGHEST LEVEL
Keep in mind there are a lot of what we may call whales but some of them aren't even planning on fighting, they're just there to collect and invest. So there really are much fewer users with maxed out collections that you think. I'd guess less than 10 have maxed out collections. If you follow these tips you'll be doing better than the vast majority of players out there.
1. ELO RANKED FIGHTING
First off the system they have said they are going to use is a system that tends to rank you up against your own skill level. However if you do get placed against a harder opponent a loss to them won't matter much to a lower ranked individual and if you happen to beat them your rank will skyrocket and theirs will plunge. In fact you should almost hope to play higher ranked people just with the chance to beat them 2 or 4 times out of 10... if you're low ranked that will make your rank go up!
2. FOCUS ON SPECIFIC TEAMS
You don't need all 59 cards. (it's awesome though)
For competing you need specific teams that work well together usually 4-5 cards.
Get one good team then focus on another one... yes you could aim to have 5-10 teams but for now focus on 1-2.
FOCUS ON LEVELS
As far as we know there isn't a lot of benefit to being mid level.
Save your money and hit the level numbers right on.
Spend your money moving others up or waiting until you get enough to make the full jump to the next level.
THIS CHART + BCX
How do you know? Well on https://peakmonsters.com we give you the BCX number which stands for Base Card Units by XP
This means you'll be able to how many cards were combined to get where it is at.
Sure you could combine 3 legendaries together but there is no benefit to that over a legendary with 2 BCX.
P.s. https://steemmonsters.com/# has a great fast tool for merging cards. Because it was fast we decided to postpone our tool for later (which will be even faster) my tip is when merging there try out (Tab + Space repetition)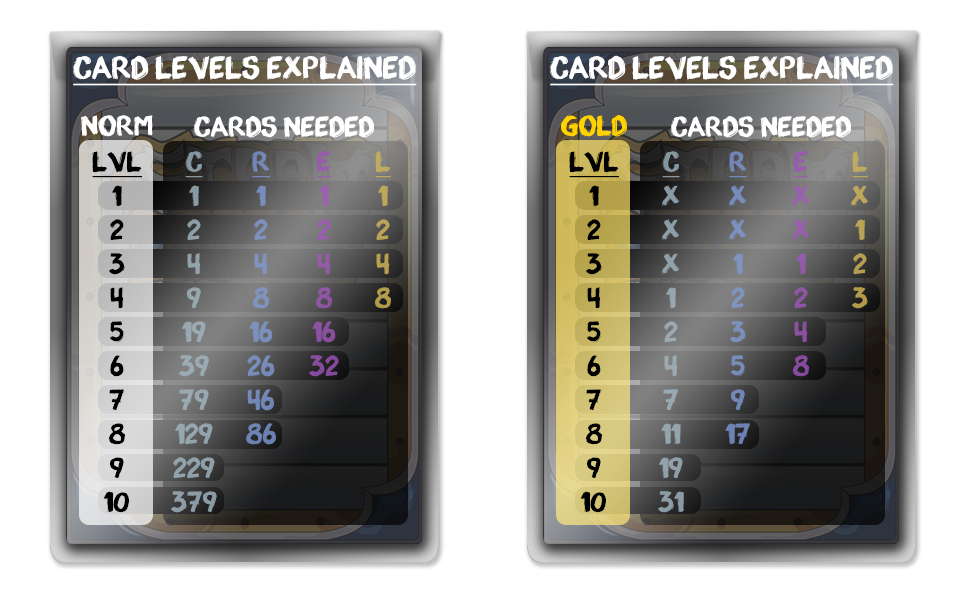 image by @calumam
3. YOU DO NOT HAVE TO MAX OUT A CARD
Maxing out is best... it gives you a bit more advantage.
But getting close to max is a great economic option and you'll still do quite well.
It's true that a level 1 vs a level 10 common is a very uneven match.
But get to level 7-9 and you'll be doing well
4. FIGURE OUT WHAT LEVEL GIVES YOU WHAT YOU WANT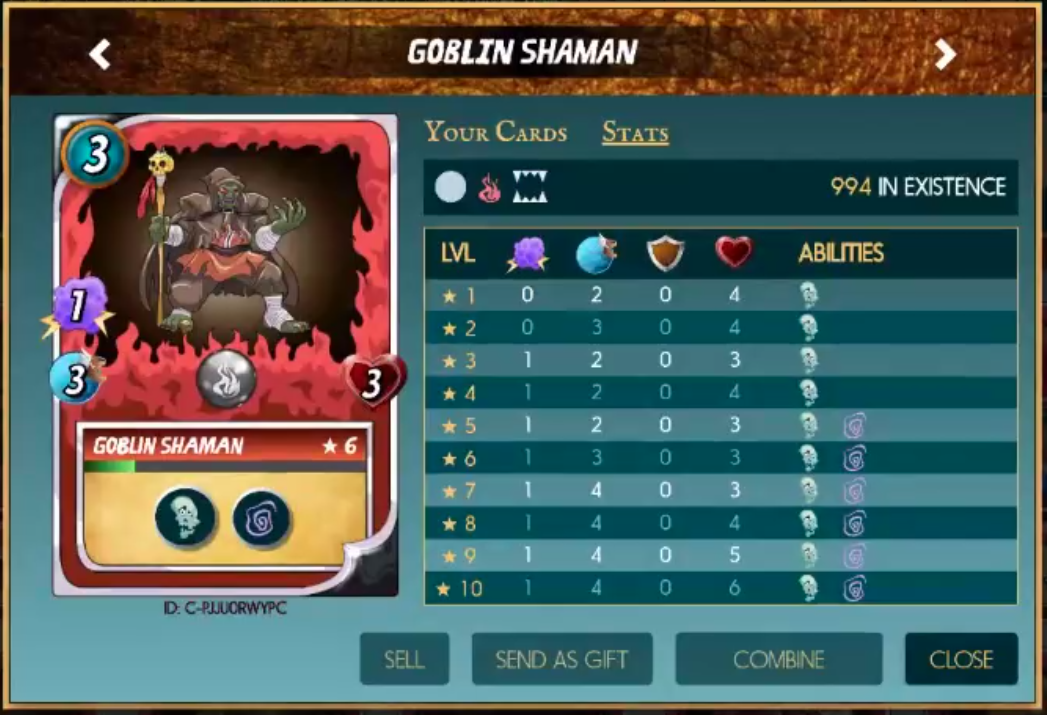 Note ALL stats are subject to change based specially during beta testing
Look at level 7 compared to 10 you have both of the cool abilities to support your team the only thing a maxed card gets is more life... each level after that is one more life. This card is strong because of it's abilities it's not a strong attacker or a bulky card. You get those cool abilities even at level 5.
5. STUDY THE CHARTS WHEN THEY COME OUT
When https://steemmonsters.com/# shows stats in a few days look for the sweet spots for each card. For this one you may even just want level 5 cards which means 19bcx ... it will be more susceptible to getting hit but you're not puting this guy on your team for his stats. it's his abilities.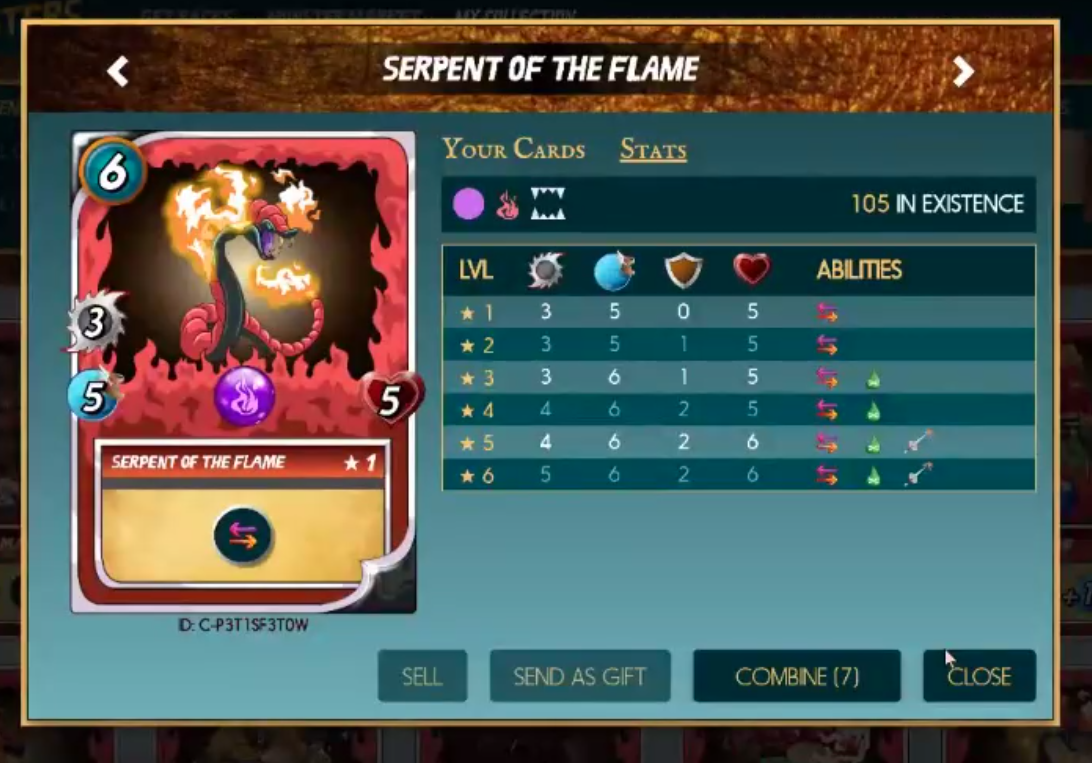 Note ALL stats are subject to change based specially during beta testing
Then there are cards that will be more about fighting and you'll need to think about where you're placing them in the battle order.
If it's a first position as a melee attacker maybe you want it to have some more armor and attack power which we see at level 4
Or maybe you want it to have more life and that 3rd ability at level 5
The fact is that it costs twice as much to go from level 5 to 6 and all you get is 1 extra melee attack stat. Can you put that money to better use? You can still do quite well against a team that has a serpent at level 6 when you're at level 5.
6. LOOK FOR GOOD TEAM IDEAS
You're allowed to wait to see what players are doing
There will be plenty of videos and posts giving strategy
You can even just play for fun while the beta testing happens before you make big decisions
See what cards are performing well
Create teams that are doing well
Make slight variations to those team
Like we said focus on in tip 2 focus on one team at a time then expand.
7. OUT-THINK YOUR OPONENT
It's not just about what cards you have... but the order you put them in.
Then it's about thinking what you think the oponent is likely to do and predicting what is likely.
What are the trends in fighting? Make teams that will beat those trends.

8. ECONOMIC SWEET SPOT IS 25-50% OF THE COST
We can't know for certain but looking at the stats it seems to me that the sweet spot for battle effectiveness and cost is about 1-3 levels down from max. Which is about 25%-50% the cost of a maxed card.
Here's an example of an inexpensive white team with 20 mana
Prices shown given the lows on https://peakmonsters.com/market
| CARD | Sweet Spot Range | Sweet spot Price Range | Max Level Comparison |
| --- | --- | --- | --- |
| - Tyrus Paladum (Summoner) | level 5-7 | $7.03 - $17.02 | $31.82 (up 2 levels) |
| - Clay Golem (tanky melee attacker) | level 5-7 | $1.76 - 5.06 | $9.46 (up 2 levels) |
| - Devine Healer (support abilities) | level 6-8 | $2.34 - 7.74 | $22.74 (up 2 levels) |
| - Air Elemental (powerful ranged attack) | level 4-5 | $3.44 - 6.88 | $13.76 (up 1 level) |
| TOTAL | --- | $14.57 - $36.70 | $77.78 |
This is not a free game but $15 to have a pretty good team and compete well in tournaments worth a lot of money is nice.
So you can compete against those heavy spenders pretty easily with HALF the investment. Sure you'll need to perform slightly better but you don't have to be twice as good... you're only 1-2 levels away from their cards
9. WIN AND LEVEL UP!
There will be games that level up cards... "grinding" your way up to get to the next level is certainly do-able.
10. WIN AND GET MONEY TO BUY MORE
Do well in tournaments and win part of the $1000 a week @steemmonsters has talked about and then you'll have plenty to level up your cards. But before you max out I'd suggest building lots more sweet spot teams.
I predict that there will be plenty of tournament winners who win without a maxed out team.
There will be more who win with a maxed out team but that's partly because those with maxed out teams are also those who are most invested and committed to being really good at the game
---
BONUS TIPS
11. ADVICE FOR TRADERS
... You should still know what cards are going to be desirable in game play.
Also it's very very likely some cards will have trends of being used a lot and then not used a lot ... keep an eye on the game and keep an eye on our charts Perhaps one week a tournament focuses on MAGIC attack. You'll likely see a rise in prices. If you're a trader take advantage of that. Get in early before prices rise and sell when you think they peak.
12. ADVICE FOR INVESTORS
The best time to buy is right now... it's still very speculative there are only a couple thousand users. But if this hits millions like many many other collectible card games. Then the roughly 1.5 million special first edition (alpha) cards wouldn't even be enough for each eventual player to have one of.
---
This game is in alpha... things can and do change. We reserve the right to wait for more insights just like you guys but we hope we have shared some great perspectives. It's an exciting time but it is also important for you to not make life altering decisions based on incomplete information. Only put in what you feel comfortable with. It may be a good investment and it may be great fun. But it's still just a game... one with great promise.
Oh have we mentioned we know a place you can buy cards?: