Easy Method to Double Your Profits - Sell the Same Card Twice!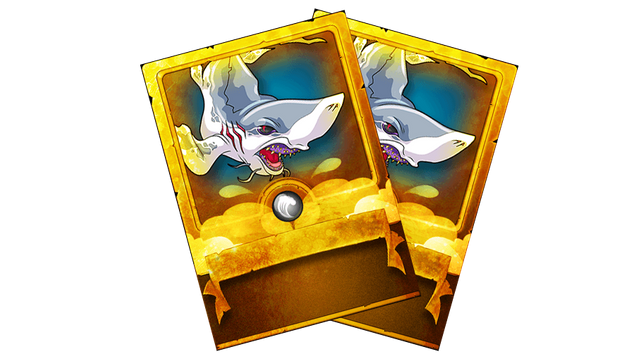 Attention:
It's possible to sell a card and then still keep it!
Money for nothing and a shark for free!
Now for the click-bait disclaimer: I don't actually know how to do this. But it does happen. Now this isn't much of a concern for the seller, but it must be a huge bummer for the buyer.
Luckily for me, I noticed this while selling a card. If I would have been the buyer in this instance, I guess this post would take a much different tone.
So, here's what happened:
Listing my Gold Foil Sabre Shark
I don't really intend to play super competitively in those rumoured to come exclusive Gold Tournaments, so I usually try to just sell my Gold Foils for a modest price.
This gilded Sabre Shark was in one of the boosters from my Season Reward and I listed it on the market right away for the competitive price of $1.79.

The card found a buyer almost immediately, but apparently something went wrong:

This item must locked by the current purchaser within the past 40 blocks.
But what does that even mean?! It didn't make much sense to me and it showed I didn't receive any money for it either, so who cares... things go wrong, no harm done, the card was still in my collection.
I didn't really bother too much about it, the market had moved and I could re-list my Gold Shark for a better price, $1.99. Good for me!

Making a Surprising Discovery
I sold another card in the meantime and I decided I'd do a quick back-of-the-envelope-calculation again to see if I'm actually playing the game with profits in the bank already, when this caught my eye:

22 hours ago - Received 2.947 STEEM from peakmonsters
sm_market_sale:771ccd59f5dae7dcbcc98447f3d3cc868b673cd5-0:jarunik
So, it turns out, I've actually received the payment for that erroneous sale. Yet, I am still in possession of that card and I have it listed for sale on the market, again! Hmmm?!?
So what's going on here?! Did PeakMonsters just send me some free money because their trading engine fucked up?! I decided to look a little further into this.
The Buyer bites the Lemon
Sure enough, I can see the buyer had in fact sent his payment for that Gold Shark right away:

It also appears said buyer went on a serious shopping frenzy buying cards for hundreds (maybe thousands?) of bucks and he likely hasn't even noticed that he's one Gold Shark short.
Let's take a look... DAMN!
Sure must be nice to go on a SteemMonsters shopping spree like that, but right now I wouldn't want to be in your shoes.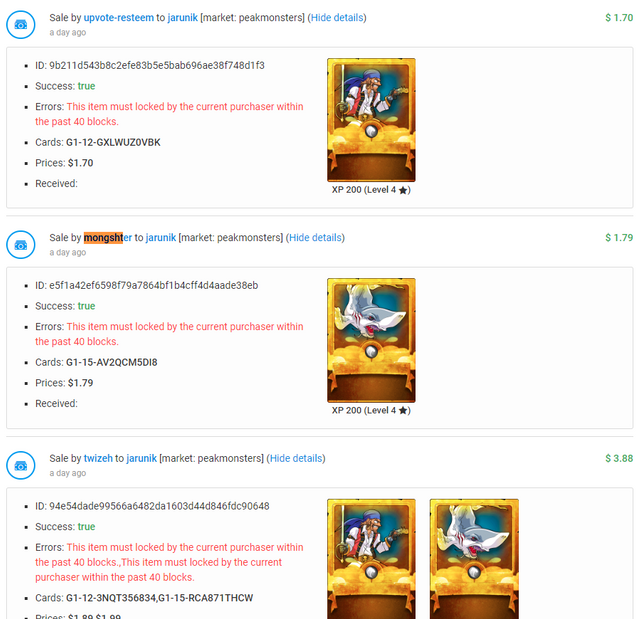 It turns out that @jarunik actually has a ton of these erroneous purchases in his trading history, I haven't checked, but I'd assume at least some, if not all of the cards, didn't ever reach him?!
I also checked whether he had received any refunds from @peakmonsters in the meantime, and that doesn't appear to be the case either.
So, @jarunik, if you read this, you might want to look into what's happening there. I'd suspect you're short on a substantial amount of cards that you've paid for!
Oh and... what do we do about that Shark you've paid for?!
I've contacted @peakmonsters on Discord, but nobody has replied to me there, yet:

Has anyone else experienced a market glitch like this?!
Let me know in the comments.
P.S.: @asgarth got back to me on discord and explained their trading engine experienced a backlog yesterday. They were aware of the problem and had already fixed the issue in the meantime. They will also be refunding @jarunik... so free money from @peakmonsters for me it was after all... I'll probably spend it on their marketplace again anyways... so yeah... more fun for everyone and thanks for all the fish ;)
see you on the battlefield