Hello crypto game fans! I'm Ciel and I'm bringing you my thoughts on some recent crypto gaming news updates!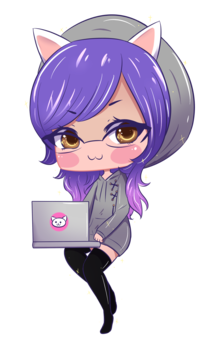 (Guess we're going to need an updated version now that my hair is no longer purple!)
I'm back after a long hiatus. We're going to be testing out different formats so that I can find a good balance between what is keeping you up to date, what are worthwhile projects to talk about, and what is sustainable for me.
In the time since we last updated, quite a few projects have dropped off the map so let's take a look at some of the things still standing, new things that have come up, and more.
==============================================================
Have you played BLOCKTOWER? You can view the Introduction Post and see more information. It's pretty neat. It uses data from the Steem blockchain to release new block configurations and updates the game based on the moves called out by commenters/players. If you manage to place a block that completes a 4 of a kind colour configuration, you win 1 SBD!
The past few months, a project that has been on my radar is Enjin. Enjin has been working quietly for years developing a wallet, integrating themselves into Minecraft communities, and developing a suite of tools to help game designers connect their games to Blockchains. One of the most exciting things they've been working on is the concept of "minting" tokenized game objects with enjincoin so that the item has more stable value. They've also been pushing token standards forward on Ethereum so that game designers have more flexibility and easier ways of using smart contracts to issue items. This is an excellent recent interview about Enjin with CryptoZombie and Enjin's CTO Witek Radomski about their new ERC-1155 token standard and more. To show off how their tech works, Enjin has been supporting the development of the War of Crypto game which recently sold out of their pre-sale.
Steemgg is a Steemit based platform for HTML5 games. Check it out at https://steemgg.com/.
There's been huge excitement about @Steemmonsters around the Steem universe, which is a forth-coming trading card game. The cards are available for purchase and trade currently, though stats and ways of battling are on their way. It's not the first Steem game but it's definitely been gaining a huge amount of traction and community engagement as contests and other initiatives are really engaging the players in creating the lore. There was a really inspiring interview with the two team members with the Steemit crew posted here. I highly recommend it. A lot of Ethereum based games suffer from a lack of playability and while things like what Enjin and the Loom Network are doing will support that, I love steem so it's exciting to see how this developer addressed the lack of things like smart contracts.
If you haven't checked out @yabapmatt's tech talks about how he approached developing, you definitely should. He considers how cards are assigned as a form of NFT and his thoughts on Soft Consensus mechanisms are really inspiring for game designers. Essentially because card ownership is indeed written to the Steem blockchain through transactions and transactions are free on Steem, he's pointed out the ways that the Steemit blockchain is well-suited for these kind of games and do not need smart contract functionality to get their mechanics across. Keep tuned to this project folks. They even mentioned running a Game Jam in late August and seem very collaboration friendly.
Recently, CryptoKitties has also been very collaboration friendly. They announced their support for KittyVerse projects which are essentially third-party built experiences that help deepen your playability with your kitties. They even have a funding mechanism for qualifying folks. To support this initiative they released the Nifty License, which in their eyes can be used by any project that uses Non-Fungible Tokens (NFTs) to have an easy way to communicate what owners can and can't do with things associated with the NFTs they own, including art. This is really exciting and I believe in a quiet, but important cornerstone because decentralization opens up many questions of ownership that we as a community will hash out as things continue to progress and we have more folks who have a gaming background rather than a crypto background designing.
CryptoKitties isn't the only one willing to paw up some cash for development though. Looks like Decentraland is also feeling generous and wanting to support blockchain gaming initiatives on their platform with a 5 million USD fund. Historically, Decentraland lends itself really well to partnerships with crypto games (they have yet another partnership they announced recently). While not specifically a gaming project, Decentraland's VR realm Genesis City easily overlaps with games and folks have already been finding ways to bring their NFTs to life as the SDKs get released and people really start playing with the platform. Exciting times folks!
==============================================================
That's it for our little catch-up folks! There's definitely more to talk about but let's leave it for next time. ;3