Steemmonsters Duels released! Fight in this alternative matchmaking and WIN STEEM!
Enter https://steemmonsters.club/, fill the blank with your username, complete the captcha and hit queue! Now wait until you're matched with an opponent.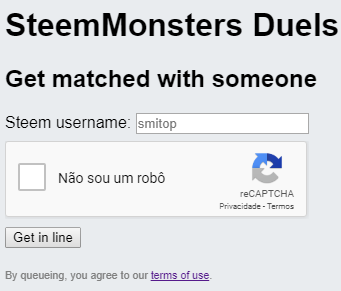 Got it? Just follow the instructions below. Challenge or accept a challenge restricted to bronze-level cards or the battle won't count. Both winners and losers get a prize, so just try it!

FAQ
Q: Will this affect my DEC energy bar?
A: No. Your energy bar only lowers when you win ranked battles, which SM duels doesn't use.
Q: How is this different from battling on the official ranked mode?
A: You earn STEEM instead of DEC. You can get in line for both the site and ranked battles at the same time if you want then earn from both. You can also play SM Duels all day long if you want, without penalties.
Q: Where does the funding come from for prizes?
A: Bitfun referrals and ads. Please don't use adblock. There are no popups, just flat rectangles.
Developed by @felipejoys and @smitop