Somebody take my useless Sea Genie.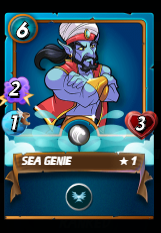 Dear minions,
What the hell is a Sea Genie?!
I mean, seriously. It lives inside a lantern and you've got to rub the thing to get the Genie out. But do you ever get any wishes?! NO. NOTHING. It's not even a real Genie!
Look, the whole thing makes no sense...
First of all, the lantern is going to rust in the ocean. It's metal. There's no good reason to be a Sea Genie. If I were a Genie with magic powers, I'd be a Golf Resort Genie.
Second of all, the Genie is going to drown. It's not a frickin crab. The lantern has no seal, so it's going to fill up with water and the Genie won't last 2 minutes. Have you ever had a battle with a Sea Genie that lasted 2 minutes? Never. It drowned itself because of its own stupid life choices.
Lastly, how the hell am I supposed to rub the lantern if it's all wet... No wonder I never get any bloody wishes and lose all my battles.
I need to get rid of this useless monster. I'm giving it away for FREE, just ask for it in the comments below. Bonus points if you complain about how useless it is.
Come back in 5 days to see if you're the unlucky winner.
A Sea Monster, now that would be great...