Cancelled, all SMPT has been refunded.
The old models are the best ones. 👊
Many of you probably remember your first gold cards being a little different from the Beta Edition we have now. Of course, you can still purchase these older Alpha cards on the market, and that's what I did.
Since I got pretty lucky with a booster pack and scored that Gold Foil Peakrider.. I went ahead and bought a few of the missing cards we still needed, along with this Alpha Edition Golden Wolf which I will be raffling off.
A few lucky winners will receive these cards, whoever wins will have been randomly selected using this Random Name Picker during the Alpha Max Livestream I will be hosting in 7 days. At or around 2:00 PM (14:00) Eastern Time, Monday, April 8th, 2019.
You may win more than one prize, get those entries in soon!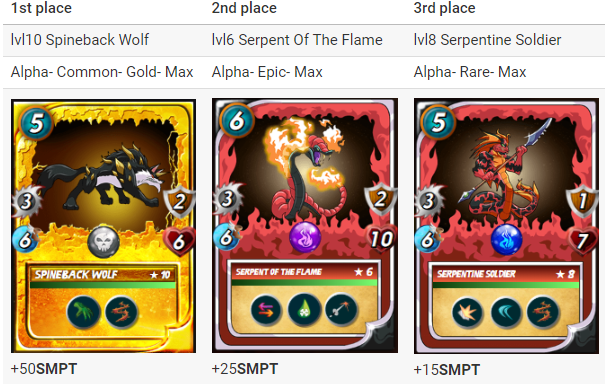 Raffle Prices: 1 STEEM/SMPT
Please be sure to send entries to
with the memo
raffle
You get bonus entries for using SMPT!
001 SMPT = 1 Raffle ticket
005 SMPT = 6 Raffle tickets
010 SMPT = 13 Raffle tickets
050 SMPT = 70 Raffle tickets
100 SMPT = 155 Raffle tickets.
500 SMPT = 850 Raffle tickets.
There is an overall minimum of 500 raffle entries, otherwise, all "tickets" will be refunded in the form they were received.
If you are using SMPT, you can log in to Steem-Engine.com and send from your wallet there, alternatively, you can use the Keychain extension.
To receive the raffle prizes or to play in any of the upcoming Steem Monsters Tournaments I am guaranteed to be hosting, you will need to make sure you have a Steem Monsters Starter Pack.
Having a starter pack also gives you your very own STEEM account, if you do not already have one.
Make sure you join my CHILL Discord for SM tournament announcements, updates, upcoming raffles, and Steem Monsters Poker!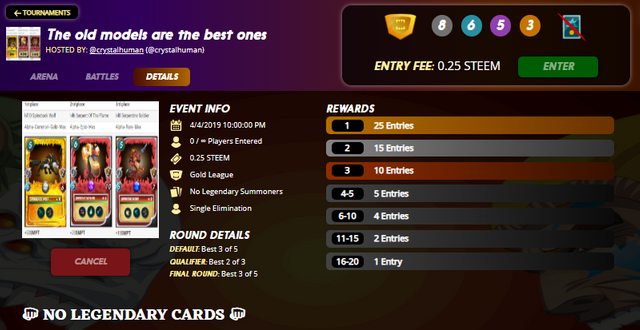 Win more SMPT in
This Tournament.
Please Note: It was supposed to be no legendary cards at all but ended up being no legendary summoners, I thought I'd changed it.
Resteem this post for 1 SMPT