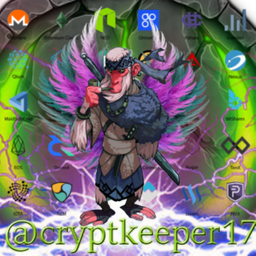 There are two games at the moment that are as hot as it gets on Steemit lately, and that is @steemmonsters and @magicdice.
I think each of these have a chance to be a thing, a big thing, that is over time. So in the spirit of that and the fun I have had playing both I am giving you the opportunity to get a random gold Steemmonsters card of the splinter (color group minus the dragon splinter and neutrals, just the other 5)of your choice (while supplies last) if you use the following code to place one wager of 0.10 steem on @magicdice...

https://magic-dice.com/?ref=cryptkeeper17
But cryptkeeper17 what if I lose then it's not free? Wrong. Send me a message that you lost your 0.10 steem and I will reimburse you. Win and congrats you are walking away with a GOLD FOIL Steemmonsters card and a nice little bump in steem. Of course if you'd like you can continue playing magic dice all you want, that is just the hook to get your free steemmonsters gold foil card.
Also, FYI if you have a steemit account that has 300 or more followers and resteem their most recent post you will receive 5,000 magic tokens (tokens awarded to dice players each wager, awarded through referrals, awarded through delegation of SP). These tokens actually pay a daily dividend sharing profits with token holders. The interesting thing on this is that every 5% increment in which they give out magic tokens, magic dice HALVES the distribution of tokens per wager. And at the moment, at the time of this post they were currently at 19.7% distribution and that number has moved up 0.1% twice in the last few days, so strike while the iron is hot so you can get twice the tokens than in a few more days when the distribution is halved.
1.) Go to https://magic-dice.com/?ref=cryptkeeper17, wager 0.10 steem, roll the dice (and good luck!)
2.) Message me in the comments of win/loss on the bet, and which splinter you prefer a gold common.
3.) Keep playing @steemmonsters
4.) Keep playing @magicdice
5.) Have fun and have a great day, thanks for reading and participating!