What's Going On On SteemMonsters?
I had quite a strange experience today while I was doing my Daily Quest on the SteemMonsters site.
My deck is a level 4 deck and I'm currently battling in the Gold 2 League.
Normally, I have a fairly high number of games I win, but today was pretty weird.
Let me show you: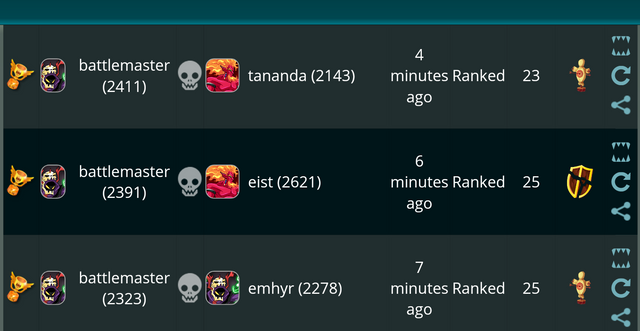 Now, winning 5 games in a row is not the weird thing in this situation. it happened before.
As you can see in the screenshots above, my opponents' ratings go from 2143 up to 2762, which should make them a pretty good match.
Now here's the strange part:
All 5 accounts were only level 1!
The options I can think of:
A. For being level 1 accounts, they sure are pretty high up in the league.
B. Maybe they are just trying to lower their rating and have sent their higher level cards to another account. Which is possible, of course - but it would be a strange coincidence that I would get matched with 5 of those accounts in a row...
C. There is a secret conspiracy I don't know about, that is set up so I can complete my DQs quickly and easily.
To be honest, none of those 3 options sounds probable to me.
What am I missing here????


Posted using Partiko Android