Need More Booster Packs? Do The Smart Thing And Save 20% On Packs!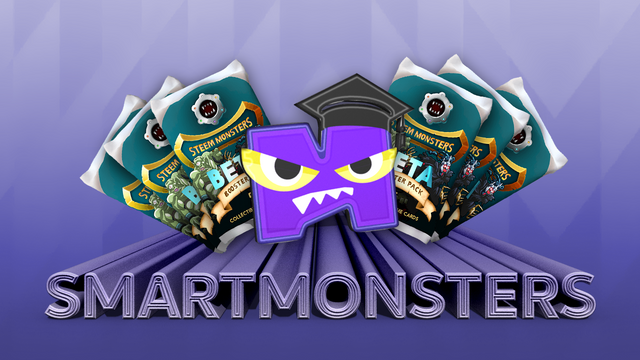 There's something everyone has in common in the world of Steem Monsters and that is the desire to get more cards.
Whether for reselling purposes, for upgrading cards to make them stronger or for the chance to find the rare legendary & gold cards.
In any case, one thing is clear: buying booster-packs is expensive.
But what if we told you that you can save up to 20% with every booster-pack purchase?
Just want to buy some packs? Head over to smartsteem.com/smartmonsters
$2.00 $1.60 Booster Packs
As you might know, a Steem Monsters Booster Pack regularly costs $2.00.
Depending on the amount of bought packs (thresholds are at 100 and 500 Packs) you can get effectively an 10% and 15% discount. Which is a great deal, but we believe: we have a much better deal!
We're offering a bare minimum 10% discount, which can be increased to a whopping 20%!
Discount Overview: 10% to 20%
Minimum Packs Discount Pack Price
1 10% $1.80
100 15% $1.70
200 17% $1.66
300 18% $1.64
400 19% $1.62
500 20% $1.60
As you can see above, you're able to save at least 10% on every Booster Pack purchase; even if you only buy 1 pack!
On top of that, we're also giving out fixed 5% discounts on Starter Packs.
Getting Started: Buying Packs
Buying packs is quite simple and takes only a few seconds. Since @smartmonsters is a product of Smartsteem.com, that's where everything starts.
1.) Head over to smartsteem.com/smartmonsters
2.) Make sure you're logged in. If you're on your dashboard, either click on the Steem Monsters banner or click on Balance > Buy Steem Monsters Packs
3.) Enter your desired booster pack quantity and confirm the purchase either via steemconnect, keychain or your smartsteem balance.
Prefer a graphical overview? Check out the gif below.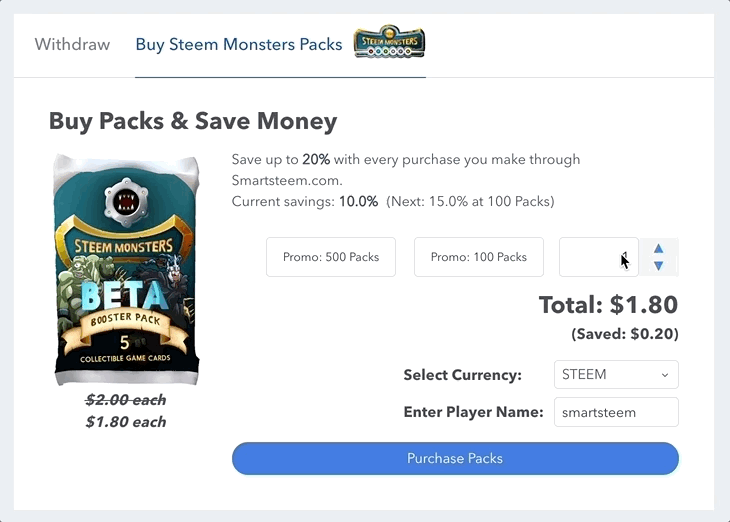 Easy right? Head over to smartsteem.com/smartmonsters.


What's next?
We've got a few cool things in the pipeline. But more on that later. Stay tuned!
Smart Monsters