Angel of Light
Angel of Resurrection Summoner Poem
It would be an angel that saves us all.
She would be beautiful.
She would be dressed in blue and white.
She would amber red hair.
She would have black cuffs trimmed in gold around her ankles.
She would appear to float on thin air.
Have you found the angel that saves us all?
She would resurrect the dead with her image.
For she is the most lovely of all.
She is the image of the Queen with wings.
She dances in flight and is soon to take off.
Her attack is one that's carried out for certain.
Let her be one of love to fill the lost soul with life again.
Let her be one of healing that restores the dead.
Let her be more than the passing of still.
Now frozen in her gaze.
Our goodness cannot defeat her grace.
There are none above her for she is unique.
Green card, red card, breath live into the @SteemMonster again.
Love her...
She is yours to keep.
Combine her...
Manifest new life into the elevation of angelic Queen.
Angel of light.
I pray upon thee tonight.
May all the Steem Monsters sleep soundly before the rising sun.
May all the @SteemMonster cards be well protected in the quarters hosting collections.
Angel of light.
I plea unto thee tonight.
Please keep all the world protected in Steem Monster world tonight.
She would have gold bands around her biceps.
She would be treading among the clouds.
She will be strong enough to lift herself with the love she's attracted.
Where are the ladies of light tonight?
Where are their provenances?
Card holders may cater to her every whim.
For should our monsters fail to cry.
Manifest the Angel of Light to defeat pending death.
Restore life with her energy.
Projecting boundless dreams she flies into our laptops.
A poem within a poem to chant for her summoning.
Angel of Light I summon thee to resurrect the life within.
Angel of Light I summon thee to resurrect those whom perished in tournament.
Angel of Light I beg of thee...
Raise my lost so that they may see again.
With love,
#Poet #Poetry #SteemMonsterPoem #AngelOfLight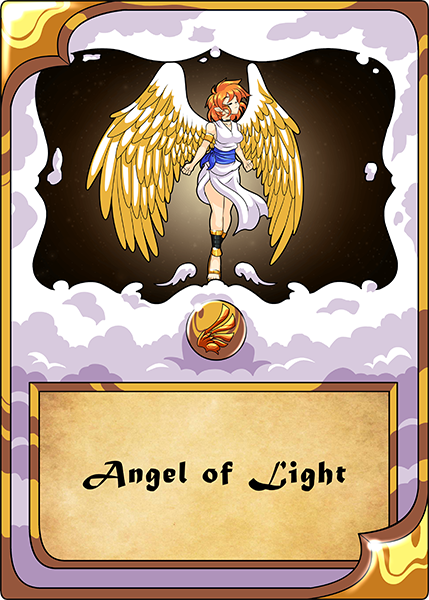 Log in to https://www.steemmonsters.com to see more of the @Steemmonster card collection!