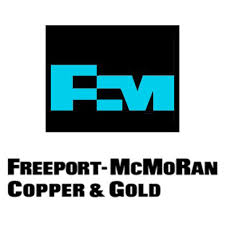 Freeport-McMoRan (NYSE: FCX) engages in the mining of mineral properties in the United States, Indonesia, Peru, and Chile. The company primarily explores for copper, gold, molybdenum, silver, and other metals, as well as oil and gas.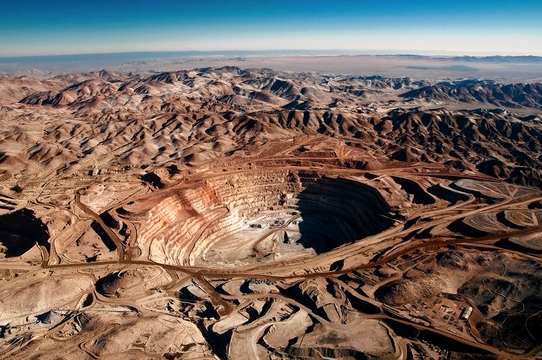 After a stellar 2017, FCX fell 46% in 2018 in large part to the drop in copper amid the US-China trade war but today they were yesterday.
Shares of Freeport-McMoRan (FCX - Get Report) surged Thursday after UBS upgraded its rating on the U.S.-based copper mining giant's stock.

Freeport's stock price leaped 5.38% to $9.01 a share after analysts at UBS boosted their rating on the mining company to buy from neutral.

UBS contends Freeport's stock has been "oversold," with investors missing the bigger picture of long-term growth potential in favor of a short-term focus on the impact from lower copper prices.

Freeport's stock price took a hit over the summer along with other metals and mining stocks as the trade war between the United States and China escalated, only to rebound to a high of $10.76 on Sept. 13.

Thursday's surge breaks a three-week slide and comes after not just the UBS upgrade, but also renewed glimmers of hope for a potential trade deal or accommodation between the U.S. and China, the world's two-largest economies.
Source
Yesterday President Trump told reports that the talks were going good, two sides remain far away from a comprehensive deal. The biggest issues from Trump's standpoint are intellectual property theft and forced technology transfers. China is saying will implement more protection when it comes to intellectual property, but when you read between the lines, its protection on copyrights and trademark.
And this simply won't get it done in terms of an agreement. Thus, I anticipate more U.S. tariffs that kick in on Oct. 15 on about $250 billion of Chinese goods.
Copper prices also rose on Thursday following reports that the United States is weighing a currency pact with China. Traders aren't expecting a full blown agreement, but the currency pact would signal a partial deal. China earlier this year allowed the yuan to slip below its 7 per dollar threshold, which immediately make the yuan weaker and Chinese exports cheaper. So the currency pact would be similar to that of the US, Mexico, and Canada agreement, which would stop currency devaluations.
But lets say we didn't know any of this news between US and China, what are the charts suggesting. Well the price has been making series of lower highs and lower lowers.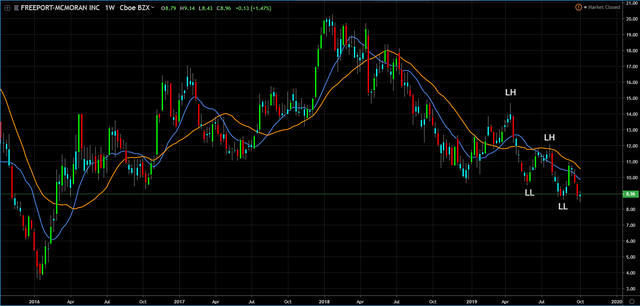 So what is deemed oversold, could become more oversold. Thus, the chart suggests price will continue to decline for Freeport, at least to the weekly demand at $7.45.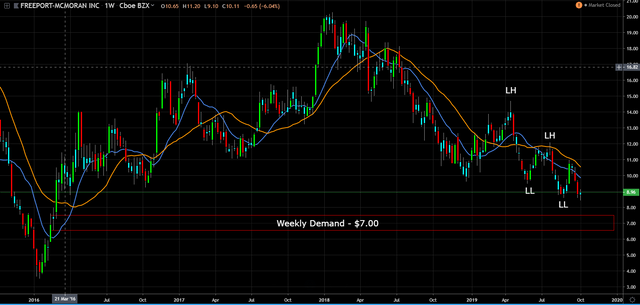 This post is my personal opinion. I'm not a financial advisor, this isn't financial advise. Do your own research before making investment decisions.