Steemleo standing out again
The front end for SteemLeo has had an upgrade lately. Check out SteemLeo for yourself, but here is a screenshot as well: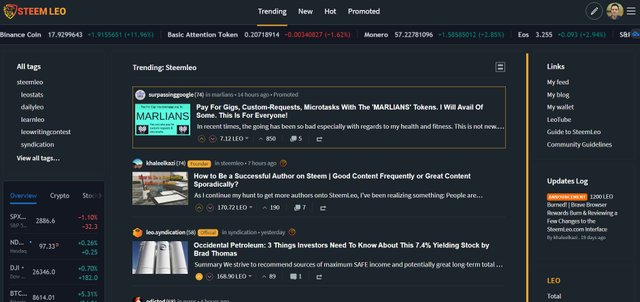 Adding a ticker across the top, and a side panel makes the site feel more like the major financial news and info sites. This is an important move in appealing to the target market for the tribe, having the look and feel of a professional finance site.
The LEO tribe has taken a number of unique and interesting moves to differentiate themselves, such as:
Adding the ticker and side panel.
Big focus on token burns.
BAT accreditation with rewards used for LEO burns.
Advertising with revenue used for LEO burns.
Stats panel with token info for LEO, LEOM and LEOMM
Syndication - creating accounts for popular finance writers and reproducing their work to build a ready made audience and STEEM account for them.
I think this ticker is just another innovation from the SteemLeo team that sets it apart from the crowd and builds the site a unique point of difference to promote. Hopefully, with the canonical links issue being addressed, all our content produced on LEO will bring more traffic here. If you have missed that topic, here is a link to @paulag's article that I would recommend on the topic.
Anyway, well done to the LEO founders for adding to the front end and standing out from the crowd, once again.
Cheers,
@jk6276.leo (aka @jk6276)