There are a LOT of interesting trails to follow if you dig through the wikileaks leak archives for both the Clinton Email Archive and the DNC Email Archive .
Here's something that stood out to me - from Wikileaks twitter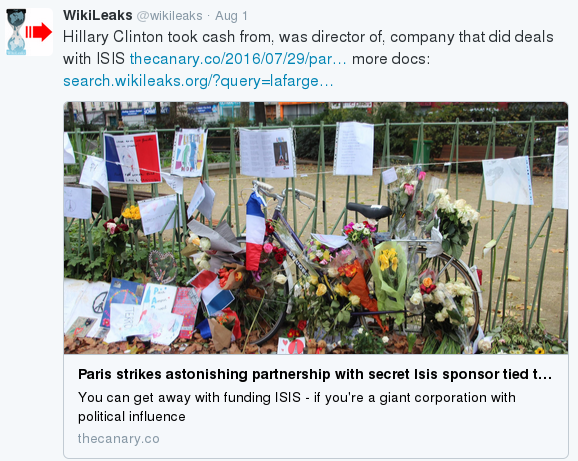 Lets dig a little deeper:
Thecanary.co has a great article laying out the facts titled:
Here's the initial few paragraphs with my personal (@ausbitbank) thoughts
The City of Paris has struck a corporate partnership with French industrial giant, Lafarge, recently accused of secretly sponsoring the Islamic State (Isis or Daesh) for profit.
Documents obtained by several journalistic investigations reveal that Lafarge has paid taxes to the terror group to operate its cement plant in Syria, and even bought Isis oil for years.
I've been convinced that the Paris shootings and quite a lot of the large scale terror attacks are false-flag events designed to provoke a specific response. This is just the latest in countless examples of the funding/payment infrastructures exposing connections to anyone who cares enough to look.
Yet according to the campaign group, SumOfUs, Lafarge is the corporate partner and sand provider to the City of Paris for this summer's Paris-Plages urban beach event. The project run by Office of the Mayor of Paris, Anne Hidalgo, will create artificial beaches along the river Seine in the centre and northeast of Paris.
I wonder where all that sand came from exactly..
Lafarge also has close ties to Democrat presidential candidate Hillary Clinton. Apart from being a regular donor to the Clinton Foundation, Clinton herself was a director of Lafarge in the early 1990s, and did legal work for the firm in the 1980s. During her connection to Lafarge, the firm was implicated in facilitating a CIA-backed covert arms export network to Saddam Hussein.
This isn't a new development, Hillary has a LOT of skeletons in her closet - but with the power of mass-media control and gullible people this career-criminal is up for election for the most powerful job in the world.
This article by thecanary has far more interesting connections in it, but I don't want to anger the plagiarism gods/bots with more direct quotes.
Relevant Resources
As always, all earnings by @steemleak will be converted to BTC and forwarded to wikileaks :)