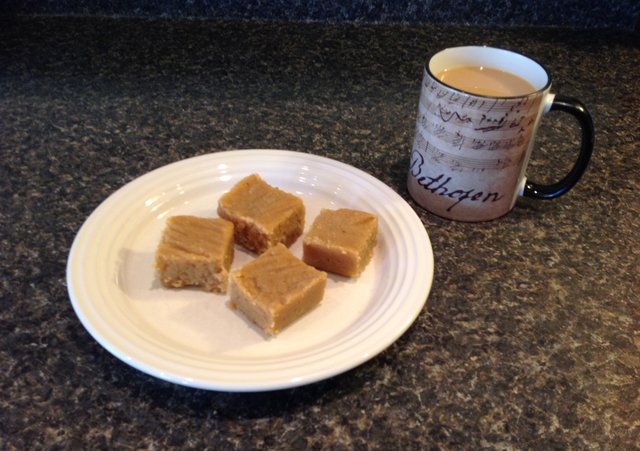 I'm not sure when I first tried
monthar
or even if I had before. To me, many of the Indian treats tasted similar, using sugar, butter and gram flour as main ingredients. Then at some point I started buying the treats. While in my local Indian food stores getting ingredients for cooking, they just looked too good
not
to try. I knew I had recipes for them in my Indian food cookbooks so why didn't I make them myself? Yesterday, I did.
I'm sure you're aware of how we're all advised to cut back on sugar. I mostly have, but when the urge strikes, why not have a fudge with less than half the sugar of our typical western fudge? But don't compare them - they're not really alike. You will find this to be softer and milkier, not too sweet, and with a whiff of cardamom. Yummy! Plus it freezes well so you can taken them out and savor them one at a time.
What is Monthar?



When I set out to research monthar, I was finding what seemed to be different spellings. My recipe said monthar, a traditional Gujarati treat. My understanding is that monthal is the anglicized version but then I was seeing mohanthal too. They all seem to be the same gram flour fudge with cardamom, nuts and saffron.
When buying gram flour, it may also be called chickpea flour, or gram besan. The addition of gram flour means this treat is high in iron, magnesium, vitamin B6, protein and fiber. For the diabetics, gram flour also has a low glycemic index (10) but bear in mind that this recipe still has 2 cups of sugar!
Monthar
Ingredients:
2 cups (500 mL) white sugar
1 cup (250 mL) water
several drops of orange food coloring (optional)
2 cups (4 sticks) (500 mL) unsalted butter
4 cups (500 grams) gram flour
1 cup (250 mL) evaporated milk
1/2 teaspoon (2 mL) ground nutmeg
3/4 teaspoon (3 mL) cardamom powder
1/2 (2 mL) teaspoon saffron
1/2 cup (120 mL) chopped almonds and/or pistachios (optional)
Boil the sugar and water until the soft ball stage is reached or 240 F (115 C) on a candy thermometer. The color will also become a little golden when it's ready. You might know this as a simple syrup.
Meanwhile, in a large saucepan, heat the butter and skim off as much of the foam as possible. This has the effect of extending its shelf life.
On medium heat, add the gram flour to the butter and sauteé. This can take 10-20 minutes.
Increase the heat and slowly add the evaporated milk while stirring constantly.
Add the food coloring to the sugar and water, and stir.
Add the syrup to the saucepan and remove it from heat.
Add the nutmeg and saffron and stir well.
Let the mixture cool for 5 minutes and then stir it until it thickens.
Spread mixture in a 9" x 9"(23 cm x 23 cm) pan that is at least 2" (5 cm) deep.
Sprinkle with nuts and press them down with a spoon so they stay.
It will keep in the refrigerator for 3 weeks or in the freezer for 3 months.
** Makes a 9" x 9" (23 cm x 23 cm) pan of thick squares.**
I used a slightly larger pan so mine are a little thinner and I did not add the nuts or food coloring. I'm sure they would have made for a prettier photo.
References
Images
Photo from the iPad of @kansuze.


Enjoy!
@kansuze