Hello My Dear Warlocks...!
Chicken soup is a dish that mothers use par excellence, when we are sick, although this is a recipe that is consumed in many countries worldwide, it is a very common food in Venezuelan houses, which as the title says of this publication, nourishes body and soul, because the affection that our mothers put at the time of preparing it is undoubtedly a magical ingredient, capable of raising a dead hahaha.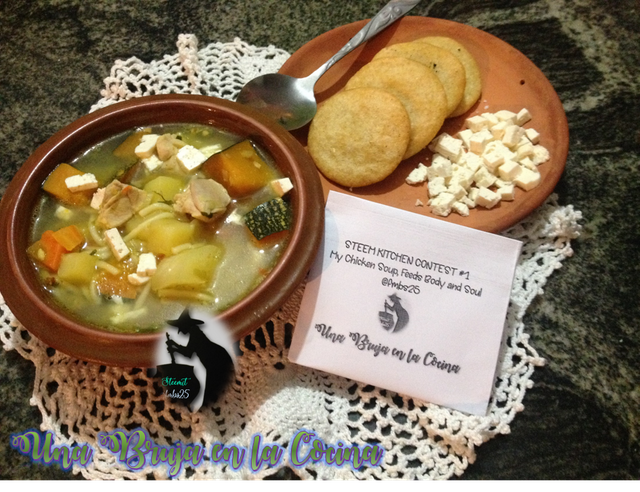 And is that this delicious dish is the favorite par excellence after a night of parties and drinks. Because its magical properties can scare away the spirits of the drunken hahaha, a simple recipe, prepared by my grandmother and my mother is still preparing, and I liked to add my personal touch, to differentiate it from its original recipe.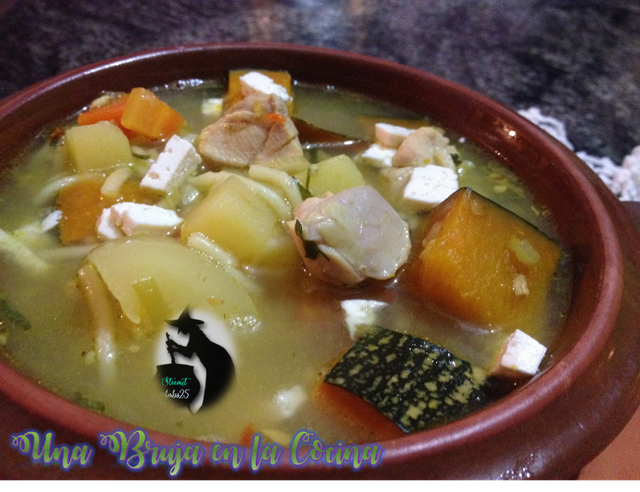 I usually like to keep my grandmother's recipes, just as she did them, however for this recipe I will show you a little change today, which adds a combination of delicious flavors to this soup, but come with me and see how easy it is which is to prepare this Delicious Chicken Soup.
Enjoy!
Ingredients
2 chicken thighs, boneless and chopped
3 medium potatoes chopped in cubes
1 Medium cubed carrot cubes
500 gr of yucca
500 gr of pumpkin
3 finely chopped peppers
1 Finely chopped onion
1 Stalk of finely chopped celeri
1 finely chopped chives stem
1 Small bulb of turmeric
1 tsp salt
1 Cita de cumino
1 can of corn cream
50 gr of noodles
4 Coriander Leaves




Preparation





Difficulty level: Low
Preparation Time: 15 Minutes
Cooking Time: 45 Minutes
Total Time: 60 Minutes
Performance: 8 Servings



In a pot with enough space for our preparation, add about 3 liters of water and when hot add the chicken previously chopped into small pieces, do not waste the bones, add them to the preparation, add more flavor to it, add half spoonful of salt and pumpkin, cover and let boil.





We continue adding cassava or manioc, carrots and potatoes, stir and continue cooking.





We continue adding the rest of the salt and cumin, stir and continue adding, onion, celery, chili and grated turmeric, we integrate all this and let simmer for about 20 minutes.





After this time add the noodles, continue cooking over low heat, stirring constantly for about 10 minutes more, and add the chopped cilantro, cover and turn off the heat, letting rest before serving.





The Creole touch that is added to this recipe is cilantro, known in my country as cilantro de monte, it is an herb that occurs in many places as a common herb, and the personal touch that places this recipe, is the cream of corn, which gives it a sweet touch, which contrasts very well with the other flavors of this delicious soup.





This recipe, besides being very easy to prepare, is quite economical. For an amount like the one I show you in this publication, you need an approximate of 600 BsS, which at the change represents 3.5 SBD about 4 $. An average of 75 BsS per serving, less than 0.5 SBD.





This delicious and simple recipe is one of my favorites, because its flavor really comforts, it is one of those dishes that you want to repeat, and eat even when your mood is not the best. This has been my ticket to the # 1 contest of Steem Kitchen Cheap and Cheerful. What do you expect to follow them and be aware of their weekly competitions? @steemkitchen, they will get great recipes. You can also find them on your Discord



Images of my property, taken with the lens of my Ipad 2, and edited in PowerPoint 2013





Thank you for devoting part of your time to read this publication, if you have any questions, criticism or suggestions, I would appreciate leaving it in the comments box, and remember, you can also do magic in the kitchen!









You can also find me in our Friend's Discord Chat


https://discordapp.com/invite/6r8ehUt







---

Posted from my blog with SteemPress : https://fmbs25.timeets.com/2018/10/31/una-bruja-en-la-cocina-steem-kitchen-contest-1-my-chicken-soup-feeds-body-and-soul/

---