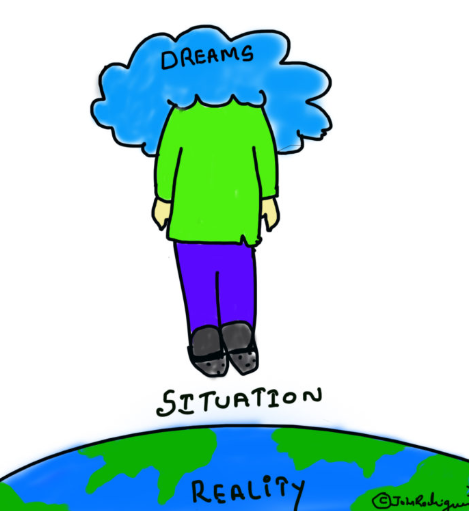 Knowing what to pursue can be one of the most challenging tasks and I believe most of us are going through it, even after having information at tips of our fingers we constantly feel the lack of exposure, ironic isn't it? But nothing can replace the real-life experience.
There will be a point in our lives where we will be desperate to find a job or we get caught in the thoughts of society to get a stable job and settle down, even after not being sure of how to see yourself five years from now and without knowing what to pursue we jump into something which is best for others.
I was in a weird situation however I wanted to go out into the world and explore everything that I could, I did it and I am glad that I did it; I actually found what I wanted to do since working for startups gave me a wider exposure to multiple domains and taught me a hell of a lot of lessons in a short time. My first job was a bittersweet experience and my second job pushed me to fulfill my potential, both the journeys helped me understand multiple perspectives in a better way, every journey had its own lessons to learn.
It's not a compulsion to have a plan but to have a passion, which gives you fulfillment and things will fall into place once you see yourself there. When things fall into its place the next thing we need to face is taking hard decisions and take up the toughest challenge ahead of you.
It's a never-ending journey and not something that is rushed or happens in a day, most of the time society doesn't get it, once someone starts a business they expect it be the next Google or Facebook and that's where it fails. The society won't get it because they could never know your world one millionth as well as you know your world, no matter how hard they try, or how hard you try to explain it.
It always bothered me to see my friends with high pay but having no time to work on the things that they love and end up feeling empty inside. But the situation can be so tight it will make you get stuck between dreams and reality.
But like it is said: "You may never reach the summit; for that, you will be forgiven. But if you don't make at least one serious attempt to get above the snow line, years later you will find yourself lying on your deathbed, and all you will feel is emptiness"
It helped me figure out success is finding fulfillment in the things you do. There will definitely be frustration in things that you love to do, definitely, there will be a lot of up and downs, and if the answer is yes for the question, is it worth it? Then that is something you need to chase.
Success is going to bed with the final thought that all the hard work that I have been putting in is worth it!
While most of the motivational content out there teach us to never give up or quit, but sometimes it's very important to realize the right time to quit something that makes to you feel empty and make a path to achieve your goal.The reason to quit at the right time is not to go out there and get high on old monk and say, 'this is what I love to do' (once in a while it's alright![😛], but to pursue the career of your choice, to learn the new skill you always wanted to learn or something that you had left halfway, read the books which you always wanted to read, it's important to do things that will add up value to you in your life so that you can provide value to someone else's life.
"Situation" is that thin line between dreams and reality, which makes it difficult for you and me to take a decision, but it is very important to find the answers for it before it too late.
I have always been asked 'how do I find out what I want?' The one thing I always advise is to go out there and explore everything you could and that's what makes your life adventures. Spend an hour or two every day to read and research, you never know what you will find, being lost is the opportunity to explore more. (I have lost my path many times while using Google maps and ended up exploring new areas and felt like Vasco da Gama :P)
Some days back I met Mejo Kuriachan, in a design community, I was surprised to know he is the founder for applefora.com, while we always thought A for apple all our lives, he reversed it to build a website to help students figure out the right career path for them, it was built after the frustration that he had to go through finding his career path.
Here is what Mejo Kuriachan would like to say:
So you are confused about which is that 'right' career option for you? Don't you know which course to choose after 12th? You think you are passionate about something, but your parents are not supportive? Do you hate Engineering? So you are just like so many other youngsters in this world.What is the solution? Learn to accept failures and learn how to learn.Yes, that is the only way you are going to survive.
There was a time when companies hired you based on some aptitude tests and trained you from scratch. That time period is over. By the time you finish your college if you don't have a portfolio you will end up doing a job which you never wanted. You can always switch to the ones you want by taking extra effort, but why wait for a disaster to make a change? Are you passionate about something? But where is the proof? Passion demands effort, a lot of it.
If you are merely passionate it is not going to do any good. Parent's are not supportive? If you can't even convince or even go against them to prove something you believe in don't even bother to pursue it. You are not passionate enough.You hate Engineering as there are so many unemployed Engineers out there? What do you know about Engineering to hate it? Nothing. It is not just about some Mathematics and Physics. The so called Engineers are not employable in their respective industries, including me, we all just have certificates to prove that we've completed a qualification and passed. And it does not mean they are not employable at all. Such things happen when we pursue something without any purpose. So have a purpose. Choose anything with a purpose and work hard for it.
And don't think Art and Engineering are two extreme ends of no connection. Great things happen when both the concepts converge.Don't fall into the looks good, feels bad trap for the sake of other people. You need to be selfish here. Some prestigious job which pays well may make your parents smile, may let you buy an expensive car, but at the cost of your happiness if you are not a good fit there.
One last advice, don't fall for the random advice you get from random people. When some advice is totally wrong, many won't be applicable to you at all. So have self-awareness. Get a variety of opinions, but at the end think for yourself and decide based on your circumstances.If you learn, how to learn, when you are young, you can survive any failures. The world is moving so fast now and what you learned today will be obsolete after 3 years. So if you fail to pick up the fresh knowledge you will be ignored. Enjoy the process more than the destination.
Thank you for the great content Mejo and all the best with applefora.com.
Here is what Arti my friend from London would like to say:
I was lucky enough to get acquainted with John when I joined Collaborizm. He was supportive and full of ideas right from the beginning and always urging me to pursue my dream no matter what. Now I tell him to do the same thing :p
Money isn't the be all and end all of everything and if you're not satisfied or finding fulfillment in what you're doing, you're not going to succeed in it and although some people may not understand your decisions, at the end of the day you have to do what makes you happy.
John is an intelligent, talented, hardworking young man and genuinely has a good soul. If you needed help with anything he would try to help you and I am happy to call him a friend.
Thank you, Arti Loftus, all the best with your new journey
Thank you for reading the article, I will leave the conclusion to you guys. Hope you guys had a good read.
Written by
-John Rodrigues