Top Cryptocurrency Services We Can Offer?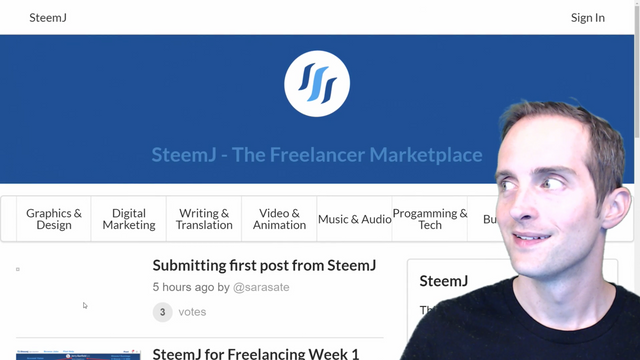 How can best we help digital currency users spend money with each other? Which skills can we monetize with the new SteemJ marketplace especially by connecting whales needing a lot of help with freelancers hoping to earn money helping? Would you join us in considering these questions because the answers might help us all earn more by working better together?
My vision with SteemJ is to help those with cryptocurrency to spend connect with freelancers providing exclusive services available nowhere else in a simple and trustworthy format. Google, Facebook, YouTube, Amazon, PayPal, and many of the top companies in the world started with a very similar value proposition where they were the only option for a narrowly defined and rapidly growing market. For example, Facebook was the only social network worth joining as a college student to connect with friends. Google was the only search engine where it was easy to find what we were searching for fast. Amazon was the only option for easily buying any book online. Ebay was the only place for buying and selling hard to find collectibles. PayPal was the first option for power sellers on Ebay to make collecting payments easy. Snapchat was the first app to make it easy to text friends private photos and videos. For SteemJ to bring massive value to Steem and Steemit, SteemJ must provide valuable services that are not available from any competitors.
What specific types of services are needed the most for cryptocurrency users like us? Would you help me make a list here because @sarasate has setup a prototype of SteemJ at http://steemj.insteem.com/ and @o5faruk is working on another one! In order to go further, we need to know which categories to begin with. Here are my ideas of basic categories SteemJ could offer. Will you give me feedback on this and recommend your own because that will allow us to make an amazing marketplace we can use together!
Tag = p2pexchange. Peer to Peer Over The Counter Cryptocurrency Exchange. One of the top services I believe we could offer that would help all of us is assistance with buying and selling digital currencies. While other websites make this possible, the problem is transparency and flexibility. For example, my friend @jo3potato asked me yesterday what to do to get started buying Steem. He is excited about our community here and wants to know how to buy more. I texted him with a long answer involving wire transfers, Coinbase, bank accounts, Litecoin, Bittrex, changelly, and finally Steem. The fact is he has money and wants to change it to Steem. Meanwhile I have everything ready to accept a USD payment from him and send him Steem within minutes. Why does it have to be so difficult when many of us are going through the exact opposite process of trying to sell the Steem and SBD we earn to USD. How much would we each benefit from being able to offer our services as a buyer, seller, or trader of Steem, SBD, Bitcoin, Ethereum, Litecoin, and fiat currencies? Currently this is not a service I believe would be allowed on Upwork or Fiverr making it ideal for deployment here. While LocalBitcoins and Wall of Coins already provide some help, the problem of changing Steem and other currencies still exists. I think our peer to peer exchange is the greatest opportunity to allow each of us to help each other buying and selling cryptocurrencies. For example, one user could offer to accept USD PayPal deposits in exchange for a 7% markup on the Steem price from Bittrex. Another could post a gig to buy SBD for cash locally. While problems are possible, establishing trust is much easier on Steemit because all of our posts and transactions are available.
Tag = research. One of my greatest needs is to get help with collecting data into actionable information. For example, if I want to know what cryptocurrency is best to invest in, I currently have to spend a lot of time learning, reading, clicking, and guessing. For whales hoping to jump on the next big thing before others do, how powerful would it be to have research gigs available where the investor could pay Steem to have a trusted freelancer with proven work in their own posts through every currency available today and research all the upcoming developments with each of them? The freelancer could output very specific recommendations such as sell Bitcoin now before the August 1, 2017 potential fork and here are five new currencies worth investing in? Top investors generally have awesome teams of researchers that provide these exact services for them at very high prices. Steemit is the perfect place to make these connections because of every post effectively being a resume!
Tag = steemitposts. With Steemit surging in popularity, there is likely a growing need to get help with writing posts by those with an established following and/or the ability to invest. @aarellanes and @gmichelbkk combine with a company named GoTranscript to help me transcribe my videos into posts for Steemit which is one example of how much demand there already is and likely will quickly grow going forward as more readers and authors join Steemit. Would we all benefit from being able to easily exchange services with each other related to posting on Steemit without having to use third party services?
Tag = graphicdesign. How many Pexels and Pixabay photos have we already seen on Steemit? How awesome would it be to connect the artists of Steemit with the authors like me to make some higher quality photos using original artwork? I would love help with graphics for my posts and would like to pay the graphic designers on Steemit directly through steemgigs offering graphic design to draw custom art for my posts. With just the simple goal of making the quality of our pictures better on Steemit, this category likely could explode in popularity over time by attracting new users to both buy and sell.
Tag = marketing.
Tag = coding.
Tag = translation.
Tag = videoproduction.
Tag = steemhere or whatever is being used already for businesses accepting payment in Steem and/or SBD.
What do you think of this list? Would you help me validate it and/or edit it because getting these categories right I believe is the key to making an amazing peer to peer marketplace for us to use with Steemit which then will add great value to Steem?
I fully support @steemgigs and hope that SteemJ contributes to the goal of 5,000 Steemgigs available for us to order from by providing guidance as to what to create and a marketplace to browse large numbers of steemgigs quickly!
Would you upvote this post because the funds from it will be used to help pay the 2,000 Steem reward for the first live steemj.com?
Love,
Jerry Banfield